The President has ordered state banks to reduce lending rates with immediate effect. Generally, commercial banks adjust the rate of interest on loans and deposits according to "REPO rates" which is published by the Central Bank quarterly.
This is the first time in the banking history of Sri Lanka that the head of the country has directly got involved with the internal activities of the banking sector saying that it is encouraging to the small and medium scale entrepreneurs.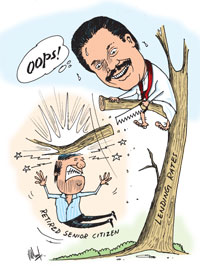 No doubt, this sudden decision will be encouraging to those who have defaulted the loans obtained from banks. On the other hand it will help to increase the NPL (non performing loan) figures of the state banks which affect the direct impact of profits of the banks. The new decision affect depositors, especially the retired senior citizens who do not have any other source of income other than interest earned from deposits. The government should pay special attention to the private sector retired senior citizens since they have contributed immensely to the growth of the economy.
The rate of interest on my fixed deposit (for three months) has been drastically reduced from 12.5% to 8%. Even though, the CEOs of the two state banks together with the Deputy Minister of Finance appeared on TV recently, they did not mention anything about the reduction in interest rates

People fear to invest hard earned money in financial institutions even at a higher rate since they have lost confidence despite they being registered with the Central Bank. Further, the so-called Managing Agents who have been appointed to these collapsed financial instructions seem to be not doing anything for the benefit of the deposits.
The only thing they have done was reduce the FD interest to 10% abruptly without obtaining the written consent of all the depositors. Moreover these experts still fail to pay the monthly interest to the depositors on the due dates even at the reduced rate.
Under the circumstances the public have no other alternative but to invest their monies once again in the registered financial institutions. Although the Central Bank has published the list of registered financial institutions from time to time in the newspapers for the awareness of the public, what is the guarantee given to the depositors in the event of default by these institutions?
I would also like to remind the government that the price of a loaf of bread was 25 cents in the mid 1950s. At that time the Ceylon Savings Bank and the Bank of Ceylon paid 5% interest for savings accounts. Today the price of a loaf of bread has been increased up to Rs. 39. But bank interest on savings accounts has been reduced to 5%. On the other hand the cost of living or inflation is at double digits. How can people live?

W.G.Chandrapala, (Retired bank clerk)