Constituent parties of the newly formed-United National Front (UNF) reached consensus this week that General Sarath Fonseka should be their common candidate in the event of a Presidential Election.
The major players of the Front are the United National Party (UNP), the Sri Lanka Muslim Congress (SLMC), the Sri Lanka Freedom Party-Mahajana Wing and the National Democratic Front. Last Tuesday these parties together with others officially announced the formation of a new coalition at a news conference in Parliament.UNF and Opposition leader Ranil Wickremesinghe had extensive consultations with SLMC leader Rauff Hakeem, SLFP Mahajana Wing leader Mangala Samaraweera and NDF leader Mano Ganeshan (NDF) among others. The matter now awaits formal ratification by the policy making bodies of the respective parties of the UNF, previously identified as the United National Alliance.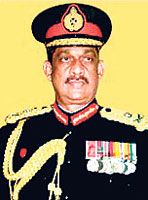 Gen. Fonseka
The main thrust of the UNF at a future election is the abolition of the Executive Presidency. With a Prime Minister as head of Government, it proposes to strengthen Parliament.
Since the Janatha Vimukthi Peramuna (JVP), has already launched a public campaign calling for the abolition of the Executive Presidency, the UNF hopes the JVP also would support Gen. Fonseka as the common candidate. The JVP has also been publicly backing Gen. Fonseka as the war hero who gave leadership to the troops.
A dialogue between the UNF and the JVP in this regard, the Sunday Times learns, is now under way. The main negotiators are Mangala Samaraweera and JVP parliamentary group leader Anura Kumara Dissanayake.
It is not immediately clear how the UNF will set about the matter after the move receives formal approval by the constituent parties. One source said it was likely the UNF would make a public announcement inviting Gen. Fonseka to be its candidate for a Presidential Election.
General Fonseka, Chief of Defence Staff, has continued to remain non committal over media inquiries and widespread report that he would enter politics. He returned to Sri Lanka on Thursday after a two-week trip to the United States. Questioned by an English daily, he said any Sri Lankan was entitled to enter politics.
Only one constituent partner of the UNF was publicly opposed to Gen. Fonseka being named its candidate. It was NDF leader, Mr. Ganeshan.
However, he told The Sunday Times yesterday: "We are supportive of a common candidate, even if it is Sarath Fonseka. We will publicly campaign to abolish the Executive Presidency, resettle IDPs, eliminate rampant corruption, and pledge to resolve problems of all communities. Earlier we took a different stance if Gen Fonseka was to be the common candidate, but if he agrees to the above we will accept him."
President Mahinda Rajapaksa is set to officially announce next Sunday which poll will come first, the Presidential or the General Election. As revealed in the Sunday Times, Government sources say, he has opted for a Presidential poll first.