Chief of Defence Staff Sarath Fonseka returned to Colombo as dawn broke over Sri Lanka on Thursday, ending fears of Government leaders he would disclose to US law enforcement agencies secrets of the military campaign that defeated the Tiger guerrillas this May.
Sri Lankan Airlines flight UL 228 from Dubai via Kuwait touched down at the BIA at 4.35 a.m. Within minutes after cabin doors of the Airbus A-330 opened, Gen. Fonseka alighted and immediately boarded an Air Force helicopter for a short flight to the Army Grounds in Colombo. He had flown un-accompanied from Washington on a Dubai-bound flight. Hurried preparations for his exit from US meant other members of his entourage could not find seats in the same flight. Airlines are heavily booked with year-end traffic. Photographers who waited at the airport to record the arrival of the celebrated war hero, now drawing greater attention and been talked about more than any other Sri Lankan, were unable to catch a glimpse of him.
After a short rest at his chalet inside Army Headquarters, Gen. Fonseka turned up at the Office of the Chief of Defence Staff (OCDS) late Thursday afternoon. From there, he had a brief telephone conversation with Defence Secretary Gotabhaya Rajapaksa. It had ended abruptly.
Gen. Fonseka sounded agitated, if not confrontational with his boss Gotabhaya. It had nothing to do with the drama that unfolded in the US, but with some drama that had occurred in Colombo prior to Gen. Fonseka's departure to the US.
Club brawl
A close relative of Gen. Fonseka's son-in-law is reported to have got entangled in a club brawl, which saw him being 'bounced' from the club by its owner. The next day, the club owner had received a threatening telephone call. The club owner seems to have influence himself - he had reported the matter to Major General Shavindra Silva, Director General of Military Operations (DGMO) and Maj-Gen. Mendeka Samarasinghe, Chief of Staff of the Army, because the number of the call was traced to an officer from the Artillery Regiment at Panagoda. An inquiry was promptly called into the matter.
At this stage, the Defence Secretary got to know that the officer concerned was possibly acting on other's behalf and seems to have wanted to sort the matter out without allowing it to proceed too far when it transpired that the case involved a relative of Gen. Fonseka.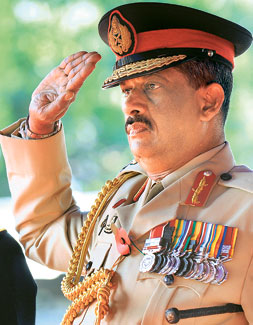 Chief of Defence Staff General Sarath Fonseka
Defence Secretary Rajapaksa then asked the Army Commander Jagath Jayasuriya not to proceed with the inquiry, and merely warn and discharge those behind the threatening call. However, the matter did not seem to end there.
The Army officer had gone to the Homagama Police station to lodge a complaint that he himself had received a threat from Maj-Gen. Shavindra Silva. The police refused to entertain the entry on the footing that this seemed to be a matter involving the Army, and therefore something for the Military Police to handle.
By now the Police were shivering in their boots at the high-profile exchanges within the Army, and all the Police stations were refusing to entertain the officer's complaint. Ultimately, he ended up at Police Headquarters to make an entry.
When the complaint reached Police Headquarters, President Mahinda Rajapaksa became privy to what was happening. He had asked the Defence Secretary Rajapaksa to settle the issue, but the Defence Secretary instructed the Army Commander to take tough disciplinary action at this stage because the officer was now going around making serious allegations against a very senior officer in the Army. He was told to suspend the officer and to subject him to a full probe.
Instructions went to the Regimental Commander thereafter with the suspension orders, as the Defence Secretary took up the position that "we won't be able to run the Army this way". He was alluding to a breakdown of discipline if junior officers were going to be intimidating senior officers.
On his return to Colombo, Gen. Fonseka was to complain to the defence Secretary saying "Sir, balanna. May Major-wa suspend karala thiyanawa ne" (Sir, see, this Major has been suspended).
At this point the conversation got heated, with the Defence Secretary lecturing Gen. Fonseka about discipline in the Army, and reminding him of the number of people he (Gen. Fonseka) sent out on disciplinary grounds, and often for lesser offences.
The Defence Secretary was to say that Maj-Gen. Shavindra Silva was Director Operations of the Army, and "a General", and asked how a junior officer could do this even after an internal inquiry.
At this point the Defence Secretary Rajapaksa told Gen. Fonseka, "Sarath, don't come to teach me about discipline", at which point Gen. Fonseka barked back "This is not justice" and terminated the conversation. The harsh exchange between the men who jointly succeeded in prosecuting the war against the LTTE, speaks for itself.
On Friday afternoon, Gen, Fonseka had a lengthy meeting with Lt. Col. (retd.) Rajapaksa at the Ministry of Defence. They are learnt to have discussed a number of matters other than political issues.
One of the matters discussed, the Sunday Times learnt, was the subject of personal security details. Gen. Fonseka had pointed out that a retired Commander had been given 160 personnel for his protection though he had little to do with his service now. To the contrary, he had difficulties with the strength assigned to him.
That Friday night, troops of the Sinha Regiment deployed for static guard duties at Army Headquarters were changed. At first, troops of the Gajaba Regiment took over but were replaced within hours by those from the Gemunu Watch. What is significant is that Gajaba is Defence Secretary Gotabhaya Rajapaksa's former regiment. However, soldiers from both the Sinha and Gemunu continued to remain posted upto yesterday on static guard duties at Army HQ. This is in addition to troops of the Armoured Corps deployed for patrolling and other tasks.
The US episode
Gen. Fonseka's return to Colombo brought the curtain down on a two-week long drama in the United States. His Green Card, which allows him residency and will qualify him for US citizenship, was to expire last month. A private trip to renew it was linked together with official engagements arranged at the Sri Lanka Defence Ministry's request by the US Government. The official invitations were later withdrawn, days ahead of his departure. This was in the light of the 'war crimes' report by the US Department of State to the Congress. The US Government officials said it would be untenable to host him in the light of that report. That changed the character of the trip to an entirely private one. Thereafter, the Chief of Defence Staff, his wife Anoma, Military Assistant Brigadier Athula Silva and two commando bodyguards flew to Washington on October 23.
With an engagement at the Washington Buddhist Viharaya over, Gen. Fonseka and his entourage flew to Tulsa, Oklahoma. He has a residence in Oklahoma where his two daughters and son-in-law live. Sri Lanka Army commandos protect them there. He began a holiday with the family when other events began to disrupt it. The exclusive revelation by the Sunday Times last week sparked off a flurry of political and diplomatic activity. Excerpts from the front page lead story:
"Chief of Defence Staff General Sarath Fonseka, now on a private visit to the United States, has been told to face a "voluntary meeting" with the Department of Homeland Security, prompting fears in Colombo that Washington is asserting its legal authority over the "war crimes" report released last week……
"Reports reaching the highest levels of the Government say US Department of Homeland Security officials want to interview him on Wednesday (November 4) in Tulsa, Oklahoma. Gen. Fonseka, who is a US Green Card holder, has a residence in Oklahoma. His visit is in connection with renewing his Green Card, which affords him residency in the US. This is a prelude to US citizenship.
"He had already sought legal advice from Fred Fielding, a former White House Counsel to late Presidents Richard Nixon, Ronald Reagan and former President George W. Bush. His lawyer had advised that the CDS should face the meeting and answer all questions truthfully.
"Thereafter, according to highly-placed Government sources in Colombo, Sri Lanka's Ambassador who learnt of the US move, mobilized lawyers from Patton Boggs, the law firm hired by the mission for lobbying and promotional work, to fly to Tulsa……."
The immediate response last Sunday came from the Government. It released to the media a copy of an e-mail it had received from Gen. Fonseka on Friday (October 30). This message, however, was erroneously referred to as an SMS.
In that e-mail message, Gen. Fonseka had told Defence Secretary Rajapaksa: "On 28th October I got a call on my son-in-law's cell phone from a person called Michael Tarrantino and he said 'I want to interview you regarding allegations against the Defence Minister in relation to human rights violations in Sri Lanka.' I asked him 'are you referring to the President because our Defence Minister is the President.' In reply to that, he said 'no,' Mr. Gotabhaya Rajapaksa.
"I said he was not our Defence Minister but Secretary, Ministry of Defence. The officer acknowledged and I informed him I will get back to him. Then I spoke to Mr. Sanath de Silva and wanted to check through his lawyers. Sanath's attorney had spoken to Mr. Michael Tarrantino and also a person called Mr. A.J. Bhatti of the DHS/ICE and the lawyers were informed by Mr. Bhatti that they wanted to use me as a "source" against human rights violations by Secretary Defence."
The Sanath de Silva referred to is a friend of Gen. Fonseka from his school days. His lawyer, as referred to in last week's the Sunday Times front page report, is Fred Fielding. He acted on behalf of Gen. Fonseka. He had spoken to both officials in the Department of Homeland Security (DHS) and those in one of their units, the Immigration and Customs Enforcement (ICE).
Gen. Fonseka later telephoned the Defence Secretary from the US to explain matters. After hearing details given by Gen. Fonseka, the latter asked him whether he had already informed the Sri Lanka Ambassador Jaliya Wickremasuriya. When the CDS had said he had not done so, the Defence Secretary had said "don't worry I will do that right now." When the conversation ended, Lt. Col. (retd.) Rajapaksa had immediately telephoned Presidential Secretary Lalith Weeratunga and advised him to inform President Rajapaksa.
By then it was midnight in Washington. Ambassador Wickremasuriya was woken up. He was told of the meeting Gen. Fonseka had agreed to with the Department of Homeland Security. The Ambassador was asked to immediately get in touch with Gen. Fonseka in Oklahoma and "take necessary action". That was how the services of Patton Boggs, the US law firm hired by the Sri Lanka Embassy in Washington, were offered to the CDS. Later, the Defence Secretary also spoke to President Rajapaksa on the telephone.
For Government leaders, there were several concerns arising out of Gen. Fonseka's e-mail to the Defence Secretary. Firstly, it had arrived (on October 30), two days after the phone call he received from Michael Tarrantino (on October 28). If that was worrying them, Gen. Fonseka had intimated the situation to the Defence Secretary only after agreeing to Tarrantino's request for a meeting.
Secondly, it was only in September this year, Lt. Col. (retd.) Rajapaksa arrived in New York as a member of the Sri Lanka delegation to the United Nations General Assembly (UNGA). On that occasion, when he appeared before an Immigration officer at the John F. Kennedy International Airport, the officer had typed Lt. Col. (retd.) Rajapaksa's identity on his computer. There had been an alert. Thereafter he was escorted to a room for a relatively friendly question-and-answer session. Perhaps the only Sri Lankan eyewitness to the Defence Secretary being escorted to a room was former President Chandrika Bandaranaike Kumaratunga. She had flown to New York on the same flight and was clearing immigration formalities then.
US letter
Lt. Col. (retd.) Rajapaksa is a US citizen and holds a dual Sri Lankan citizenship. He had been questioned for nearly an hour on matters concerning his stay abroad (meaning Sri Lanka), what he was doing and related personal matters. A friendly officer had explained why he was being put through that process and even suggested that to avoid inconvenience the issues should be resolved at Government-to-Government level. This was despite the Defence Secretary, as a member of the Sri Lanka delegation being entitled to 'sovereign immunity' as a member of a sovereign UN member state's UN delegation. Yet, he was a citizen of the US and was therefore subject to that country's laws as well.
The Defence Secretary is already in receipt of a letter from the US asking him if he, as a US citizen is involved in any policy matters that compromise with Human Rights violations in any other country. This same letter has been received by his brother, Basil Rajapaksa and current Justice Minister Milinda Moragida, both US citizens as well.
They have also been asked if they wished to pursue with their US citizenship, to which all of them have answered in the affirmative as far as is known, and they have received a formal response that they can continue with their US citizenship.
But the fact that Defence Secretary Gotabhaya Rajapaksa was 'detained' at the John F. Kennedy airport would mean that US Immigration authorities have his name flagged, and some basic record of him. The Obama administration has an energetic Human Rights crusader in Samantha Powers who has Sri Lanka in her sights, and is widely believed to have been the one behind Secretary of State Hilary Clinton's howler at the UN Security Council recently where she accused Sri Lanka as a country that used rape as a weapon of war. This saw the US engage thereafter in an equally clumsy retraction of the bogus accusation.
Sri Lanka's Ambassador Jaliya Wickramasuriya, himself a Canadian citizen, has also advised his relative, the Defence Secretary, to consult legal opinion with regard to the future of his citizenship status in the US under these circumstances. There seems to be a need to check if citizenship can be stripped by any means, or whether it needs to be given up voluntarily, matters that Lt. Col (retd.) Rajapaksa seems to be earnestly considering in the light of these new developments.
The fact that Gen. Fonseka was also to be used as a 'source' to obtain further information about Sri Lanka's Defence Secretary should be un-nerving for the latter, and the fact that the General was allowed to leave the US unhindered was considered as proof that the US was targeting the Defence Secretary and not the former Army Commander.
The Defence Secretary's interview at the JFK airport came before the State Department delivered its 'war crimes' report to Congress. Though overall responsibility for some of the purported actions in the report falls on the Defence Secretary, there were no pointed references to him in the report. How did new issues surface now? How did they come about? Was any 'misleading' information given to the US authorities?
Fonseka: US drama ends
These were among the many questions the Government leaders pondered as they had an expert team of lawyers in Sri Lanka headed by President's Counsel D.S. Wijesinghe and including former Attorney General C.R. 'Bulla' de Silva, PC draft the Government's response to the US State Department report.
Thirdly, two Buddhist monks, who are parliamentarians of the Jathika Hela Urumaya, had a lengthy meeting with Gen. Fonseka, before he departed to the US. Their mission, on behalf of Government leaders, had been to persuade him to desist from his continuing dialogue with the Opposition. In the course of that, Gen. Fonseka had reportedly referred to what is described as "very highly sensitive" issues related to the war. Those were matters known by a less than a handful in the top echelons of the Defence establishment during the final stages of the military campaign to defeat Tiger guerrillas.
These coupled with a number of other matters were to worry the Government leadership. Whilst some measures were set in motion publicly, the more important aspects were handled through behind-the-scenes diplomatic and political manoeuvres. The public initiative, a logical course of action during similar situations, was the summoning of the US Ambassador, Patricia Butenis, a veteran in Asian affairs, to the Foreign Ministry on Monday (a Poya holiday).
That afternoon, Foreign Minister Rohita Bogollagama hurriedly convened a news conference to give details of his meeting. A statement issued by the Foreign Ministry after the news conference said Bogollagama had declared, "Whatever Gen. Fonseka may have become aware of during his service with the Government of Sri Lanka and in the course of his duties, has the status of privileged information. He has no authority to divulge or share this information with third parties, without the prior approval and consent of the Sri Lankan authorities."
Bogollagama said he had conveyed this message to Ambassador Butenis and urged that the Department of Homeland Security should "forthwith desist from any endeavour to interview Gen. Fonseka." Butenis, according to diplomatic sources, had explained that the "voluntary meeting" sought by the DHS was a "routine immigration matter." She had also expressed the view that Gen. Fonseka did not enjoy diplomatic immunity since he was appearing before the DHS as a Green Card holder seeking US citizenship.
There were those who opined that Bogallagama had "shot himself in the foot" when he declared Gen. Fonseka "has the status of privileged information" and added, "he (Gen. Fonseka) has no authority to divulge or share information with third parties." Why direct those remarks at the US Government? After all, General Fonseka still enjoys the confidence of the Government. That is why he continues to function as CDS.
Therefore, making such a request from the US, instead of telling Gen. Fonseka to mind what he says or does, betrays the Government's lack of confidence in him. Worse still, it is an official, public declaration from Sri Lanka's Foreign Minister that all is not well between his Government and the CDS. Therefore, Bogollagama does not want the US to grill Gen. Fonseka about this feared "privileged" information.
Little wonder, those at the highest levels of Government did not leave it in the hands of Foreign Minister Bogollagama alone to resolve the issue. UNP's late A.C.S. Hameed and UPFA's late Lakshman Kadirgamar had done just that single handed during many a diplomatic crisis when they were Foreign Ministers. Elsewhere, there was a brainstorming session by senior Government leaders and officials including Foreign Secretary, Romesh Jayasinghe and the Attorney General Mohan Peiris. As a result, a studied approach to the issue coupled together with some personal initiatives by VIPs was to follow.
The Foreign Ministry handed over to Ambassador Butenis a note verbale. It is a diplomatic communication prepared in the third person and unsigned: less formal than a note but more formal than an aide memoire.
This note verbale informed the US Government that Gen. Fonseka had urgent official business to perform in Sri Lanka. Therefore, an appeal was made that the Sri Lanka Government would be pleased if the US would facilitate his immediate return. A source who is involved in these initiatives told the Sunday Times that the Government avoided raising any issue with the US Government over its prerogative of questioning prospective citizens over any issues. "We held the view that it was Gen. Fonseka's responsibility to obtain the concurrence of the (Sri Lankan) Government if he were to discuss any issues related to the military campaign," the source said.
Ambassador Wickremasuriya handed over to Robert Blake, Assistant Secretary for South and Central Asian Affairs in the State Department, a copy of the same note verbale. Whilst President Rajapaksa spoke on the telephone to Blake, his brother and Senior Presidential Advisor, Basil interacted with the US Ambassador in Colombo.
Quite clearly, Ambassador Butenis' charm offensive in Sri Lanka worked. She was able to, through the State Department, call off the "voluntary meeting" the Department of Homeland Security had arranged for Wednesday (Nov. 4) with Gen. Fonseka. Thus, the CDS was free to return.
The Government wanted the matter cleared with the US on an official basis not wishing any embarrassment either to Gen. Fonseka or the Sri Lankan Government by him being detained at the Washington airport on his return. He was, therefore, flown out of his home in Tulsa, Oklahoma and kept at Ambassador Wickramasuriya's residence in Washington while word was awaited from the US Government clearing the way for him to return without an incident. It was only thereafter, that his air ticket was purchased.
There are occasions when different arms of the US Government often act independently of each other, without consulting the State Department. That is without any consideration for the implications of their actions in terms of US bilateral relations with countries. Despite serious concerns in the US about the final stages of the military campaign against Tiger guerrillas, the State Department has often had to play the unenviable role of striking a balance. Even in the 'war crimes' report where allegations are catalogued, it has not taken any official position against Sri Lanka.
Under US laws, a prospective citizen (or even a citizen) is required to heed to a request by an agency for a 'voluntary meeting'. Such a meeting is an exploratory question and answer session. It could either lead to further investigations or the inquiries could come to an end. Information obtained by one Department can be made available to another Department. What was of concern in Colombo was that the Department of Homeland Security in the US has opened a new unit dealing with US citizens engaged in human rights violations in other countries.
A person is entitled to refuse to attend a voluntary meeting. In such an event, law enforcement agencies, if they consider it desirable, could seek a subpoena (summons) to compel the person to subject himself for questioning.
Reports from Washington said yesterday that the cancellation of the 'voluntary meeting' by DHS officials in the US would neither affect Gen. Fonseka's prospects to obtain US citizenship nor prevent him from testifying at a future date when called for. "Under US laws, the DHS would have to go before an Immigration Court to recommend that he is an 'undesirable alien'. However, there are no such prospects and Gen. Fonseka is well within the law in the US," a legal source in Washington said. He also has the right to 'volunteer' a meeting with the DHS at any time if he so desired," the source added.
The Department of Homeland Security had informed Gen. Fonseka of the cancellation of the meeting on Wednesday. On the same day, Ambassador Wickremasuriya also gave the news to him. Gen. Fonseka arrived in Washington that same Wednesday afternoon (Nov. 4) to spend the night at the Ambassador's residence. During a conversation at night, Ambassador Wickremasuriya had asked Gen. Fonseka why it had taken him two days to report the proposed meeting with DHS officials to the Defence Secretary. He had explained that at first he had suspected the LTTE lobby of trying to create mischief. It is only thereafter he had found out that it was a serious issue. He had then e-mailed and telephoned the Defence Secretary.
On Wednesday, Ambassador Wickremasuriya accompanied Gen. Fonseka to the Ronald Regan International Airport for his flight to Dubai. A Sri Lanka Embassy source said lawyers of Patton Boggs law firm, on a monthly retainer of $ 35,000 (Rs. 3.5 million) with the Embassy, were ready just in case US Immigration officials raised any issue. However, that contingency measure did not become necessary.
The Fonseka issue in Washington, it turned out, was not only of concern to the Government alone, even the Opposition seemed concerned. Opposition Leader Ranil Wickremesinghe who was away from Colombo for the long weekend telephoned Ambassador Butenis and told her that as Gen. Fonseka had checked and obtained the go-ahead from the US embassy in Colombo to proceed to the US, he should also be entitled to return without hindrance. He spoke of the principle of "safe passage" for Gen. Fonseka to return without any issue. He had asked Butenis to convey this request from the Opposition to Blake in Washington. Gen. Fonseka would have prided himself with the rare bi-partisanship displayed for his safe passage back to Colombo.
Wickremesinghe was in a buoyant mood this week. On Tuesday, he was the central figure at the formal commissioning of the United National Front (UNF) previously named the United National Alliance (UNA). It took place at a ceremony in the Parliament complex. At a news conference that followed, Wickremesinghe was asked about Gen. Fonseka being questioned by the DHS in the US.
He said it was the UNF position that the US authorities should not question the CDS. He asked why the Government had not disclosed earlier the fact that Defence Secretary Gotabhaya Rajapaksa had been questioned during his visit to US in September this year. He asked why Gotabhaya Rajapaksa continues to remain a US citizen after he had declared he would renounce it.
Wickremesinghe also struck a defiant note at a Q & A session that followed a dinner hosted in his honour by Western provincial councillor Mohammed Muzzamil in Colombo. "I am the most criticised politician in the country. They said I am weak. They said I am not a suitable leader. Yet, they gave valuable air time in state run television to me," he said with a chuckle. He confessed that the party had a worrisome moment soon after the military defeat of Tiger guerrillas in May this year. "We thought they would go for elections immediately. They could have won. We went along with what they were saying but that did not happen," he pointed out. Now, with the end of the Southern Provincial Council elections, the Mahinda Rajapaksa Administration's popularity is slowly but surely waning, he said.
The formation of the UNF and developments since Gen. Fonseka's return have re-ignited widespread speculation over UNF and Opposition parties supporting a common candidate. The name of Gen. Fonseka is being mentioned as the most likely. The harsh tone in which he spoke to Gotabhaya Rajapaksa on the telephone upon his return was anything but a hint that he was prepared for a confrontation with the Government. Even Mano Ganeshan, whose National Democratic Front (NDF) is a constituent partner, which opposed the suggestion of Gen. Fonseka's candidature, is now in favour.
He told the Sunday Times, "We are supportive of a common candidate, even if it is General Fonseka. He will have to publicly campaign for the abolishing of the Executive Presidency, re-settlement of the IDPs, eliminating rampant bribery, corruption, and pledging to resolve problems of all communities including the national issue."
He said, "Earlier we took a different stance if Gen Fonseka was to be the common candidate. But if he agrees we will accept him". He added, "Our plan is to abolish the Executive President. We want to appoint an Executive Prime Minister answerable to Parliament. We will carryout out campaign in this direction", he said. Ganeshan's party is rapidly drawing membership. Murugan Sivalingam, founder Secretary-General of Up-Country Peoples Front (UPF) led by Minister P. Chandrasekaran joined DPF on Friday.
Another constituent partner, Sri Lanka Muslim Congress leader, Rauff Hakeem told the Sunday Times their party was also committed to campaigning for the abolition of the Executive Presidency. "One of the main issues we will be focusing would be the issue of colonization in the Muslim areas in the eastern province and the discrimination against the Muslims in the east." He added, "The Executive Presidency is a burden to this country. It is only for the interest of an individual. Therefore the system should be changed".
The abolition of the Executive Presidency seems now to be the common platform to rally all Opposition forces, with the JVP not only on board on the issue, but openly supporting Gen. Fonseka as a Presidential candidate.
Mangala Samaraweera, leader of the SLFP (Mahajana Wing) told the Sunday Times the UPFA Government was now getting worried about the UNF. "Although they are ridiculing us, this is the reason why they are devoting air time every night on state television to us. This shows how insecure they (the Government) have become," he added.
Until Friday, there has been no formal indication from Gen. Fonseka that he would quit his post and enter politics. However, he told the Island newspaper on Friday that any Sri Lankan is entitled to enter politics. There was no elaboration, but the point in the prevailing political environment was significant, to say the least.
His successor as Army Commander, Lt. Gen. Jagath Jayasuriya, told troops in Vellankulam in the Wanni, "In the Army there is no provision to engage in political activities whilst serving. If any attempt is made by anyone to engage in politics, strict disciplinary action will be taken."
In fairness to Gen. Fonseka, it cannot be said that he had until now openly engaged in any politics. At most, as revealed in these columns, he had only engaged in a dialogue with the Opposition, a fact that the Rajapaksa administration is well aware of. The coming weeks will reveal whether such a dialogue would pave the way for his entering politics to become a common candidate at a Presidential Election or a key player at a General Election. Both appear strong possibilities now.
A decision remains in his hands. Moreover, in the Army's Seniority List, for the first time, the name of General Sarath Fonseka, Chief of Defence Staff (CDS) appears first followed by the Commander, Lt. Gen. Jayasuriya. The Commander headed all previous lists. Thus, it is unlikely that Lt. Gen. Jayasuriya is merely sounding a note of caution to a senior. His warning therefore appears to be for others in the Army not to engage in politics.
US Ambassador Butenis' diplomatic interventions has brought not only relief to the Rajapaksa Government but also brought back Gen. Fonseka to Colombo. On Friday, the Government sent a signal to US that it was taking its 'war crimes' report seriously despite claims by Foreign Minister Bogollagama that the report was "unsubstantiated,……….uncorroborated…….. fabricated allegations and concocted stories" by vested interests.
On Friday, Disaster Management and Human Rights Minister Mahinda Samarasinghe announced that President Rajapaksa had appointed a five-member Committee to study the State Departement report and submit its findings before December 31. The armed forces chiefs and the Inspector General of Police, he told a news conference, had been directed to extend their co-operation to the Committee. This is seen as a strong signal to the US that Sri Lanka is taking the report seriously and will make known its findings.
Equally, the Government has opted to respond to the European Union on the GSP+ duty concessions issue and though late in the day, and despite a string of diplomatic blunders and faux pas, the Government is at least now seeing the need to act rationally and realistically. It is no doubt paying the price for snubbing these countries which unfairly asked that the LTTE be spared, but the Government must also know when to change gear after the war has been won, and an economic war looms. One just hopes it's not too little too late.