Only 16% of all eligible Sri Lankan students are recruited to local public universities, according to the University Grants Commission (UGC) website, leaving 84% neglected in terms of access to higher studies. This has resulted in 8% studying abroad, a number based on unconfirmed statistical data, according to top Sri Lankan academic, Dr. Athula Ranasinghe, the Head of Economics at the University of Colombo.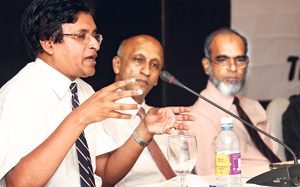 Dr. Harsha Aturupane, Dr. Athula Ranasinghe and Mohamed Thamby
Dr. Ranasinghe's remarks were made at a Sunday Times Business Club event held this week at the club's host hotel, Cinnamon Grand. Themed "Education: Current and future policy issues in Sri Lanka", the event, co-sponsored by Hameedia's, entailed a free and frank discussion of local education policy encompassing multiple points of view. While Dr. Ranasinghe was charged with putting forward the viewpoint of local academia, the international position was represented by Dr. Harsha Aturupane, Lead Education Specialist for the World Bank South Asia; the local business community by Mahen Dayananda, a former Chairman of the Ceylon Chamber of Commerce and a current member of the chamber's Education Sub Committee; and the Ministry of Education by its Additional Secretary, Mohamed Thamby.
Further, again according to Dr. Ranasinghe, the belief by the private sector that many graduates of local universities were unemployable was a misconception; unconfirmed and "not based on scientific data". He also added that local universities had to counter this perception by marketing their degree programmes effectively as well as increasing private sector involvement in universities to bridge these opposing perceptions.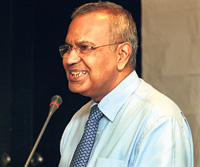 Mahen Dayananda
Meanwhile, Mr. Dayananda commented that the private sector advocated benchmarking local education institutes against their South Asian counterparts because, without appropriate benchmarking, "you don't realize what you are missing" and that "the private sector is all about benchmarking". He also added that education should be more about learning than about only pursuing employment, a situation that proves often the case today in Sri Lanka. Mr. Dayananda also indicated a need to improve the quality of education as well as adding a greater emphasis on creativity.
However, according to Mr. Thamby, there is nothing inadequate about Sri Lanka's education system. He added that the country was one of very few offering access to basic education to those under 14 years of age, this in addition to free text books, uniforms and meals. While indicating that future plans for the ministry included improving the quality of teachers, enhancing the economic efficiency of the education system, etc., he also suggested that it often went unmentioned that overall results, year-on-year, consistently showed marked increases in areas such as ordinary level mathematics and others.
oncluding, Dr. Aturupane indicated that the next local project of the World Bank, titled "Higher Education for the 20th century", scheduled to begin in 2010 would provide a number of initiatives to improve Sri Lanka's education system. While offering areas such as skills mapping of existing graduates and matching them with relevant opportunities, one standard accreditation system for public and private institutions and an array of university development grants, the project will also endeavour to foster a second national language which would ultimately enable all Sri Lankans to become trilingual in the long term (next few generations).
The Sunday Times Business Club (STBC), now in its 14th year, is organized and guided by the Sunday Times newspaper to foster networking and build leadership among mostly young corporate executives, directors, CEO's and others in the corporate sector. A monthly meeting where a prominent speaker/s is invited to discuss issues of national and regional importance among other matters, is the highlight of the annual events of the club.