Sri Lanka's plant protection regulations are to be updated and new regulations are to be implemented soon. "We have drafted new regulations to update the plant protection laws. We have already notified the World Trade Organisation and we hope to introduce the new regulations soon," said the Deputy Director, National Plant quarantine Services R. S. Y. De Silva, speaking at a seminar organised by the Exporters Association of Sri Lanka, on 'New Quarantine Procedures,' at the Ceylon Chamber of Commerce this week.
Sri Lanka's Plant Protection Act is seen as too mild and stronger regulations are proposed, to lift local laws to international standard. "The changes will bring the local law to international standard and will give better protection to the country from foreign pests. It will also help national development of agriculture by allowing people to import agricultural items more safely. In recent times we have seen a number of pest attacks in the country," said Mr De Silva.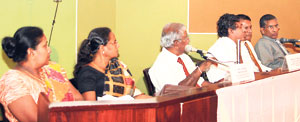 At the briefing
In the recent past, a number of pests, suspected of entering the country from outside, have damaged local agriculture. The most recent incident was the Papaya Mealybug attack. The bug wrecked havoc in local farms attacking papaya, guava and other fruit and vegetable cultivations and even attacked the Araliya trees at the BMICH gardens in Colombo.
Initial reports of the pest attack came from areas close to the Bandaranaike International Airport, in Katunayake. This led authorities to suspect that the pest may have entered the country with some imported plants.
Sri Lanka also saw attacks of potato cyst nematode that affected potato cultivations and coconut mite that damaged coconut cultivations. Despite growing international trade, most countries today follow stringent quarantine regulations to prevent such entry of pests into their countries. Therefore, exporters of agricultural goods, from countries like Sri Lanka, are required to follow strong safety regulations. Exporters were also advised to obtain all the required certifications before exporting.