PESHAWAR, Pakistan, Sept 19, (AFP) - The death toll from a suicide car bomb attack in a crowded Pakistani market rose to 40, police said Saturday as grieving families buried their dead.
A suicide bomber drove an explosives-packed vehicle into the market in the northwest town of Ustarzai Friday as families were buying supplies for a major religious festival marking the end of the holy month of Ramadan.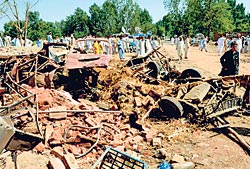 Residents gather at the Kohat blast site. AFP
"We have recovered seven more bodies from the debris, 40 people are confirmed dead, all of them have been identified," Fazal Naeem, a police spokesman in the nearby garrison town of Kohat, told AFP. He added that eight of the 50 wounded were still in serious condition.
An intelligence official in Peshawar, the capital of Northwest Frontier Province, also confirmed the death toll. The explosion flung body parts across the bazaar and gutted shops in Ustarzai, a small mainly Shiite town that lies between Kohat and Hangu, another town with a history of sectarian unrest.
Bodies lay on the road and casualties were trapped under the debris from shops that caved in after the blast when the bomber rammed a jeep packed with 150 kilograms (330 pounds) of explosives into another vehicle, police said.