We know you enjoy reading Sybil Nanda's stories. You admire and enjoy her drawings even more. She has a style of her own which is unique.
In the Literary Month, she has just released two books and both have English and Sinhala editions. She is fluent in both languages and writes in both beautifully. They are titled 'Eternally Yours' and 'Podda and Poddi'.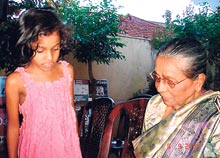 Young admirer Swayiraee watches Sybil Nanda autographing her book at the launch of the two new books.
In 'Eternally Yours' she relates the second part of her life story. ('The Child in Me' was the first). Born and bred in Gintota on the Southern coast, she comes to Colombo to continue her studies. In fact the whole family moves. She joins Holy Family Convent. Getting admitted to a school was very easy then. She goes with her mother and younger brother.
She describes the scene:
"A rustle of beads, footsteps and the swish of a skirt fell on our ears. Instantly a strange looking, fair person stood before us. Only her fair face and hands were visible for she wore a long, white gathered floor length skirt and on the top part of her body was a neck-hugging elbow length flared slip-on, over a long sleeved blouse. Around her face was a pin frilled white bonnet, and the back of her head was covered with a black, flimsy veil reaching down to her waist.
A long, bead chain dangled from her waistline with a silver cross at the end... Having never seen any such human being ever before in my life I froze while Malli wet the floor."
She discusses school life vividly and occasionally goes back to the village to describe how town life and village life differed. Her descriptions of characters in the city ranging from the rickshaw puller to the bookseller carrying a load of books on his head are vivid.
She was in Standard (that was how the class was identified not 'Grade' or 'Year' as it is now) when World War II broke out in 1939. Colombo schools were closed. The families moved out. Sybil Nanda's family shifted to Weligama. She started a new hobby – collecting war pictures which appeared in the
newspapers. At nearby Koggala was a camp where soldiers were detained until they were sent to the war front. This is what she saw:
"Lorry loads of these soldiers passed on our road and we saw red lipped black men, the Negroes and some bearded men who wore turbans on their heads.
Most were white men. The trucks, lorries and war tanks filled with guns was a fearsome sight which gradually brought us to our senses that war is after all dreadful. Archchiamma had an innovative idea to dispel the fear we had towards these heavy iron monsters. She planted a variety of manioc trees in the house front which grew to cover the roof level. This may have given the appearance of a mini forest by the road side."
War ends in 1945. They get back to Colombo to start schooling again. 'Podda and Poddi' are the names of a couple. The vividly illustrated book relates a charming story of how they look to earn a living and
ultimately succeed in finding a solution.