Plantation workers are on a 'non-cooperation-campaign' following unsatisfactory wage talks on Monday. The three trade unions that are signatories to the plantation sector Collective Agreement and the Employers Federation of Ceylon (EFC), representing the plantation companies, are due to meet tomorrow (September 7) for another pow-wow.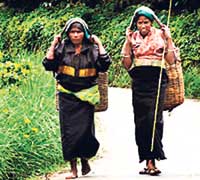 Plantation workers
"We have declared a non-cooperation-campaign. This is something similar to a work-to-rule campaign," said the Secretary General of the Joint Plantation Trade Union Centre, O A Ramiah. The Joint Plantation Trade Union Centre is one of the three signatories to the plantation sector Collective Agreement.
"We have not declared a general strike at this point. We will first try to negotiate because we have decided to meet with the EFC again on Monday," said Mr Ramiah. Talks for a new Collective Agreement on plantation worker wages started in April this year, after the previous agreement expired in March. But talks broke down sometime in May. Talks re-started this week on Monday (August 31) but after the meeting trade unions went on the non-cooperation-campaign.
Trade unions say talks are stuck because the offer by the companies is too low. Plantation companies have offered a 12.5% wage increase on the current Rs 290 daily wage. But, trade unions are asking for a flat rate of Rs 500 per day. "A wage agreement is generally valid for about 2 to 3 years. Workers will not get another wage increase in one year, even if the cost of living increases. So the wage increase agreed on, should be adequate for 2 to 3 years. But what the employers offered was so little we could not agree to it," said Mr Ramiah.
Meanwhile the Colombo Tea Traders Association (CTTA) said in a press statement that the trade union action was disrupting tea transportation and will impact tea exports. This year's tea production has already dropped due to drought and rains. Tea traders also said that labour expenses already account for over 60% of the cost of production of tea in Sri Lanka.
The CTTA said the Regional Plantation Companies [RPCs] which are just emerging from a devastating crisis that affected the entire tea industry, and in particular the producer sector from August last year, have had their problems compounded by the detrimental weather conditions. A severe drought, followed by unseasonable and excessive rains, has significantly impacted on cropping and, consequently, production.
This has destabilized cash-flow and propelled the cost of production to unprecedented levels. "It is a widely known fact that, of all major tea producing countries, Sri Lanka's productivity is by far the lowest. The average yields per hectare of the corporate sector are lower, compared to the smallholder sector, for a number of reasons, one of the main contributory factors being the disproportionately high labour wages and the resistance of trade unions to linking wages to productivity," it said the industry says that if a quick resolution does not materialize, there is bound to be an inimical effect on tea auctions.
In a separate statement, the Planters' Association (PA) has raised issue of security and economic impact owing to the disruption on estates. In a statement it said these have amounted to acts of sabotage including incidents where workers in several estates had prevented produce being dispatched to buyers from the estates, disrupted power and water supplies affecting operations in addition to onducting a go-slow.
"Sri Lanka faces an unprecedented negative impact if produce already bought by overseas buyers are not allowed to be shipped to them," warned the Secretary General of the Planters' Association of Ceylon, Malin Goonetileke. "It affects our reputation and will move buyers away to other tea producing countries, and we have written to the Treasury Secretary who represents the Government's shareholding."
The PA said the Defence Secretary and the Inspector General of Police have also been apprised of a security situation arising from these spreading disruptions as the deterioration of law and order in the plantation areas affects the security of the country.