The death of Shyamlal Rajapaksa in Tanzania has taken another sensational turn with his mother saying she suspects foul play and accusing United Nations officials of trying to cover up the tragedy.
Amidst all this mystery and conflicting reports, the Foreign Ministry has called for a full probe and report on the death of Mr. Rajapaksa, the son of President Rajapaksa's cousin, two weeks ago.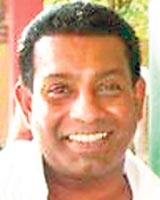 Shyamlal Rajapaksa
Shyamlal Rajapaksa, who was working for the UN as a prosecuting attorney for the International Tribunal probing war crimes in Rwanda, had been found dead in his residence.
Outgoing Foreign Secretary Palitha Kohona told The Sunday Times they were awaiting a full report from Tanzania and would take appropriate action after that.
He said the accountability is clearly with the UN, whether the death was caused by natural causes or otherwise since Mr. Rajapaksa was working for the world body. He also said Mr. Rajapaksa was entitled to full insurance compensation irrespective on how the death occurred.
Dr. Kohona did not rule out the possibility of sending a team of experts from Colombo to facilitate the probe.
A spokesperson for the UN office in Colombo said they had closed the case since a post-mortem had revealed that Mr. Rajapaksa had died due to a heart attack. Meanwhile Lalitha Rajapaksa, mother of Shyamlal, said it was difficult to accept the UN version that her son died owing to natural causes. She said she suspected that there was more to it and Tanzanian authorities as well as UN officials had left many questions unanswered.
"There are mysterous circumstances surrounding the death of my son. Firstly the investigators are yet to trace the two visitors who were in my son's apartment till late at night
"It was known that my son was in possession of a damning report that was to shed a lot of light on the Rwandan genocide some 15 years ago. He had even made this known to his UN bosses last month", Ms. Rajapaksa said.
"Shyamlal had been on a five-year fact-finding mission regarding the massacres in Rwanda, a task from which several others opted out because of the dangers involved. I suspect UN officials are trying to cover up something either to dodge the insurance payments or simply to save face in the international community," she said. Ms. Rajapaksa said the truth could be found out if the investigators were able to retrieve the bombshell report that her son had.