Sri Lanka Customs -- one of Sri Lanka's oldest government departments -- will be celebrating its bi-centenary this August by introducing technological changes to the present 200 year-old system.
Speaking to the Sunday Times, Director General Customs C.S.W. Jayatilake said "the present buildings including the Times of Ceylon building we are presently occupying are more than 150 - 200 years old and there is a great need to shift into a building in which modern equipment and computer systems can be set up. The department will be moving into new premises, and computerized systems will be installed".

Customs DG C.S.W. Jayatilake
He said these systems were being installed to minimize delays, help weed out complaints of corruption and to build connectivity with other state agencies.
Sri Lanka Customs will be introducing the ASYCUDA ++ systems --a computerised customs management system-- which covers most foreign trade procedures. The system handles manifests, customs declarations, accounting procedures and transit and suspense procedures.
ASYCUDA takes into account the international codes and standards developed by ISO (International Organisation for Standardisation), WCO (World Customs Organization) and the United Nations.
"Presently we are handling cargo accounting systems manually and receiving many complaints. Therefore we are going to embark on the ASYCUDA version, a 45 million rupee web based project" he said.
He added collection of taxes, duties and other levies, trade and social protection and acting as a link to the Inland Revenue Department, the Ministry of Finance, Export Development Board were some of the main duties of the Customs.
A total seventy-nine acts, ordinances and legislative enactments are directly relevant to external trade while 30 ordinances and acts are on social protection. This includes flora, fauna, wildlife protection, food and intellectual property.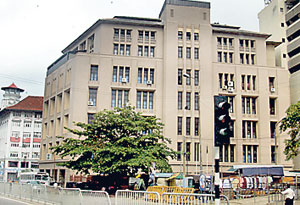 The old Times of Ceylon building housing some sections of the Customs Dept.
According to him up to 55% of the total tax income of the country accrues from import and export taxes.
"We target the business community to collect tax, but if taxes are high, businesses would try other ways and means to get the items into the country. Therefore it is important to develop a full- fledged risk management scheme", Mr. Jayasekare said.
Export, import, tariff, bonding, valuation, post clearance, baggage, narcotics, central cargo examination and preventive divisions are some sections falling under the purview of the Customs Department.
Its duties vary from imposing custom duties, power to search ships and cargo, unloading, warehousing and entry of imported goods, power to seize goods, imposing penalties for undervaluation, power to make special regulations for import & export traffic, regulation of passengers arriving in or leaving Sri Lanka, power to prohibit movement of arms and ammunition are some of the duties and powers vested in the Sri Lanka Customs through the Customs Ordinance.
Sri Lanka Customs is a member of the World Customs Organization with a membership 177 countries and involved in 98% of international trade.