It is usually said that anything new takes time to catch on. But it seemed different with IT-BPO as a career especially for young school leavers. This was amply evident from the keen interest students past their O/Ls and A/Ls showed at the recent IT-BPO career fair held in Kandy recently.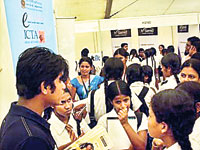 A section of the children listening with avid interest to an explanation given at the ICTA stall during the Kandy IT-BPO Career Fair
The enthusiasm shown at the Information Tehcnology and Business Process Outsourcing Career fair conducted jointly by the Information and Communication Technology Agency of Sri Lanka (ICTA), the Education Ministry (MoE) and the IT- BPO Private Sector held at the Asgiriya Police Grounds didn't seem to be due to a child's hope of escaping from serious studies associated with professions like that of a doctor, engineer, accountant and so on. Nor did it seem that it was due to reconciling to anything that is not the best as one's profession. Rather the interest seemed to have emanated from the the conviction that IT-BPO was a career that had all what the target group wanted rolled into one challenge, excitement, prestige, money, affordability, peer support, parent approval and so on .

The fourth in a series of eight regional IT - Business Process Outsourcing Career fairs planned to be held outside Colombo conducted registered a head count of a large number of visitors. The visitors consisted mostly of students from schools in as well as their teachers and parents.

Speaking about the rationale for conducting IT - Business Process Outsourcing Career fairs especially out of Colombo Programme Manager, Private Sector Development, ICTA, Fayaz Hudah said said: "Only less than 10% of those who sit their A/Level examinations get university placement. Awareness about the IT-BPO industry and the career opportunities it offers is low in Sri Lanka.

"This led ICTA - through its ICBP programme together with the Ministry of Education to run the first IT-BPO career fair, at the BMICH-Colombo in 2007 for school children. This fair organised to spread awareness about the IT-BPO industry also provided individual career counselling by the Ministry of Education counsellors along with IT-BPO industry personnel and was a significant success with over 2,500 school children attending.

"As many school children from outside the Western Province were unable to attend this event, ICTA, the MoE and the IT- BPO Private Sector partnered again in 2009 to organise regional IT-BPO career fairs in eight districts - Anuradhapura, Badulla, Galle, Hambantota, Kandy, Kurunegala, Matara and Ratnapura. Records confirm that 13000 students have benefited from the five IT-BPO career fairs already held jointly by ICTA and MoE", Fayaz added.