Police investigating the abduction and brutal assault of senior journalist Poddala Jayantha earlier this week, are yet to make any significant breakthrough, while the victim continues to seek treatment at the Merchant's Ward of the National Hospital.Investigators say the probe is complicated since there were no eye witnesses to the incident, although it occurred around 5 p.m.on Tuesday at the busy Embuldeniya Junction in the Mirihana police area.
Meanwhile, a news editor and the owner of a website are still under investigation as they were the ones who had initially tipped off the police about the abduction.
A senior a police officer of the Nugegoda division said they were trying to ascertain as to how the mediamen had got the information immediately after the incident and whether they had a hand in it.
The two people arrested were the News Editor of Lankaenews Bennet Rupasinghe and the owner of the site Sandaruwan Senadheera. They were later produced in courts and were later enlarged on bail.
Mr. Rupasinghe said he was alerted about the incident from one of his contacts in the capacity of a journalist and in turn he informed Mr. Senadheera. He said they had also alerted some other media colleagues as well as the President's Parliamentary Affairs Co-ordinator Kumarasiri Hettige, a former journalist.
Meanwhile, Mr. Jayantha speaking to the Sunday Times at the Colombo National Hospital said, at 5.45 p.m he was dragged into a van and gagged and blindfolded and beaten up with poles.
"When I screamed in pain when they were beating me they asked me whether this is the way I shout at picketing campaigns and protests as well. I heard one of them shouting, 'smash his fingers so that he cannot write again'". One of them took a pole and smashed a finger thereafter," he said.
He said they used two poles and tightened his left leg fracturing it, later he fell unconscious.
He said they cut his hair and beard and tried to choke him so that he would suffocate.
Mr. Jayantha said after more than two hours he was dumped on the roadside from where he was helped by a three wheeler driver and brought to the National Hospital.
Hospital officials said it would take at least one year before the victim could walk without an aid and that the injuries to his fingers would take a considerable time to heal thereby crippling his professional work.
The attack on Mr. Jayantha is the most serious incident against media personnel following the brutal killing of the Sunday Leader Editor Lasantha Wickrematunga.
The persons responsible for Mr. Wickrematunga killing are yet to be traced with police saying investigations are continuing.
Yet another assault on free expression: Editors' Guild
The Editors' Guild in a statement yesterday said the attack on the Sri Lanka Working Journalists Association (SLWJA) Secretary Poddala Jayantha on Monday is yet another assault on the freedom of speech and expression in Sri Lanka.
The statement said:
"It fits into a very clear pattern of the systematic neutralizing of free expression and dissent that has continued unabated for the past two years to rob the people of this country their cherished democratic values.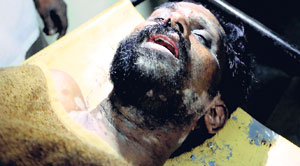 Poddala Jayantha lying in hospital
"Free expression and dissent are the cornerstones of a democracy. Each and every assault of this nature must be condemned with all severity.
However, such condemnations seem to have little impact on those in office."Not long after the killing of Sunday Leader Editor Lasantha Wickrematunga and the assault on Rivira Editor Upali Tennakoon, the President of the Republic, no less, assured the journalists of this country that there will be no repetitions In fact, he said that such assaults were, to use his very words, "like assaulting me."
"By the same token, the attack on Mr.Jayantha can be considered another assault on the President, whose assurances seem meaningless in the circumstances.
"Demanding an investigation into the assault of Mr.Jayantha and asking that the culprits be speedily brought to book is sine qua non to this condemnation, though The Guild is realistically pessimistic of any such outcome.
"It is most unfortunate that such incidents also go to detract from the credit due to the armed forces for their noteworthy achievements of recent times."
JOURNALISTS AND MEDIA WORKERS KILLED (SINCE 2006)
January 24, 2006: Subramaniyam Sukirtharajan, journalist, shot dead in Trincomalee while waiting for a bus to go to work.
May 3, 2006: Newspaper staff members Suresh Kumar and Ranjith Kumar killed when the "Uthayan" newspaper in the northern city of Jaffna was attacked by unidentified persons.
July 2, 2006: Sampath Lakmal de Silva, freelance journalist, shot dead by unknown persons. His bullet-riddled body was found near his home in Boralesgamuwa.
August 21, 2006: Sinnathamby Sivamaharajah, managing director of the Jaffna-based Tamil newspaper "Namathu Eelanadu", shot dead in Vellippalai.
April 16, 2007: Subash Chandraboas, journalist and editor of the Tamil-language monthly magazine "Nilam" ("The Ground") shot dead in Thirunawathkulam, Vavuniya.
April 30, 2007: Selvarahj Rajivarnam, journalist of the "Uthayan" daily, shot dead in Jaffna.
August 1, 2007: Nilakshan Sahadavan, student at the Jaffna Media Resource Training Centre (MRTC) and part-time journalist, shot dead by unknown persons in Kokuvil.
May 28, 2008: Paranirupasingham Devakumar, Jaffna district correspondent for TV stations Sirasa, Shakthi and the MTV Television Network, hacked to death in Navanthurei, on his way home from Jaffna town.
January 8, 2009: Lasantha Wickrematunga, chief editor of "The Sunday Leader", killed by unknown assailants while driving to work.
MEDIA PERSONNEL ABDUCTED/MISSING
August 28, 2006: Nadarajah Guruparan, news director, Sooriyan FM radio, abducted and later released.
February 15, 2007: Subramaniam Ramachandran, correspondent for Tamil dailies "Thinakural" and "Valampuri", abducted by unknown persons. Feared dead.
May 18, 2007: Pakkiyanathan Vijayashanthan, alias Vijayan, journalist and actor, abducted and later released.
May 22, 2008: Keith Noyahr, deputy editor and defence analyst of the English weekly, "The Nation", abducted late at night and dropped off near his home early the next day. A case of assault.
June 30, 2008: Namal Perera, journalist and head of the advocacy section of the Sri Lanka Press Institute (SLPI), assaulted by a gang of six persons who followed him from his office.
January 24, 2009: Upali Tennakoon, chief editor of the Sinhala-language weekly, "Rivira, assaulted on his way to work. Incident occurred at Imbulgoda, Gampaha.
March 31, 2009: N. Vithyatharan, editor of Colombo-based Tamil daily "Sudar Oli", abducted and later arrested by the police. He was released 6 ½ weeks later.
June 1, 2009: Podala Jayantha, secretary of the Sri Lanka Working Journalists Association, assaulted by unidentified persons when returning from work.
Condemnation by media organisations
The NewsPaper Society of Sri Lanka
The merciless attack on Mr. Poddala Jayantha at the hands of unknown assailants is the fourth such instance, since Mr. Keith Noyhar, the then Deputy Editor of The Nation was abducted and badly beaten on 22nd May 2008.
These attacks include the assassination of Mr. Lasantha Wickrematunge, Editor of The Sunday Leader.
Mr. Jayantha, a journalist at Lake House is a vocal advocate of the causes that his association espouses.
In each of the mentioned attacks, Government Ministers connected with the media, have solemnly condemned what has taken place, and promised speedy investigations, none of which has produced any result. The police join in the chorus.
Government sources at various talk shows have defended the lack of progress in these investigations citing the difficulties that the investigative authorities have in bringing even high profile terrorist attackers to book. The comparison we feel is not tenable.
We condemn the attack on Mr. Poddala Jayantha and once again ask for a speedy resolution of each of the ongoing investigations.
SLPI
The Sri Lanka Press Institute has expressed shock and horror at Tuesday's brutal attack on Poddala Jayantha, an outspoken media rights activist and Secretary of the Sri Lanka Working Journalists Association who recently joined the board of directors of the SLPI.
The statement said:
There is no reason to believe that this attack was unconnected to his public role defending press freedom and media rights and can only be seen as the latest manifestation of the frightening trend of an unrestrained jackboot stamping on the cherished right of speaking out on public issues relating to press freedom.
It is now nearly five months since Sunday Leader Editor Lasantha Wickrematunge was murdered on a public road in broad daylight. We have heard a plethora of platitudes about ongoing investigations and promises that those responsible will be brought to book. Outside arresting somebody who appears to have stolen Wickrematunge's mobile phone, nothing concrete has emerged from the investigation into his killing as far as the people are aware.
Media Minister Lakshman Yapa Abeywardene yesterday condemned the attack on Jayantha, a Lake House employee, at a news briefing. Almost in the same breath he said that there was information that several army officers, businessmen and media personnel were under investigation over LTTE links.
Abeywardene, however, had declined to name the suspect journalists although he had said investigations were ongoing.
Poddala Jayantha lies in hospital today with a broken ankle. He had been taken off a bus and been seriously roughed up. Let not this case too remain in a dossier of unsolved mysteries such as those involving Keith Noyhar, Namal Perera, D. Sivaram, Lasantha Wickrematunge, Upali Tennekoon, about five Rupavahini employees and many other journalists who were either killed or beaten up during the watch of the present administration.