The triumphalism continues. In the aftermath of a decisive battlefield victory twelve days ago came a remarkable diplomatic success on Wednesday.
In Geneva, by a majority vote, the United Nations Human Rights Council rejected a call by the European Union and Switzerland for an investigation into possible war crimes by both the Government and the now defunct Liberation Tigers of Tamil Eelam (LTTE). Twenty-nine countries voted in favour of Sri Lanka. The list would be of some interest to readers to know who supported us. China, India and Russia voted in favour. So did Angola, Azerbaijan, Bahrain, Bangladesh, Bolivia, Brazil, Burkina Faso, Cameroon, Cuba, Djibouti, Egypt, Ghana, Indonesia, Jordan, Madagascar, Malaysia, Nicaragua, Nigeria, Pakistan, The Philippines, Qatar, Saudi Arabia, Senegal, South Africa, Uruguay and Zambia.
Canada, France, Germany and Italy were among those who opposed. Others being, Bosnia and Herzegovina, Chile, Mexico, Netherlands, Slovakia, Slovenia, and Switzerland. A reader sent a lighter analysis. He pointed out that countries representing 3.9 billion of the world's population voted for Sri Lanka, while only 469 million people voted against Sri Lanka. There were six abstentions - Japan (Sri Lanka's largest aid donor), Ukraine (a military supplier), South Korea (which has substantial foreign investment in Sri Lanka), Argentina, Gabon and Mauritius.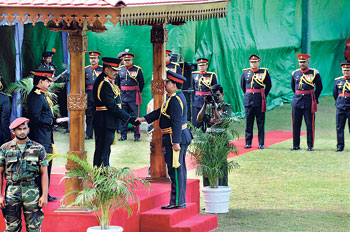 A job well done: Army Commander Sarath Fonseka felicitating Maj. Gen. Jagath Dias at the War Heroes' ceremony at the Army Headquarters. Pic by Gemunu Wellage
It was the fact that the re-elected Congress Government in India had voted with Sri Lanka that created the biggest buzz in diplomatic circles. India was once the instigator of all resolutions against Sri Lanka at UN forums. That was a long time back. The fact that India gave its imprimatur to the resolution supportive of Sri Lanka might now answer where India has always been in the recent military offensive by the Sri Lanka Security Forces against the LTTE despite all the hot-air created during the Indian General Elections earlier this month. Now, with the elections over, and proof that the Indian electorate, even that of their southern state of Tamil Nadu didn't care a tuppence for the LTTE issue in Sri Lanka, India was confident of openly backing its southern neighbour.
In fact, it was more than that. India could have easily abstained if it wished. Instead, it was an open declaration that despite all its pre-election posturing, and concern for the trapped civilians and all that, India did not think that the Sri Lankan government had violated any human rights in its pursuit of the LTTE. The DMK led by Tamil Nadu Chief Minister M. Karunanidhi was not interested either. He was more focussed on getting portfolios for his progeny in the new Cabinet that was being formed in New Delhi.
The diplomatic victory was even more important. The majority welcomed the recent re-assurance by President Mahinda Rajapaksa, that he does not regard a military solution as a final one and his commitment to a political solution. They also urged the international community to co-operate with the Government of Sri Lanka in the reconstruction efforts. This is, among other matters, by increasing financial assistance.
If the credit for the military victory is to go to the armed forces and the leadership given by Defence Secretary Gotabhaya Rajapaksa, the outcome in Geneva should without doubt be shared mainly by two personalities, Mahinda Samarasinghe, Minister of Disaster Management and Human Rights and Dayan Jayatilleke, Sri Lanka's Ambassador to the UN in Geneva.
Even if Foreign Minister Rohita Bogollagama scurried to hit the spotlight at the last minute with hurried press releases, taking the credit as it were, at the highest levels of the Government there was disappointment. They were generally not happy with the less than pro-active role played by the Ministry of Foreign Affairs in the general conduct of foreign affairs. This is particularly in the light of concern that although the UNHRC move failed, the countries that backed Sri Lanka could continue their campaign in other fora.
Giving rise to these concerns, among others, was a statement from the European Union after the Geneva event. "The EU regrets that it was not possible for the Human Rights Council to agree on an acceptable outcome of the special session addressing the serious human rights violations and the humanitarian crisis," the statement said.
It added: "We regret that the proposals presented by the EU to amend the Sri Lankan draft resolution could be neither discussed nor considered by the council" after a majority of members supported a "closure of debate" rule.
It has bolstered the Government's determination to engage not only the countries that voted against Sri Lanka but also other UN member nations so that they may obtain a better understanding of recent developments. The main thrust will be through Sri Lanka's diplomatic missions including the one in the UN to reach out to countries in whose capitals there is no diplomatic presence. A Foreign Ministry source said special envoys of President Rajapaksa would visit some of the leading capitals to both thank those Governments for their help and further explain the Government's plans during the post conflict phase.
These developments come at a time when several aspects of the post-conflict phase are engaging the different arms of the Government. Significant among them is the debriefing now carried out by security authorities on senior guerrilla cadres who were arrested or those who surrendered. This is helping them obtain a broader picture of how Tiger guerrillas raised funds in one theatre, obtained weapons in another to engage in a prolonged separatist war in Sri Lanka.
Among those who are said to be revealing vital information in this regard are former EROS (Eelam Revolutionary Organisation of Students) front liner Balakumar, until recently a confidant of late Velupillai Prabhakaran and Yogaratnam Yogi, a member of LTTE's peace talks team when President Ranasinghe Premadasa was in office. Some unidentified guerrilla intelligence cadres are also under interrogation.
It is amidst these developments that the LTTE 's head of the 'International Wing', Selvarasa Pathmanathan, better known as KP, made veiled overtures to engage the Government in a dialogue. This was through interviews he gave foreign satellite TV channels where he said his organisation had changed its character to become one that would pursue a "non-violent" approach to resolve Tamil issues. The overtures did not meet with any form of response from the Government.
Both Government leaders and senior officials in the security establishment are of the view that Pathmanathan (KP) should be brought before law enforcement authorities. Firstly, he is wanted for the murder of the late Indian Prime Minister, Rajiv Gandhi. This and a series of other crimes have prompted Interpol to place him on their Red Notice or most wanted list of people, though he has been known to have oiled the palms of several very senior people especially in South East Asian countries so that he gets a substantive tip-off to slip out of any impending arrest. Security authorities opine that he was named 'head of International Relations' in a cunning move to oversee vast amounts of money stashed away in foreign banks and to deal with some foreign Governments after the guerrillas came under heavy military pressure.
These were monies collected from the Tamil diaspora over the years. "Using the so-called offer of non-violence, he is trying to seek some form of legitimacy," a security source who did not wish to be identified said. "In effect, he is trying to surreptitiously revive the LTTE under a new guise and keep the Diaspora supporting it. We will not fall for this ploy," the source added.
If the nation paid tribute to the heroes of the successful military campaign to decimate the LTTE last week, it was the turn of troops themselves this week. One of the principal architects of the military campaign, General Sarath Fonseka, headed a colourful ceremony at Army Headquarters on Thursday to honour their services.
General Fonseka, presented silver parchment scrolls to twelve war heroes who were at the forefront of the battles. Major General G.A. Chandrasiri, Major General M. C Mendaka P Samarasinghe, Major General N. A Jagath C Dias, Major General Nandana Udawatta, Major General G. D. H. Kamal Gunarathna, Brigadier Prasanna P de Silva, Brigadier Sathyapriya D. T Liyanage, Brigadier L. H. Shavindra C. Silva, Brigadier C. P Gallage, Brigadier P. M Rohana Bandara, Colonel Nihantha D. Wanniarachchi, and Colonel G. V.Ravipriya were the recipients of those conferment, awarded by General Fonseka on the occasion.
Gen Fonseka's address to those gathered gave an insight into the valour and bravery displayed by the troops. Excerpts of what he said at the saluting parade;
"…Let me on this occasion of commemoration also recall cherished memories on our fallen war heroes, those went missing, turned disable and those sustained injuries during this battle. That memory gives a deep sense of sorrow, but accomplishment of their mission offers solace to us.
"This victory was largely dependent on leadership of the officers and soldiers who fought in the battleground. His Excellency, President Mahinda Rajapaksa and the Secretary Defence as well as those here and abroad offered leadership and guidance to this fight deserve our tribute and commendation. Fighting units, Task Forces, Service and Logistic units extended their maximum support to us and such cooperation is gratefully acknowledged. Those who provided protection to the ground while fighting was on elsewhere also receive our praise.
"New recruits and soldiers who joined the Army en masse contributed largely to this victory. Had they failed to do so, we would not have been able to see an end to this battle. Parents and their family members who directed those heroic soldiers to join the Army also deserve our praise. The Army's strength rose to 200,000 from 116,000 as some 80,000 novices joined the Army in the past few months. Their entry helped us enormously to hold on to the territory thus captured and minimize soldier casualties….
"Rescue of thousands of besieged Tamil people, affected by terrorism was to be launched through a humanitarian operation after Mavilaru episode, enabling them to live as they wished. It was one of our objectives. We brought the entire nation under one flag after eliminating terrorism once for all. It is a matter of pride for Sri Lanka. We fulfilled the mission and the entire nation is indebted to the Army for that. We have added another Dutu Gemunu reign to history once again.
"Sri Lanka Army's sacrifice for successful completion of this fateful 'Eelam War IV' cannot be challenged or equated to a parallel by anyone -- 190 officers and 5200 soldiers sacrificed their lives and 27,000 soldiers sustained injuries or turned disable during this battle. Of the total national dedication towards this battle, the Army has contributed more than 96 percent to it. The Army got rid of 22,000 terrorists and captured 9,000 of them alive, destroying all their assets and resources. By granting relief from death to those LTTE cadres, the Army amply depicted its discipline and dignity.
"More than 70 percent of the enemy's maritime and aerial resources were demolished by troops of the Army. Therefore, service and commitment, rendered by Army officers and other ranks in this battle cannot be equated to that of any other individual. As Commander of the Army, I am proud to state so, on behalf of the entire Army.
"By introducing changes to the Army, all necessary training was imparted to the troops, all required facilities and essential devices were provided and more importantly, competent military leaders were posted to right seats and appointment of junior leaders among soldiers was made as required. Though the war was to be completed in three years, our collective efforts made it possible to eliminate the enemy within two years and ten months. We are determined to bring peace to the country and we have created an environment, conducive to peace and security. We must still consolidate that basis to avoid any such threats in the future too…."
On Wednesday, troops engaged in the final phase of Eelam War IV battles will gather at the Galle Face Green for a parade that would pay tribute to their leaders. Unlike on past occasions, the Government has decided to allow members of the public to view this historic event.
On the political front, the Government's agenda for the post-conflict phase is already being set in motion. The Uva Provincial Council elections will be next on the agenda. The government's aim seems to be dissipate the opposition resource-wise and de-moralise it. Already, the ruling Sri Lanka Freedom Party (SLFP) General Secretary Maithripala Sirisena has told party organisers at a meeting at Temple Trees to be prepared for more and more elections - and an important election as well. This would mean the prospects of a General Election. The fact that they will play on the military victories will be a foregone conclusion.
Local Government elections are also being planned. The Tamil National Alliance (TNA), and the Tamil United Liberation Front (TULF) together with the pro-government Douglas Devananda and Vinayagamoorthy Muralitharan alias Karuna elements are also being spoken to regarding elections in the once LTTE-controlled areas. There is going to be a saturation of elections from what appears.
Opposition and United National Party (UNP) leader Ranil Wickremesinghe, Sri Lanka Muslim Congress (SLMC) leader Rauff Hakeem and the breakaway SLFP faction Leader Mangala Samaraweera met this week to wrack their brains on how to stop this steam-roller government in its tracks. It will be interesting to see what they can come up with, if they can come up with anything at all because options seem somewhat limited at the moment.
One political analyst said that the government can only lose by someone kicking into their own goal. External factors like the worsening economic situation given the deteriorating foreign exchange situation might also come into play. The government is apt at weathering the impending storm with the propaganda machinery at its command. And again, many a government has fallen despite this propaganda. A new, and interesting period lies ahead.