The news of the change of plans for an important diplomatic encounter between Colombo and New Delhi arrived only night before.
Two emissaries of Indian Prime Minister, Manmohan Singh would fly to Colombo on an Indian Air Force jet the next (Friday) morning. They were National Security Advisor M.K. Narayanan and Foreign Secretary Shivshankar Menon.
Basil Rajapaksa, MP, was to travel earlier to New Delhi as special envoy of the Sri Lankan President. In fact, India's High Commissioner Alok Prasad, had already arrived in New Delhi to be on hand. Rajapaksa was to meet Indian leaders, including Premier Singh, to explain the humanitarian situation in the northern battle zone. Rajapaksa, senior advisor to the President, yet flew to New Delhi citing 'personal reasons'. Prasad did a turn-around and joined the two emissaries to Colombo.
In Colombo, Narayanan and Menon met President Mahinda Rajapaksa at Temple Trees for talks. On hand were Defence Secretary Gotabhaya Rajapaksa and other senior officials. The emissaries had brought a message from Premier Singh - they sought a declaration from the Government of Sri Lanka about the ongoing military operations and help for civilians trapped in the war.
The reason for New Delhi to rush two emissaries by air instead of awaiting the arrival of Sri Lanka's own special envoy became quite clear. The Sri Lankan conflict has become a critical issue in the southern Indian state of Tamil Nadu in the ongoing parliamentary elections. The Dravida Munnetra Kazhakam (DMK), the Congress Government's partner in Tamil Nadu, was mounting heavy pressure on the centre. That was to satisfy Tamil Nadu Tamils, who have a close affinity with Tamils in Sri Lanka and send a message that New Delhi was acting tough with Sri Lanka. DMK leader Muthuvel Karunanidhi's plight was made worse by remarks from his archrival.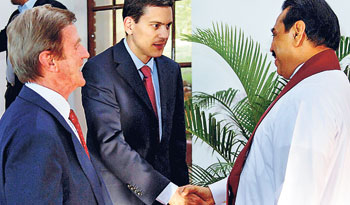 Kouchner (left) and Miliband (Centre) meeting President Rajapaksa at the Embilipitiya state bungalow on Wednesday.
All India Anna Dravida Munnetra Kazhakam (AIADMK) leader Jeyaram Jeyalalitha, a profusely anti-Tiger guerrilla politician, had publicly declared that if her party won, she would ensure a separate state for Tamils.
Under fire from the Centre for saying this, she quickly clarified her statement to say what she meant was to have a separate state for Tamils in Sri Lanka. This was by using that pledge as a bargaining chip with the successful political party that would form a Government. She would urge that the Indian Army is sent to carve out that separate country. In a state where sentiments are easily whipped, the issue had caught Karunanidhi in a quandary, searching for his next move.
During the talks on Friday (April 24), President Rajapaksa told the Indian emissaries he would consult the National Security Council on Monday and then make a formal declaration. Such a meeting earlier was not possible since Western Provincial Council elctions were on Saturday and the results expected on Sunday. No way was the President going to jeopardise the Western province elections by seeming to buckle down to Indian pressure. The Indians who came expecting the Sri Lanka Government to understand the compulsions of the Indian Government in election period, would have been expected to reciprocate the needs of the Sri Lanka Government.
After the National Security Council meeting on Monday, the Presidential Secretariat issued a two paragraph media release titled "statement by the Government on the Security situation." It said:
"Government of Sri Lanka has decided that combat operations have reached their conclusion. Our security forces have been instructed to end the use of heavy calibre guns, combat aircraft and aerial weapons which could cause civilian causalities.
"Our security forces will confine their attempts to rescuing civilians who are held hostage and give foremost priority to saving civilians."
However, even before the statement was released, or the two emissaries had returned to New Delhi, ruling Congress leaders had had hinted that Indian pressure would prompt Sri Lanka to halt the war. Outspoken among them were Palaniappa Chidambaram, Union Home Minister and Karunanidhi. The two met for talks in Chennai and later spoke to the media.
"Our two envoys have told the Sri Lankan President that it is no more a question of pleas or requests but India insists this war should stop and the rehabilitation of civilians should start," said Chidambaran after the hour-long meeting with Karunanidhi. "I spoke to our envoys on their return from Colombo. I believe something good will happen. Let us wait for a day or two and see what they (Sri Lanka Government) do," he added.
Added Karunanidhi: "I am satisfied with Chidambaram's briefing. He said something good will happen. I too believe that." There was overconfidence on the part of Indian leaders that the Government would announce a halt to the war. Perhaps the anxiety caused by the polls campaign and fears of a possible defeat may have been guiding factors. Both Chidambaram and Karunanidhi's assertions were front page news in the print media and prime time slots on TV on Saturday (April 25). On the same day, Sri Lankan leaders were dismayed by the utterances.
Defence Secretary Gotabhaya Rajapaksa told The Sunday Times in an exclusive front-page report that there were no calls by the Indian emissaries to halt the war. He was explicit. He said they had only explained to President Rajapaksa the pressure applied by Tamil Nadu on the central Government in New Delhi. He said the President had invited the visiting duo to fly to camps housing Internally Displaced Persons (IDPs) in the north and see for themselves. However, due to non-availability of time, they had not been able to do so, he added.
Defence Secretary Rajapaksa's assertions clearly showed there was no shift in the Government's position on the military campaign against Tiger guerrillas. He was not only giving leadership to that campaign but had only the previous day termed as "a joke" the offer of a "unilateral ceasefire" by the Liberation Tigers of Tamil Eelam (LTTE). The LTTE said that it was in agreement with views that "the humanitarian crisis can only be overcome by the declaration of an immediate ceasefire." Hence, the statement said, "As the first step we have now announced this unilateral ceasefire and call upon the international community to pressure the Sri Lankan Government to reciprocate it."
Notwithstanding the LTTE 'unilateral ceasefire' offer, troops continued their advance to re-capture some seven square kilometres of a coastal stretch that now forms the No-Fire Zone or the Civilian-Safety Zone. An Army spokesman insisted troops advanced despite guerrilla pressure (which would mean that the LTTE did not comply with its unilateral ceasefire) adding that no heavy weapons were used or became necessary. The source said guerrilla resistance had receded but small groups had taken shelter behind civilians. "They are forcibly holding the civilians. Some have even been shot at. We have interviewed a few of them after they returned," the spokesman said.
Defence Secretary Rajapaksa's strong assertions rebutting the claims of Indian leaders were to have its effect. Disappointed with the news that was beamed on Indian television all through Sunday, Karunanidhi embarked on what was termed a hunger strike. His daughter told the media how he could not sleep the previous night, disturbed as he was by the developments in Sri Lanka. The fast was termed a farce by his opponent Jayalalitha. He lay on a reasonably comfortable bed with two air coolers blowing a nice chill breeze in the April heat. His political rivals were not charitable about the act. They said he had a double take of idli-sambar before announcing the fast. It was called off only after his ally Chidambaram went live on television channels to interpret the Sri Lanka Government statement. That was followed by a telephone call to Karunanidhi by Premier Manmohan Singh.
Chidambaram declared, "it is the view of the Government of India" that Sri Lanka's statement declaring "combat operations have reached their conclusion" is in effect "a cessation of hostilities." He said, "it is also the understanding of the Government of India that security forces will 'now confine themselves' to rescuing civilians held hostage."
It came as an embarrassment to Chidambaram albeit the Congress Government itself when TV channels said that Colombo's view was different. It quoted 'a Defence official' as saying "there is no halt to the war or a declaration of ceasefire." That made it distinctly clear that the visit of the two Indian emissaries did not work to the political timetable of Indian leaders.
With these developments, TV chat shows and print media commentaries dominated the Indian media scene. Some of them highlighted a paradox in the Indian political firmament. Those who nurtured, supported and even strengthened the LTTE in many ways were now their archrivals. On the other hand, some of the archrivals had become ardent advocates of the LTTE. One is reminded of a well-known Tamil saying once popular in South India:
"Paalai Yooti Paambeyum
Valathaley Nanmeye
Kadikathane Varum Athu
Adithu Kolla Nerume"
Roughly translated, it meant, raising a snake feeding it milk is a meritorious act. Yet, the snake would come to bite. Then one would have to strike to kill the serpent. The analogy is to the LTTE, how it was raised in South Indian soil, trained and armed to fight a separatist war in Sri Lanka. The late Indian Prime Minister, Indira Gandhi's administration was responsible for this. However, later the guerrillas killed her son, one-time Prime Minister, Rajiv Gandhi in Sri Perimupudur, Tamil Nadu in 1999 as he was campaigning for a second stint.
In the wake of Rajiv Gandhi's assassination, the Congress Government in New Delhi, it is no secret, has staunchly supported the Government's 'war on terror' against the LTTE. It passed valuable intelligence information that led to attacks on guerrilla ships and important installations on land. Once Sri Lanka has set in motion the machinery to deal firmly with the guerrillas and give them no new lifeline, only domestic political compulsions in Tamil Nadu have prompted the Congress Government to ask for a halt or go slow to military operations.
It is in this backdrop that India handed over 40,000 family packs for IDPs in the north last Thursday. For the second time around, India did not hand over the goods to the Sri Lanka Government but to the International Committee of the Red Cross (ICRC). High Commissioner Alok Prasad said the ICRC had "done an excellent job" in distributing 80,000 family packs from India in October last year.
As the drama over reports of 'combat operations' with India playing out, another began with the visit of two Foreign Ministers, David Miliband (UK) and Bernard Kouchner (France). Miliband had joined Koucnher to fly to Colombo in a French Air Force plane. A third Foreign Minister, Sweden's Carl Bildt who had been in Brussels at the time and as Sweden was to assume the new Presidency of the European Union (EU), he had been asked to join the Anglo-French duo. Diplomatic sources said Sri Lankan Foreign Minister Rohita Bogollagama had told Miliband during a telephone conversation that Bildt's visit could take place in May. Hence, he would not receive a visa to Colombo to come with his British and French colleagues.
The move incensed the Swedes. They immediately re-called their Charge d' affairs as a sign of protest. When news spread, the Foreign Ministry resorted to a technicality to wriggle out of the situation.
A statement said Bildt had been invited in May last year to visit Sri Lanka this month. An attempt at damage control was made when Sri Lankan diplomats told the Stockholm Foreign Office he could still come to Sri Lanka. Sweden's anger prompted it to say "No." Government insiders say political leaders in Colombo have been unhappy over the Swedish role during the time of peace talks with the LTTE. They claimed that guerrilla leaders were allowed free access into that country and used it 'as their playground'. Swedish officials, however, declined to comment on the grounds that no official message of such a position has been conveyed to them.
Both Miliband and Kouchner held talks with Bogollagama. Also present was Defence Secretary Rajapaksa. At least on two different occasions, one source said, Miliband interrupted Rajapaksa and there were some heated exchanges. Later, Rajapaksa did not hide his feelings in an interview with a visiting correspondent of Daily Telegraph, London.
He launched an angry verbal attack on Britain Foreign Secretary Miliband. Saturday's Telegraph report by Dean Nelson said: "Mr Rajapaksa, who is known as a passionate and feisty advocate of completely crushing the Tamil Tigers and capturing its leadership, said Mr Miliband had interrupted him during their meeting".
The Defence Secretary had complained about the co-ordinated pressure being put on his government by the international community and singled out this week's visit of Mr Miliband and Bernard Kouchner, his French counterpart, as a "waste of time".
He and Miliband were reported to have had a "stand up row" in which the Foreign Secretary was trying to persuade the Sri Lankan Government to declare a ceasefire to allow civilians trapped in the fighting to leave.
Referring to the interruption while the Defence Secretary was talking, Rajapaksa was quoted as saying, "Maybe it's his way but I don't mind his attitude or his ways. My issue is the present situation and why should he interfere in these things. That's what I told him. People in this country approve of what the President is doing and a leader must listen to people in his own country not the foreign minister of the UK".
Rajapaksa said Britain and other members of the international community were now plaguing Sri Lanka with "unnecessary" visits to please the Tamil communities in their own countries but had not been so vocal when the Tamil Tigers had assassinated top Sri Lankan politicians and innocent civilians.
The Telegraph reported added; "The two men had apparently clashed when Mr Miliband said he had received reports that army shelling was killing civilians. Mr Rajapaksa accused him in turn of believing BBC reports which he claimed were influenced by Tamil Tiger propaganda.
"The British High Commission in Colombo denied it had been a row but admitted there had been an "open and frank exchange of views and strong opinions were aired". A spokesman for Mr Miliband said he was not aware of there being a Tamil community in the Foreign Secretary's South Shields constituency. "I take some exception to the suggestion that the Prime Minister, David Miliband, Bernard Kouchner, Hillary Clinton or the Ministers of the G8 and European Union are motivated in this by electoral politics rather than genuine humanitarian concern," he said.
"It is not the first time that Mr Miliband has upset government ministers during a foreign trip. Earlier this year, the Indian Government lodged a complaint about his "aggressive" and "arrogant" manner during a visit to the country. A senior official spokesman said the (Sri Lanka) Government had been irritated by the Foreign Secretary's attitude, adding: "He did not come across as the foreign minister of a friendly nation".
Both Miliband and Kouchner flew from Colombo to Embilipitiya for a meeting with President Rajapaksa. There, the Government had renovated an official bungalow overlooking the Chandrika Wewa. The meeting there, amidst cooler winds in a verandah, was nevertheless a heated one. There was one occasion when Rajapaksa said Sri Lankan troops had not caused any casualties to civilians, only to be countered by the visitors that they could not believe what he says.
Rajapaksa's response came during a rally to mark the 104th birth anniversary of his late father the next day in Embilipitiya. In an obvious reference to the visit of the two Foreign Ministers, Rajapaksa asked why some foreigners are so concerned about civilians in the No-Fire Zone. Pointing out "even yesterday they had said that the security forces were using heavy weapons," he said "why are some western leaders so concerned." He said the Government was doing its utmost for the welfare of civilians and asked what more did world leaders want. He, once again, ruled out any ceasefire and asserted Government's commitment to continue the war until the guerrillas were completely defeated.
Miliband and Kouchner then visited the camps housing the IDPs (Internally Displaced Persons) - one of which was even flying the French flag. They rushed back to Colombo and met with Opposition and United National Party (UNP) Leader Ranil Wickremesinghe, Sri Lanka Muslim Congress (SLMC) Leader Rauff Hakeem and Tamil National Alliance (TNA) Leader R. Sambandan - all of them smartly dressed in western suits. At these meetings however, all parties were more in agreement than in disagreement, each expressing the concerns of the humanitarian crisis that had arisen in the Wanni and elsewhere due to the security forces offensive.
One of the things that came out of these meetings was the fact that a second generation of the Tamil Diaspora was now engaged in promoting the ideals of a separate state in Sri Lanka. Officials in the Anglo-French delegation had said that this was a matter of concern; their argument being that a military solution was not the final solution to what they kept calling the "ethnic problem" in Sri Lanka.
But for now, the remarks of the Sri Lankan Government leaders and the defence Establishment have made it clear as clear can be , to both India and the other international players, that there would be no respite to the on-going military campaigns in the Wanni against what is left of the LTTE.