For centuries, its leaves have been used to treat leprosy, tuberculosis, to relieve the pain of rheumatism, and arthritis. It improves brain capacity, and is seen as an aid to longevity. In Sri Lanka Gotu kola, also known as Indian ginseng is believed to strengthen and revitalize worn out bodies and brains; eating '2 leaves a day, keeps old age away'.
A volatile oil can be extracted from the kidney shaped leaves of Gotu Kola(Centella asiatica). The constituents of the extract are vallerin, camphor, cineole, caryophyllene, quercetin, sterols, pectin, methanol and many others. The extract also contains vitamin A, B, C, and D and minerals such as calcium, chromium, cobalt, magnesium, manganese, phosphorus, sodium, potassium, selenium, silica and zinc.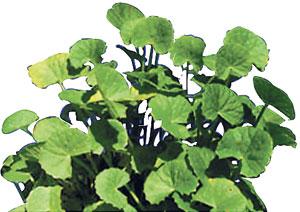 Gotu Kola (Centella asiatica)
Some of the actions of the extract are believed to be antipyretic (bringing down temperature of the body), diuretic (passing more urine), antifungal, anti-inflammatory, sedative, antispasmodic (for abdominal colic), tonic, antiviral, antibiotic, rejuvenation, blood purifier, and adrenal strengthener (anti-stress).These actions however have not been scientifically confirmed.
In Ayurvedic medicine it is used as a revitaliser of nerves and brain cells, promoting calmness and clarity, helping poor memory and lack of concentration and increasing meditation ability.
The extract is supposed to boost the immune system, heal peptic ulcers and act as an anti-stress factor. It is also good to fight mental retardation, mouth ulcers, failing eyesight, hepatitis, and other ailments.
Gotu kola contains triterpenoids, compounds that have been shown to aid in wound healing. It is supposed to improve the blood circulation of the skin.
There are claims that it helps to reduce varicose veins in the legs. In a study of 94 people for venous insufficiency, those who took gotu kola reported a significant improvement in symptoms compared to those who took a placebo.
It is also considered good for high blood pressure, anxiety, insomnia and many other ailments.