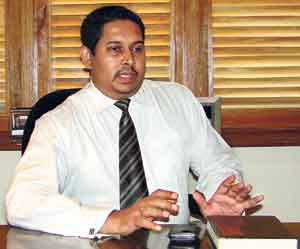 Suraj De Silva-CEO of the Favourite Group property development sector
The temporary drawback created due to the recent economic slowdown in the global and local markets have forced property developers to think more wisely and take a strategic approach. Due to the prevailing economic recession in the world high inflation has greatly reduced the purchasing power of consumers. In addition to this the bogus bubble that was created by certain leading property development companies caused a temporary, artificial demand in the market. However, under such turbulent market conditions, the Favourite Group has been able to survive the storm and maintain a steady and productive growth. The Sunday Financial Times met the CEO of the Favourite Group property development sector; Mr. Suraj De Silva to find out more about what they have to offer as well as his views on the current situation and the future of the property development market in Sri Lanka.
Q: For how long has the company been involved in the Real Estate sector?
Well, although the Favourite Group being a well diversified conglomerate with its stronghold on various areas of the market over the last two decades, ten years ago we came out with the organizations flagship project The Landmark building which marked a significant milestone in the property development sector.
Q:Tell us little bit more about the project and your experience?
The Landmark is a mixed development spanning over an area of 100,000sqft which completes 10 years of commercial operations in March 2009. We provide commercial and residential spaces that would probably be among the top 4 to 5 properties in Colombo in terms of convenience, comfort and elegance. From the ground floor to the 6th floor the building has been designed for commercial occupancy. Ground to Level three are specially designed with escalator access for retailers and service providers who require spacious and inviting front office environments to serve customers. 7th to 11th floors have 16 luxury apartments which are on sale as well as on rent. For the last ten years we have been very lucky to enjoy an average occupancy of over 99% in our commercial areas and over 97% in our Residential units. Currently the complex is fully tenanted to blue chip corporate clientele.
Q:How is the property market faring at this moment?
After several months of stagnation, the local property market is correcting itself. In other words the artificially created exorbitant prices have crashed. The general prices of real estate have come down, which is why this would be the ideal time to invest in the property development market. However, there are several other constrains. For the customers, lending rates are still sky high and customer's perception on property investments is very negative with some experiencing difficulties due to stagnated projects and many of them seeing real estate companies collapsing due to financial difficulties.
Q:What made the Landmark project so successful?
I think it's a combination of several factors. Location is very important in real estate business and here we are on Galle road, on one of the city's most valuable land along Colombo's main artery in the exclusive enclave of Colombo 3. Looking back, I would say that we were trend setters in terms of design, facilities and safety. We were successful matching contemporary international standards in designing the building. It's not only in look and feel but also in terms of fire safety with sprinkler systems and modern monitoring equipment, CCTV in common areas, Prime backup power and access control.
We were able to create space that our tenants could continue to use with technological changes or open space to modify the interior to suit their liking. Our team continued to add value to our property from the day one, enhanced our parking facility to accommodate over 100 vehicles, upgraded telecommunication facilities, improved energy efficiencies and continue to explore new technologies to reduce our carbon footprint. Most importantly our willingness to change as per market and customer demand has kept us ahead of the game. We have a dedicated team who works tirelessly to ensure that the building has a fresh look even after 10 years.
Q:You said the complex is fully tenanted but we have seen several advertisement of available space?
Yes, we are currently fully tenanted. But due to the recent economic slowdown in the global and local markets, two of our long term tenants wish to restructure their operations enabling them to sustain during difficult times. As a responsible landlord it is our duty to assist our tenants in any way possible. We have advertised spaces that would fall vacant within the next two to six months. Though the general perception of the market is that no one is expanding, I would say it is very encouraging to note some of the potential client's plans for growth. We are confident that we can maintain our occupancy rates by finalising several strong inquiries that we are currently pursuing.
Q:What is the future of property development in Sri Lanka?
As I said before the local property market is correcting itself and we expect lending rates to have a positive change within next few months as the war against terrorism seems to be coming to a positive conclusion and also the Government has taken several corrective measures to address issues in the financial sector. Considering all expected positive changes in the Country, the future looks bright for property development. We are expecting a boom in the market within the next 3 years. We expect a reverse migration too which would be a boost to the property sector and also expect that the Sri Lankan expatriate community would want to continue having convenient second homes in their motherland. This would restart the stagnant apartment sales and developments especially within the Western province. All of us will be able to witness a rapid development in real estate in the Northern and Eastern provinces for at least a decade with the war situation coming to a closure. I am not just referring to housing and commercial spaces but also property development due to other industry requirements such as tourism.
Q:How ready is Favourite Group to make the most of the expected growth in this sector?
The Favourite Group made a strategic change 10 years ago and transferred the Management of all properties under its ownership to the Group's fully owned subsidiary Regent Plaza (Pvt) Limited; which is the owner and developer of The Landmark. Since then, we redeveloped several of our old property holdings and further acquired strategic properties for future development. Currently Regent Plaza controls 650,000 square feet of commercial, residential and industrial real estate in the Greater Colombo area. Our Land bank in Colombo 3, Colombo 14, Ratmalana and Panadura would keep us extremely busy for another decade. In fact we have already obtained BOI approval for a housing project in Ratmalana under Regent Plaza Homes (Pvt) Ltd. First phase of the project is 46 residential units. Our environmentally conscious plan will consist of rainwater harvesting, solar lighting and many other features to minimise the carbon footprint. Favourite Group will continue to focus on increasing its portfolio by acquiring more properties for commercial as well as residential spaces.
In conclusion Mr. De Silva said "The main reasons Favourite Group has been able to maintain a steady and productive growth under turbulent market conditions are that the company's ability to predict market conditions, the ability to address customer needs and the vision of believing in steady long term growth. We have gone that extra mile so as to ensure that our properties are maintained to the highest standards in terms of our facilities and service levels, which differentiates us from the rest."