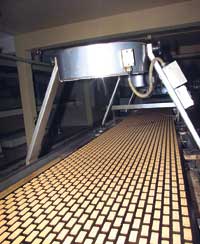 Biscuits on a conveyor belt
Munchee biscuits is already a household name in Sri Lanka with brand owner Ceylon Biscuits Limited (CBL) further saying it possesses a 60% domestic market share, a feat due in no small part to CBL's self-professed 'best distribution network in Sri Lanka'
However, this may be just the beginning of Munchee's (and CBL's) meteoric rise, since local markets for biscuits, confectionaries and similar categories, in which CBL competes, get more and more saturated, thus the company's brands have already made significant progress in the ongoing process of shifting their long-term focus beyond Sri Lanka's borders in an attempt to effectively penetrate international markets.
In fact, the results have already proven exemplary, says CBL's General Manager -Exports, Jude F. Rubera. Currently, CBL's turnover from exports, as of the financial year ending December 31, 2008, is US$ 10 million, with the company also reporting 30-40% year-on-year growth. This performance has earned them bragging rights as Sri Lanka's leading foreign exchange earner in exports from the processed food category, according to Mr. Rubera. These results are based on a sales territory stretching across 44 countries, including leading established supermarket chains in Europe, the Middle East and Australia currently distributing several CBL product ranges. In fact, the company's products have proven so successful that they are the current market leaders in the Maldives. International best-sellers 'Munchee Super Cream Cracker' and 'Munchee Lemon Puff', each now available in 40 countries, have also, according to Mr. Rubera, replaced some of the top players in the world as the preferred choice for many airlines.
CBL says it has also received several local awards over the last six months for their impressive performance in the export arena, including a Gold Presidential Export Award in the Food and Beverage category as well as several Gold awards from the National Chamber of Exporters, most significant being in the 'Best Sri Lankan Brand Exporter' category, and Gold for 'Export Brand of the Year' at the Sri Lanka Institute of Marketing's Brand Excellence Awards.
What is CBL's secret to export success? "We are successful because we do our own brand as well as private branding for supermarket chains, etc," says Mr. Rubera. Estimating that 90% to 95% of CBL's export sales have been from their own brands, chiefly Munchee, Ritzbury, Tiara, Go Jelly, Lanka Soy, Cecil and Samaposha, he also indicates that balance sales come from private branding sources. Private branding is when CBL products are sold under their client's own brand, such as in the airline and international food services industries. Mr. Rubera explains that this happens for several reasons: Sri Lanka is not known for its biscuits; Packaging may also appear too ethnic so international outlets may choose more internationally compliant packaging under their own brand to successfully sell required quantities of products.
Meanwhile, CBL's own brands, particularly best-sellers like Munchee, Ritzbury and Tiara, are sold primarily through big supermarket chains in developed markets: Fair Price in Singapore; Spinney's, Lal's and Jothiram's, all in the Middle East; Park'n'Shop in Hong Kong; and the Australian Retail Discounts chain. In other not-so-developed markets, for example in the Maldives and even some West African countries, Mr. Rubera reveals that his company "sells primarily through small outlets because of lack of big players". He adds that "they always want to get into new markets which is how they got into the hamper trade in USA and Australia".
So what is CBL planning for the future (especially with a deepening economic concerns looming on the horizon)? "Our long term objective is to make this range [into] strong regional brands in SAARC region," says Mr. Rubera. Especially India, where, according to him, the company currently exports three 40-foot containers a month, which is just the vanguard for a gradual push starting from the country's south and moving towards other parts of the subcontinent. He has also indicated a strong continuing interest in Africa. Meanwhile, regarding the current global recession, the company has encountered "a slight effect from the economic crisis in areas such as exchange fluctuations,", says Mr. Rubera. However, he is not overly concerned by the phenomenon since he considers most of CBL's products to virtually fall under the category of essential products for every home. Finally, Mr. Rubera indicates his wish to thank all the staff at his company because "everyone at Munchee has contributed to its success story".