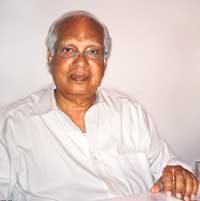 The South Asian Institute of Technology and Management (SAITM) is the brainchild of Dr. Neville Fernando who is a former Member of Parliament for Panadura. Inspired by the love and appreciation for his parents and his country, SAITM is Dr. Fernando's way of giving back to his country and his parents. Situated on a picturesque 4-acre land in Malabe in an eco-friendly environment, SAITM is considered to be the country's very first private sector 'Green Campus'. This state-of-the-art five storied campus includes all the modern facilities for teaching and learning, an auditorium with a 350 seating capacity, a student lounge spanning 10,000 square feet and cafeteria. The Sunday Times spoke to Dr. Fernando to gain in-depth insight into what the campus has to offer.
" It is my intention to offer the students who have been qualified but unfortunately been left out of the local university system the opportunity to obtain a recognized degree in their respective fields. I have invested my money in order to establish SAITM and it is well and truly my gift to the youth of this country. I personally feel that certificates and degrees alone will not make education complete. Therefore it is my intention to produce educated young men and women of character who will also be highly employable by the industry. My goal is to one day position SAITM as the most sought after higher education institute in the South Asian region. I do not expect any return on investment for SAITM by only operational profit in order to run the campus. It is also my intention to hand over the management of this campus to the government in 30 years time", says Mr. Fernando.
SAITM offers students study programmers in the areas of IT and Management, Foreign Languages and Communication Media and Medicine. The campus's academic and administrative staff comprises of a team of highly qualified and experienced heads of departments who had been in state universities in Sri Lanka. All academic staff of the campus is recruited according to UGC guidelines and comprise of professors, lecturers as well as visiting faculty from Sri Lanka and abroad who have excelled in their respective fields of study.
The faculty of IT and Management of SAITM strives to be the best of its kind among the private sector higher education institutions in Sri Lanka. In collaboration with several reputed foreign universities, including the Asian Institute of Technology (AIT) and the university of Wolverhampton, the faculty conducts academic programmes in IT, Computing, Business Studies, Business Management, Marketing and HRM. With the demand for graduates with qualifications foreign languages rising both in Sri Lanka as well as all over the world, the campus offers two state-of-the-art interactive multimedia language laboratories comprising of Apple iMac computers for computer assisted learning and web-based teaching in English and other foreign languages. The short-term certificate courses and diplomas in foreign languages is a unique feature of the campus and SAITM is the first private institute to offer such courses in several languages.
The Faculty of Communication and Media at SAITM is dedicated to offering study programmes and training in communication and media technology with the aim to promote SAITM as a center of excellence. The Department of Vocational Studies of the faculty offers internationally recognized professional and vocational training programmes, which include TAFE and City and Guilds courses. It is also proposed to conduct courses of the CISCO Networking Academy. This faculty also includes special laboratories for graphics related programmes as well as a fully equip data communications laboratory consisting of modern facilities for communication and networking technologies.
SAITM also offers students a unique and cost effective opportunity to study medicine in Sri Lanka and to obtain a first class degree from the Nizhny Novgorod State Academy of Medicine in Russia. Today Nizhny Novgorod State Medical Academy is one of the leading higher medical institutions in Russia and is recognized by the Sri Lanka Medical Council. At present the academy holds the 7th ranking among 46 higher medical institutions in Russia and has been acknowledged by the World Health Organization in addition to being included in the annual reference book of Medical Institutions 'World of Learning' issued in the UK.
"Our aim is to produce patient friendly doctors with a broad medical education. For this purpose students will be taught the same subjects as in Sri Lanka in addition to being imparted with knowledge in the history of medicine, philosophy, fundamental law, IT, languages including Russian and a host of other subjects which are important for a modern day doctor. This course will be of five years duration, where students will be studying the first four years in Sri Lanka and will complete the final year in Russia. In the future SAITM also plans to open an Academy of Performing Arts as well as Engineering. Education is the dowry that any parent can give their child; SAITM is therefore my gift to the youth of Sri Lanka and in a way is equivalent to any form of dowry", concluded Dr. Fernando.
Led under the guidance and professionalism of its visionary Dr. Fernando, SAITM offers Sri Lankan students a holistic education and will no doubt be successful in producing a new breed of professional youths who will in the future be leading the private sector organizations both here and abroad in the years to come. SAITM is an equal opportunity campus.