"My only wish is to visit Alimankada and see the LTTE bulldozer my son destroyed," says 61-year-old Y. L. Juliet, the mother of Army Corporal Gamini Kularathne, better known as Hasalaka Weeraya, who, in 1991, sacrificed his life to save his comrades by attacking an explosives-laden bulldozer driven by an LTTE suicide cadre in Elephant Pass.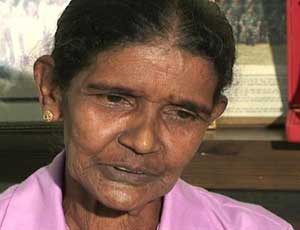 Juliet: She gave her son for the country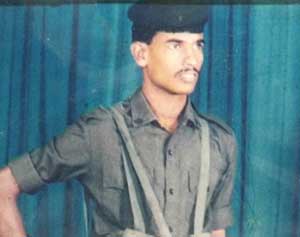 Gamini: The Hasalaka hero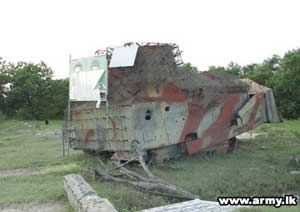 The bulldozer Gamini stopped by sacrificing his life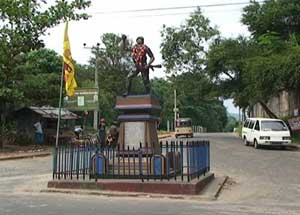 The memorial for a hero
On July 1, 1991, the young rifleman of the Sri Lanka Army Sinha Regiment prevented the LTTE bulldozer from entering the Elephant Pass Army camp by climbing on to the vehicle and immobilizing it by lobbing hand grenades.
The Parama Weera Vibhushanaya (PWV) award for the bravery of highest order was conferred on him posthumously.
Near the turn off to Wasgamuwa at Hasalaka, a remote Kandy district town bordering the Moneragala district, stands his memorial. Around 100 metres away from the memorial, is his house.
Juliet cries at times. Yet, at other times, she smiles. Although she feels sad about the loss of her son, the second of six children, there's a sense of pride as she reflects over his sacrifice.
"My husband was a farmer. He died when my son was small. After his death I started tilling the field. But it was only Gamini who worked properly with me in the fields. He got through the GCE Ordinary Level. But to help the family, he joined the Army," Juliet said, adding that her son was also a good debater and sportsman.
She also attended his passing out parade, she says reflecting on his early days in the army. "Two of his friends also joined the army with him. He trained at the Konduwatuwana camp in Ampara. I went for his passing out parade. He served in Ampara, Palali, Kankesanturai before he was sent to Alimankada".
She says her son's main ambitions were to convert their little hut into a proper house and to help his younger brothers and sisters.
In his letters from the battlefront to his mother, Gamini hardly spoke about the war. "He didn't like to talk much about the war. He used to tell me, 'Amma, don't worry about that. We will defeat the terrorists and save our country'".
As he came home for the last time, he rushed out saying that he had to buy items for Vesak in Alimankada, says Juliet.
"I didn't even get to see my son's body. They brought home a sealed box. I fainted when I saw that. But, I conducted my son's funeral with a sense of respect", she says adding, "I received the Weeramatha Diriya Matha award."
Juliet says that following her son's death, the then President, Ranasinghe Premadasa, who came to pay his respects had, together with Mr. Tissa Attanayake, helped build their house, while President Mahinda Rajapaksa had also visited the family.