NEW YORK, Jan 3 (AFP) -The family of Oscar-nominated Hollywood superstar John Travolta took a devastating emotional blow when his teenage son died Friday after a seizure while on a family vacation in the Bahamas, US media reported.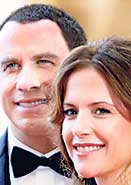 John Travolta and wife
Jett Travolta, 16, had a history of seizures and suffered one "at around 10 am this morning," John Travolta's attorney, Michael Ossi, told CNN. "All attempts to revive him were unsuccessful.
"Young Jett Travolta was the only son of the 54-year-old Hollywood star -- also a trained jet pilot -- and actress Kelly Preston, 46. They have a daughter, Ella, aged eight.
Jett's death "was completely out of the blue," Ossi said on the news network's website. "This is the worst day of John's life.
"The precise cause of death was not known, Ossi said. After an autopsy the body will be buried in Ocala, Florida, he said. The family has a home in Ocala as well as in California.