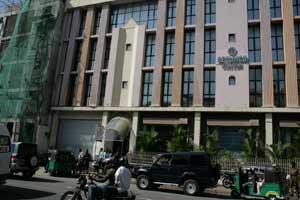 Head Office
Over 4,000 agitated depositors of the crisis-hit Golden Key who gathered at the company car park at Duplication Road on Monday expressed some protests over the arrangements by the management to accept their deposit withdrawal applications at a hurriedly built temporary shelter opposite the headquarters office at Duplication Road.
The Sunday Times FT speaking to a cross section of depositors including former migrant workers, pensioners, former film stars and Sri Lankans residing in the west found that many had invested because of the trust placed in the Ceylinco name and its chairman Lalith Kotelawala personally. There were mixed views as to whether their monies would be recovered – some placing still a lot of faith in Mr Kotelawala while others had doubts. But those who believe the Chairman's promise to pay – sometime later – are worried since they are in a difficult position in the absence of interest income in the next few months.
At the car park, depositors were given a receipt with a signature of Ceylinco officials who were deployed by the management of the company. Some depositors refused to accept the receipt saying that they wanted the company seal on it and a signature of some responsible person but not the signatures of junior officials.
A depositor demanded the company officials to place their seal for him to accept the receipt issued by them after he surrendered the Golden Key Credit Card and other relevant documents including monthly financial statements. He said that he has no confidence in these minor officials who cannot give any guarantee on the refunding of their deposits. He added that at least a Vice Chairman of the Ceylinco Group should sign the receipt given to them.
Mixed views on getting the money back
While some depositors were positive about reclaiming their money from Golden Key, there were an equal number who were doubtful. However, everyone said they deposited the money with this company because of the 'Ceylinco' brand name and moreover because of the trust in Mr Kotelawala. "I have invested Rs. 1.1 million here. According to Mr Kotelawala we can get this money. We can trust him," D.L De Silva, a retired pensioner from the mercantile sector who had invested four years ago said. He said these are some of his savings after working for 32 years in Rowlands Motor Company, and another 15 years at CIC.
Last week at the BMICH meeting on Tuesday, all the senior directors with Ceylinco Chairman Lalith Kotelawala were present when the latter addressed thousands of depositors. This Monday however, none was present at the car park meeting with depositors.
A senior official of the Golden Key Credit Co. Ltd told The Sunday Times FT that they cannot give a guarantee on the date of repayment of deposits and that all decisions will be taken by Mr Kotelawala. He added that a deciion has been taken by the management not to pay interest on deposits and action will be taken to refund the deposits only. He said that the company will have to pay half a billion rupees as interest alone.
No interest
A depositor who wished to remain anonymous said that the company has not paid interest for deposits during the past two months and company officials told him that the payments will be settled by January. He then suspected that something is happening and made a request from them to refund his money. Then the officials had informed him that customers should inform the company 45 days in advance to withdraw his money and the rest is history, he said.
B.R.G Samitha Prabath Kumara, a 28-year-old youth from Kandy, said that he had deposited Rs. 2.2 million at Golden Key Credit Co. Ltd on February 2, 2008 and he earned this money by working in Korea for three years undergoing severe hardships. He added that his only income was the interest he received from this deposit and he has no other income or job at present. He said he had written a letter to Mr Kotelawala to provide a relief to him by refunding the money or to provide him a job to look after his family including his mother and father.
Another depositor said that he invested a sum of Rs 3 million in the company by selling his wife's house in Panadura. He disclosed that he used the interest from the deposit to pay school fees of his two children who are studying in an international school in Colombo .
Dushani Hapugoda, a mother of one from Nugegoda said she invested her money three years ago. "We trusted Mr. Kotelawala and invested. We are living from the interest of this deposit. For December we did not get our interest. I am at a loss to know what to do. At this moment I am burning," she said.
'No one is taking responsibility'
Mrs. Hapugoda said she is not sure that she can reclaim the money. "At this moment no one is taking responsibility," she added. Eardley Garnier who was filling the forms on behalf of his daughter, R. Jansz, was positive the money can be reclaimed. "Golden Key will pay. We are confident of that," His wife, Margarite Garnier also shared the same sentiments saying, "I am 100 percent sure Mr. Kotelawala will pay. It will take a little time, but he will pay."
Emmert Anusha, a Sri Lankan living in Austria, said that she invested Rs. 10 million, six months ago. When asked why she invested in Golden Key, she said, "Everywhere in the world we have seen only Ceylinco. That is the name we have seen so far. That is why we invested in Golden Key, which is a Ceylinco company." She said that there is no money for her return ticket. "That is how much, I together with my two children and husband depended on the interest that we got from here. We literally shivered in the cold to earn this money," she added.
Sonia Dissanayake, film star-turned producer who has retired from acting, said, "Now I do not act in films, because I am not well. My husband is a cancer patient.
This money is fixed in my son's name and we get the interest. I have to attend to all our needs with this interest. Golden Key has promised to pay our capital in six months, but what am I to do till then?"
'Mr Kotelawala a good gent'
She also added," Mr. Kotelawala is a good gent. We believe in his word. We hope that we will get our money." Another gentleman who did not wish to be named said, "I have invested Rs. 48 lakhs in this company.
I invested here because of the trust I have in Mr. Kotelawala. He will never play us out. He was doing all right all this time, except for this incident. He will pay." He also added, "There are 238 companies under Ceylinco. Seylan has 138 branches. These will not close overnight."
A retired government servant said he tried to withdraw money after the Sakvithi case was exposed, but he could not. "In November I wanted the money, but they asked us to wait in the waiting list.
"I do not want the interest, but at least if I can get my capital I will be happy."