The first time when I went to Dhaka a few weeks after the liberation of Bangladesh in 1971, I could even taste pro-India feelings but with noticeable anti-Hindu sentiments. A few weeks ago when I was there, I sensed something entirely opposite. There is a strong anti-India feeling but a positive attitude towards Hindus who constitute 9.1 per cent of Bangladesh population of 180 million.
My guess is that the Bangladeshis earlier felt indebted to India for having helped them in their liberation struggle. Their prejudice towards Hindus at that time was the fallout of what they had imbibed while being part of Pakistan: Hindus and Muslims were two different nations as founder of Pakistan Mohammad Ali Jinnah had propagated. Now the Bangladeshis are one nation. Religion still plays an important role but liberalism has smoothened its rough edges. This is reflected in music, art and such other fields in Bangladesh.
In early 1972, I heard Hindus complaining about their inhibition in celebrating their festivals. This time they told me how Durga Puja was held at Ramma Bari Maidan and Dhakarwari temple at Dhaka with all the rites and prayers. The temples and the images were well decorated at both the places. Thousands of devotees and their friends, including hundreds of Muslims, were present "to savour the sight and solemn feeling of the occasion," as a Hindu leader put it.
What frightens me is the yawning gulf between New Delhi and Dhaka. Both the governments are going over the same exercise again and again as if they are not even listening to what the other is saying. Delhi believes that Bangladesh has become a base of all those forces, religious and others, which are operating against India and that the government is looking the other side.
Chief Adviser of the caretaker government Fakhruddin Ahmed does not rule out some Bangladeshis crossing into India. But to allege that there were training camps of terrorists or that the authorities conniving at such activities was "very unfair to us and I deny all these charges categorically." He says his government has been able to contain terrorism within his own country by taking appropriate measures. It is time that India realizes that it has home grown terrorists.
However assuring his statement, it does not remove the general impression in India that Bangladeshis were behind the recent blasts at Guwahati. Assam chief minister Tarun Gogai has reportedly written to Delhi to take up the matter with Dhaka. The belief which is gaining ground in India is that Bangladesh is a country where fundamentalism is spreading through mosques and madrassas which are coming up in hundreds in the countryside.
Dhaka, in turn, thinks that New Delhi is only bullying it without understanding, much less appreciating, what ails Bangladesh? My impression is that we would make progress if we were to eschew two topics: the natural gas and the transit facilities. Both points have been beaten to the pulp and they have come to represent India questioning the sovereign rights of Bangladesh. The infiltration by Bangladeshis into India is not denied at Dhaka. But the number, said to be three million, is considered highly exaggerated. It is admitted that economic factors take them across the border. Perhaps India issuing work permits for three to five years can mitigate the problem of infiltration.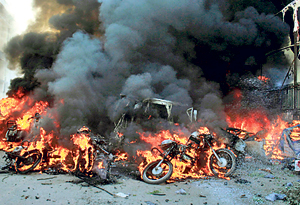 Vehicles are set on fire by an angry crowd at a blast site in Guwahati, the main city of India's troubled northeastern Assam state on October 30. Reuters
When I was a Parliament member, the then Home Minister L.K. Advani welcomed the suggestion I made. He even mentioned it at some public meetings. But it was suddenly dropped, probably because of bureaucratic pressure. If Bangladesh is not assisted to come up economically, its nationals are bound to get into India. It is like our people in the hinterland coming to cities to earn their living. With the infiltrators some extremists, probably at the instance of certain foreign powers, travel to India but their agenda is different.
New Delhi is not among the donors in Bangladesh. I wish it would be. But it can at least contribute to the country's development through lowering tariffs and excise duties. The official trade of Bangladesh with India is around $2 billion. Goods worth more than $1 billion are smuggled unofficially. By providing more money in the hands of Bangladeshis India would gain.
But Dhaka too should put its house in order. New Delhi's fears over fundamentalism are not unfounded. The manner in which Saudi Arabia is evincing interest in Bangladesh is ominous. Its mission at Dhaka is probably the busiest place. Its envoy has become so active that Bangladeshi civil society is also talking about his unusual interest in what is happening in their country in the political field.
One good result of his efforts has been to get the participation of Jamiat-e-Islami in the election scheduled to be held on December 29. Jamiat was an ally of the Bangladesh Nationalist Party (BNP) in the last election. Probably, it is the pressure of Jamiat which has brought around the BNP not to boycott the election. The Awami League is sitting pretty as if the election results are already in its pocket. Yet it will face a tough opponent in the BNP. The first meeting that Begum Khalida Zia addressed after her stint in prison was very impressive.
The confrontation between Sheikh Hasina heading the Awami League and Khalida Zia, leading the BNP, has been a familiar scene. Whether it will be the same is yet to be seen although the two shook hands the other day. One leading jurist Shahdeen Malik, a perceptive observer of the Bangladesh politics, has his doubts: Sheikh Hasina and Khalida Zia will not change the way they lead their parties and will continue to follow the culture of confrontational politics.
When the military constituted the caretaker government two years ago, I thought that the men in khaki would ultimately take over the country. But my fears have been falsified because of two reasons. One is that the Bangladeshis are not attuned to military dictatorships. They take their liberation from the Pakistan army too seriously. Two, there is no alternative to the two ladies.
Whatever their limitations or, for that matter, of the Awami League and the BNP, the Bangladeshis accept them to sustain democracy in their country.
I asked the Chief Adviser whether the army would one day take over the country. His reply was: Never! Every nation's future, the set of choices it can make are inextricably linked to its history-to its past. This is the flowering of Bangladeshi nationalism. It proved itself when it freed East Pakistan from West Pakistan despite the latter's appeal in the name of Islam.
* Kuldip Nayar is a veteran Indian journalist and former MP. He was also a dipolomat.