Britain has welcomed the Sri Lanka Government's commitment to protect civilians. At the same time Britain said that the LTTE cannot continue to persecute people simply because they have opposing views.
The British Government's position was set out by Michael Foster, minister in the Department for International Development (DfID) speaking on behalf of the administration during an adjournment debate on Sri Lanka in the House of Commons early last week.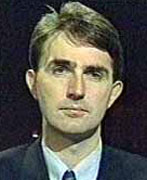 Michael Foster
The British Government's reaction came against the backdrop of a widespread campaign by the international Tamil community and non-governmental organisations accusing the Sri Lanka Government of military action and indiscriminate bombings leading to civilian deaths and displacement of hundreds of thousands of people.
"Much has been said about human rights. In areas under LTTE control there is no tolerance for dissent or freedom of expression. The LTTE needs to develop its role as a credible partner for peace," the minister said winding up the hour-long debate last Monday afternoon.
Though much of the criticism levelled at the Sri Lanka Government by a few MPs from the three major parties was quite extensively reported by the British Tamils Forum (BTF), the remarks of the minister reflecting the Labour Government's policy went unrecorded.
Labour MP Barry Gardiner who has denied that he was sympathetic to the LTTE tried to have Minister Foster condemn the recent remark of Army Commander Sarath Fonseka that Sri Lanka belongs to the Sinhalese.
But Foster refused to be dragged into it and ignored Gardiner saying that Britain has made it clear that it does not believe there is a military solution to the conflict.