Dr. D. B. Nihalsinghe, the man who brought about a transformation to the local film industry in 1972 as the founder Chairman of the National Film Corporation (NFC) recreated the history of Sri Lankan cinema becoming the Senior Fellow in Film and Television from the University of Kelaniya.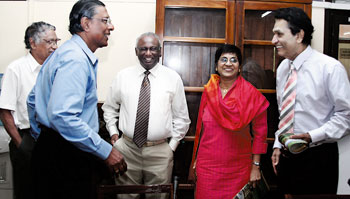 Dr. Dharmasena Pathiraja, NFC Chairman Dharmadasa, Swarna and Ravindra talking to Dr. Nihalsinghe after he assumed duties in University.
An all-rounder in cinema and television as an award -winning filmmaker, experienced editor and cinematographer, Dr. Nihalsinghe has gained Sri Lanka's first ever university degree in Cinema and Television.
Dr. Nihalsinghe assumed duties at a simple ceremony which was attended by the University's Vice Chancellor Prof. M.J. S. Wijeyaratne, NFC Chairman Jayantha Dharmadasa and senior film personalities including Dr. Dharmasena Pathiraja, Swarna Mallawarachchi, Ravindra Randeniya Sarath Dharmasiri and Chandani Seneviratne.
While preparing the ground work for this important task, Dr. Nihalsinghe shared some ideas about his new post.
TV Times: What impact is this degree going to have on the cinema and television mediums?
Dr. Nihalsinghe: With an over 60 years history of cinema and over 30 years of television industry, this unprecedented move is very important for the future of the two mediums of art in this country. It is a tragedy that with such a long history, we don't have a single institution to teach on the production of these art forms. And what is more significant is that this degree with a four year education has combined TV and cinema. The interaction of these two mediums is very important in today's context as learning about them together would benefit both.
TVT: How would be the intake and the degree programme?
Dr. Nihalsinghe: This is a specially designed degree and from the first year itself it starts as a special degree. The students will directly be taken to follow this subject and they would have to fulfill certain requirements. With regard to a degree programme there will be a lot of practical assignments like even working as an assistant director to a well-known director.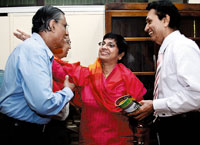 A pat from Swarna
TVT: Do you think that lack of academic knowledge has affected our cinema and TV medium?
Dr. Nihalsinghe: It is obvious that there needs to be professionalism in our industry. Hopefully those who complete this course will contribute with what they have studied and experienced. They would raise the general standard of both television and cinema mediums. And our plan is not to limit this just to another certificate but to have a very close interaction with the industry. And those who have completed this degree at least know their onions.
TVT: What standard would this degree have?
Dr. Nihalsinghe: It will have a standard of a special degree taken from a state university. And Kelaniya University has international academic standard. However there will be areas like deficiency of capital with regard to other countries but we are hopeful that we would be able to give a comprehensive education on the two arts.
TVT: What made you to accept this position?
Dr. Nihalsinghe: I accepted the invitation given by University's Vice Chancellor Prof. M.J. S. Wijeyaratne and senior lecturer Dr. Patrick Ratnayake. I have made my contribution to this country as the first NFC chairman but sadly the standard we introduced could not be maintained. However teaching and sharing what I know and educating the younger generation is an area I think now I have to take up. Having produced 300 to 400 students per year in Malaysia, I thought why shouldn't I do it in my own country too.
And I think it is better to do this type of service rather than getting involved in the messy state institutions like Film Corporation and Television Corporation.
TVT: What challenges would you have to face?
Dr. Nihalsinghe: Oh yes, there would be many. Anyway I am quite confident of facing challenges. And having held posts like NFC chairman I think facing challenges is not something new to me. I am hopeful that I would be able to face them confidently.