The 15th South Asian Association for Regional Cooperation (SAARC) Summit, hosted by Sri Lanka, was held to discuss several important issues of regional interest, on August 2 and 3, 2008, at the BMICH.
This year's SAARC was held under the theme of 'Partnership for our people' and focused on the launch of the SAARC Development Fund, establishing a South Asian Regional Standards Organization, and developing cooperation among SAARC nations with regard to criminal offences.
SAARC leaders from the seven other SAARC countries (including its newest member nation Afghanistan) and many other dignitaries from around the world, arrived in Sri Lanka last weekend for the summit and were met and welcomed by the host President Mahinda Rajapaksa.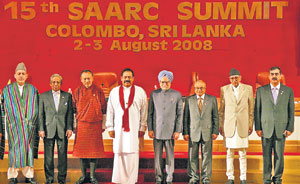 President of the Islamic Republic of Afganistan, Hamid Karzai, Chief Advisor of the People's Republic of Bangladesh, Dr. Fakhruddin Ahmed, Prime Minister Royal Government of Bhutan, Lyonchchen Jigmi Y. Thinley, President of the Democratic Socialist Republic of Sri Lanka, Mahinda Rajapaksa, Prime Minister of the Republic of India, Dr. Manmohan Singh, President of the Republic of the Maldives, Abdul Gayoom, Prime Minister of Nepal, Girija Prasad Koirala and Prime Minister of the Islamic Republic of Pakistan, Syed Makhdoom Yousay Raza Gillani
Among the main issues raised at the summit included, how best and most effectively the South Asian region should combat terrorism, which has resulted in stunting progress and economic development in most member nations.
Delegates also discussed poverty alleviation, climate change, the need for a common currency, disaster management and the setting up of a development fund and a food bank exclusively for the SAARC nations.
Foreign Minister of Iran Manouchehr Mottaki, Assistant Secretary for South and Central Asian Affairs at the US State Department Richard Boucher, Representatives from The European Union, Mauritius, South Korea and Japan acted as observers at the summit.
On the sidelines of the SAARC summit, several cultural events including dances and film festivals, youth camps, trade exhibitions, children's art competitions and a gem and jewellery exhibition were arranged.
The officials are reported to have given priority to four issues – food security, energy crisis, terrorism and climate change.
A foreign ministry official said that the SAARC summit commenced its meeting, with Sri Lanka taking the chair from India. Foreign Minister Rohitha Bogollagama expressing his views on.
Sri Lankan President Mahinda Rajapaksa taking the chair as the head of the SAARC, said that his appointment would pave the way for the region in finding solutions to issues with common interest to the region.
At the close of the summit, the officials prepared comprehensive agreements pertaining to the above mentioned issues, which were then signed by the regional leaders.
Discussions also focused on common obstacles that South Asian countries faced in public transportation services and how best to overcome the situation.