While you and I are milling hopelessly around the bridal registry, you can be assured that Asitha Ameresekere is busy writing. When he first made a birthday gift of his story 'Shame of the Pig', many years ago, the acclaimed film-maker says he never intended his work to be read by a wider audience. Time, however, has ensured that not only will Asitha's first book "Wedding Gifts and Other Presents" be going on sale this week, but also that 11 other stories – written to commemorate friends' weddings, birthdays and assorted occasions – will also find a wider audience.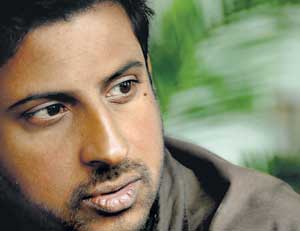 From BAFTA to Books: Asitha during the interview.
They are, quite frankly, stories that delight – a perfect blend of pathos and hilarity. A rare and abundant humour, a wonderful turn of phrase and a devotion to a genre explored by few other writers of Sri Lankan origin set the collection apart. The author himself admits to a fascination with the metaphysical and says that he enjoys "placing the mundane in very fantastical circumstances." Readers are sure to cotton on to his predilection within pages – perhaps around the time that Monsieur Giuseppe first hears that a goddess visited his restaurant of fine cuisine – and equally sure to be immersed thoroughly in his own unique brand of whimsy by the end.
It's also worth noting that influencing each story is another of Asitha's great passions – Greek mythology. "From a very young age I've always been very fascinated by myth and actually reading Latin and Greek through university has influenced me so much," he says. In the 39 Greek tragedies still studied today, Asitha finds what he refers to as a certain truth – "something that doesn't change throughout the ages" – and it is that unchanging truth about human nature that continues to inform and inspire his work. Each story however, is told in a modern, compellingly original voice. "Medusa's Bathroom" which contains the most overt references to Greek myth, opens with Medusa - once the most beautiful of women - hiding from the world in her bathroom:
"She'd never leave the bathroom. They banged on the door and shouted her name but she wouldn't budge. She simply sat there. In her hand she held a hairbrush. The blood had left her knuckles some time ago. Again there was that awful feeling: the little tongues licking the back of her neck every so often. They'd even found the safe recesses behind her ear. She'd never get used to it. Her only solace was her bathroom."
In other stories like the "Lecher", Asitha contents himself with less direct allusions – the protagonist in this case is distinctly narcissistic and prone to admiring himself in any and all reflective surfaces, including chrome hand dryers in public toilets.
The stories behind the stories are equally fascinating. You will find, just under the title of each piece, a dedication. The wonderfully compelling 'A Little Rest', for instance is dedicated simply to Madge on the occasion of her 78th birthday. Asitha says he met Madge five years ago, while both of them were volunteering at a homeless shelter. To him, she is a "force of nature," someone who for over fifty years has made it her business to help others. "Now, one thing about Madge is she loves to plant things and to watch them grow." Asitha, himself no green thumb, did not always understand what the attraction of gardening was. But in his story about a young man who comes and practically plants himself under a tree near a village, Asitha invokes what he describes as the "silence that plants have, in the middle of that complete bustle of the world around them." His understanding, and subsequent weaving of it into a tale worth telling, is his gift to Madge.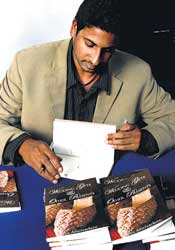 Asitha autographing his book at the launch at the British Council on Wednesday.
Another story, titled 'Drum' was a wedding present for his friends Alex and Carole. The intensely evocative piece accompanied his gift of a Sri Lankan drum – an instrument intrinsic to ceremonies in this part of the world. "Every place and person in that story has got something to do with their wedding," he says. Yet another piece, titled 'Sonnet Story' is dedicated to Katie and Will, and is a funny, tender take on the relationship between William Shakespeare and his wife Anne. Of course, Asitha loves to point out that his dedication is particularly appropriate, not only because his friend shares the great bard's name, but also because Will is bald and lives in the country.
It is immediately evident upon reading the collection that Asitha had a wonderful time writing it. One imagines him, tongue in cheek, conjuring up the extraordinary amid the mundane; taking pleasure in arraying before his reader sight, sound and texture; exploring the nuances of emotion, and by delicate inference the qualities of love and lust, of despair and joy. And through it all, he celebrates all the oddities, the quirks and eccentricities that make us human.
All this is in a different vein from what fans of his film making have come to expect. Asitha's BAFTA (British Academy of Film and Television Arts) winning short film 'Do not Erase', garnered him international acclaim in 2007, only adding to an impressive resume that included directing films, music videos and stage plays. Asitha, however, firmly categorizes both film making and writing as hobbies, adding that they are "just different ways of telling different stories." And indeed, his day job is that of a librarian for the Jack Morton media library in London – a post he has held for 10 years now. Previously, he also worked as a teacher, notably while studying for his MFA in Directing for Theatre, Video & Cinema at the prestigious California Institute of the Arts and also at the British Council in Colombo. Born and raised for most part in England, Asitha has, in fact, spent very little time - less than five years - in Sri Lanka.
Despite this, he confesses to a deep and abiding love for the island, adding that his Sri Lankan heritage is inextricably intertwined with his sense of self. Some of the stories in "Weddings Gifts and Other Presents " (most obviously the opening piece 'The Litmus Test') are actually set in the country. "I never approached publishers or agents anywhere else," he says, adding that it was over conversation with Sam Perera of Perera Hussein Publishing House that the very idea of compiling his stories into a book was conceived. Reflecting on what it means to him personally to be publishing his first book here, he says, "Subconsciously, every single thing I do, whether it's a film or a story, is rooted in Sri Lanka...that's the blood that's in me."
Weddings Gifts and Other Presents is priced at Rs. 490 and is currently available in a paperback version.