What are you going to be like at 80? Sprightly enough to play tennis thrice a week? Or in so much discomfort that you're bedridden? What you eat in your forties, fifties and sixties, combined with other habits such as physical activity, could decide the outcome, says Dr. Prithiva Chanmugam, Fulbright Scholar, registered dietician and Assistant Professor of Nutrition in the School of Human Ecology at the Louisiana State University.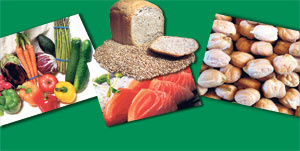 "Each stage of the life cycle has different goals... financially you may have started preparing for retirement, similarly your nutritional goals for this stage should be to maintain your health and reduce your risk of chronic disease," says Dr. Chanmugam. The first is easier said than done. Putting on weight around your abdominal region is particular dangerous and predisposes one to chronic illnesses, like diabetes and heart disease later in life. It doesn't help that for many people both personal and professional responsibilities are at their peak at this age, and watching one's diet can often be the last thing on your mind she says.
In her lecture, delivered at the United States- Sri Lanka Fulbright Commission Auditorium last week, Dr. Chanmugam spoke on 'Nutrition for the Middle Adult Years,' and how eating right might not only keep you healthy, but delay or even entirely prevent the development of diabetes, heart disease and high blood pressure - chronic diseases that are increasingly responsible for deaths the world over.
As you age, the percentage of muscle in your body decreases, and so does the amount of calories your body requires. Unless careful attention is paid to diet and exercise, unwanted pounds can creep up on you. Even when you have enough resolve to lose weight, keeping it off may prove to be the hardest battle.
"Researchers are studying the brain in an attempt to combat obesity, and they have found that there are very powerful forces that urge us to eat," says Dr. Chanmugam. Survival instincts that made sure our ancestors built up their stocks of fat in times of plenty, do not always serve those of us who live in a time of all-you-can-eat buffets and cheap fast food. "They have found that the brain monitors the amount of body fat you have, so when you lose weight the brain goes into starvation mode and tries to replace that fat. She added "It's very unfair to characterise people who are unable to maintain their weight loss as being weak-willed or not having enough self control because it can be almost impossible to overcome those internal urges."
"We can't improve on the old advice - which is to eat a varied diet in moderation," emphasises Dr. Chanmugam. She explains the importance of including plenty of fruits and vegetables in your diet. "They are packed with vitamins, fibre and other beneficial substances and have a hugely protective effect, especially when it comes to cancer and heart disease," she says.
The same applies to whole grains - the unrefined grains found in foods like brown rice and brown bread. "Most people worry about whether they are getting enough vitamins but without even checking their diet, I can guess they are not getting enough fibre." Fibre is essential for bowel health, especially when you consider bowel problems are very common as people age.
Legumes like dhal and chick peas are rich in nutrients. Small amounts of lean meats - for the protein, iron and zinc - are also important. Low or non-fat dairy products are essential, because they supply the calcium you need to maintain bone density. "It is only possible to build bone till the age of 35...what you want to do is preserve the bone with a diet adequate in calcium and plenty of physical activity. Placing stress on the bones through exercise makes them thicker and stronger. "Though exercise is not part of nutrition, it is really quite impossible to separate the two," says Dr. Chanmugam.
So at the end of the day, it's not only what you eat, but what kind of exercise you get. "I hate to use the word exercise, because people assume it means time consuming, very vigorous activity which they associate with needing special equipment...but it could be just something as simple as taking the stairs even when a lift is available," she says. "Also if you exercise then you can eat more and the chances of getting all your vitamins and minerals also increases."
Getting both calcium and exercise is particularly crucial for women as they approach middle age. Their bone loss increases as they experience the oestrogen withdrawal that accompanies the onset of menopause. Supplements are not required at this age. They may be harmless but they cannot replicate the benefits obtained from a balanced diet.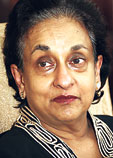 Dr. Chanmugam
"Most developed countries had a very long time in between when they got rid of malnutrition and started to cope with the diseases of what we call over-nutrition." In developing countries, that time period has shrunk until malnutrition and obesity exist side by side. "China is a good example - where a few years ago you had hunger and malnutrition and now in a very short time they are trying to battle obesity, diabetes and heart disease...we can see the same thing happening in Sri Lanka now."
"All these problems are only compounded by the rising cost of food," says Dr. Chanmugam adding that a healthy diet is expensive. In many places, eating a simple meal of lean meat or fish, vegetables and brown rice can cost a lot more than grabbing some fast food." Maintaining a healthy diet now takes real effort.
"But you may find that prioritising your health is reward enough.People are living longer, and the focus should be on ensuring that your elderly years are active, productive, and free of disease as long as possible says Dr. Chanmugam, adding, "Definitely, this is the time to prepare for a healthier old age."