Dr. Jones returns to Colombo with the Crystal Skull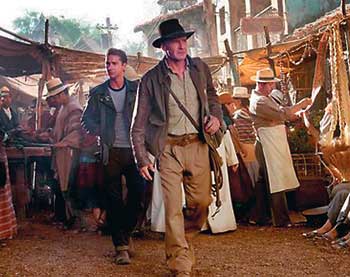 Harrison Ford as Dr. Jones Jr.
Much awaited latest venture of the 'Indiana Jones' series the 'Kingdom of the Crystal Skull' started its screening at the Majestic Cinema Colombo from May 30. A near-simultaneous worldwide release on May 22, the fourth of Indiana Jones series and joint venture by trio Gerorge Lucas, the co-writer and executive producer, Steven Spilberg the director and Harrison Ford the actor had its maiden worldwide release at the recenlty conculded prestigious Cannes Film Festival.
In the 'Kingdom of the Crystal Skull' Harrison Ford 65 years of age has returned to his famous character role of Dr. Henry Walton Jones, Jr. better known as Indiana Jones or Indy nearly two decades later. The last Indiana Jones release 'The Last Crusade' was released in 1989 when he was forty nine years and the veteran actor has kept the action thriller continuing reprising his role as the eponymous archaeologist. It is said that, Ford, to prepare for the role he spent three hours a day at a gym and relied on a high-protein diet of fish and vegetables.
In the latest Ford is joined by Australian actress Cate Blanchett and Spielberg's new discovery, Shia LaBeouf. Released a week ago, the action packed movie has become one of the most lucrative launches in Hollywood history after raking in more than £157 million on its opening weekend.
Starting from the first 'Indiana Jones- Raiders of the Lost Arc' in 1981 and Indiana Jones and the Temple of Doom (1984) shot in the beautiful locations in Sri Lanka like Hantane Tea Estate and Elephant Orphanage in Kandy and area close to Victoria Dam with the participation of a Sri Lankan cast including D. R. Nanayakkara, Dharmadasa Kuruppu, Stanley de Silva, Ruby de Mel, Denavaka Hamine, Iranganie Serasinghe, Dharshana Panangala and the last of the Indiana series 'The Last Crusade' in 1989 were imported to Sri Lanka by the Liberty group. The latest 'The Kingdom of Crystal Skull' is imported to Sri Lanka by Imthiaz J. Cader of Liberty Cinemas Ltd and distributed by Cinema Entertainment (pvt) Limited.
Set during the cold war it pits an older and wiser Indiana Jones against agents of the Soviet Union-led by Spalko (Cate Blanchett)-for the crystal skull. Indy is aided by his former lover Marion Ravenwood (Karen Allen), the greaser Mutt (Shia LaBeouf) and fellow archaeologist Mac (Ray Winstone). John Hurt, Jim Broadbent, and Ian McDiarmid also play fellow academics.
In the storyline, set in 1957, Colonel-Doctor Irina Spalko (Cate Blanchett) leads a convoy of Soviet soldiers infiltrating a military base in the Nevada desert called "Hangar 51", where they force Indiana Jones (Harrison Ford) to lead them to a crate holding the remains of an inter-dimension traveler [1] that crashed ten years before in Roswell, New Mexico. The Ark of the covenant also appears as an easter egg. When Jones attempts to escape, he is foiled by his old partner, George "Mac" McHale (Ray Winstone), who reveals that he is working with the Soviets.
After an elaborate chase through the warehouse, Jones escapes on a rocket sled into the desert, where he stumbles upon a nuclear test town and survives a nuclear blast by hiding in a lead-lined refrigerator. While being debriefed, Jones discovers he is under FBI investigation because his friend Mac is a Soviet agent. Jones returns to Marshall College and is offered a leave of absence to avoid being fired because of the investigation. While leaving, Jones is stopped by Mutt Williams (Shia LaBeouf) and told that his old colleague, Harold Oxley (John Hurt), disappeared after discovering a crystal skull in Peru.