Poverty amidst prosperity: UN millennium goals seem elusive
TOKYO - A long-term UN plan to reduce by half the number of people living in "extreme poverty and hunger" has hit a roadblock. The target date, set by world leaders to achieve the UN's Millennium Development Goals (MDGs), is 2015. But as of now, that target seems elusive.
The UN estimates that more than a billion people live in "absolute poverty" worldwide and about 800 million people go to bed hungry every night. But the rise in the price of petroleum and food is threatening to undermine the best laid plans of the world body to fight both poverty and hunger.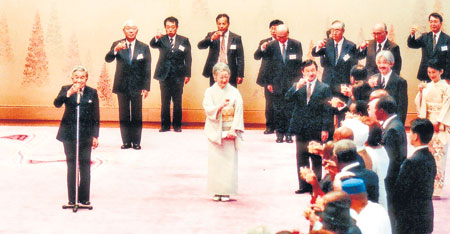 Japanese Emperor Akihito (L), Empress Michiko (C) and Japanese royal family members toast with African leaders at the Imperial Palace in Tokyo on May 30, 2008. Africa's leaders and Japan pledged May 30 to ramp up the continent's food production, seeking to put the crisis of spiralling prices firmly on the agenda of the Group of Eight rich nations. AFP
The region which is lagging far behind in reaching MDGs is the perpetually trouble-plagued Africa. The Japanese government, which is currently hosting more than 50 African heads of state at the Tokyo International Conference on African Development (TICAD), has pledged to increase its assistance to the African region. But here in Tokyo, development activists are dismissing the pledge as too little too late.
The World Bank says the shortage of food and skyrocketing prices for staple commodities -- including rice, wheat, corn and sorghum -- are likely to increase, by an additional 100 million, those living on the edge of poverty and starvation. With very few exceptions, most countries in the world, and specifically in Africa, are not expected to meet most of the MDGs.
The MDGs include a 50 percent reduction in extreme poverty and hunger; universal primary education; promotion of gender equality; reduction of child mortality by two-thirds; cutbacks in maternal mortality by three-quarters; combating the spread of HIV/AIDS, malaria and other diseases; ensuring environmental sustainability; and developing a North-South global partnership for development. A summit meeting of 189 world leaders in September 2000 pledged to meet all of these goals by the year 2015. But the goals have become a moving target.
But Dr. A.T. Ariyaratne, founder-president of the Sarvodaya Shramadana Movement, one of the most successful grassroots movements in Sri Lanka celebrating its 50th anniversary later this year, is sceptical about reaching that goal.
"Poverty and powerlessness go hand in hand — both at the political and economic level," he said, on the sidelines of an international conference in Hiroshima last week. In most developing countries, Ariyaratne told The Sunday Times, the gap between the rich and the poor continues to widen by the day. And Sri Lanka is no exception.
He dismissed as a "bunch of lies" some of the statistics doled out by various national governments to bolster the argument that poverty is on the decline in their respective countries. "I have met a number of political leaders -- even at the cabinet level -- who don't even know what the Millennium Development Goals are," Ariyaratne said last week during an interview in Hiroshima.
At the same conference, Kul Chandra Gautam, a former assistant secretary-general and deputy executive director of the UN children's agency UNICEF, said that global poverty is thriving -- rather ironically -- amidst one of the most prosperous times in human history. He pointed out that world economic output reached a high of 60 trillion dollars last year.
At this time of unprecedented global prosperity, in which someone new becomes a billionaire every second day, "we have the contrasting situation of nearly one billion people living on less than a dollar a day and 800 million going to bed hungry every night," he added. And according to the US-based Forbes magazine, the number of billionaires worldwide reached 1,125 last year.
But they emerged not only from rich countries such as the US, Germany and Japan but also from developing countries, such as Egypt, Nigeria, Indonesia, Malaysia, Brazil, Belize, China, India, Mexico and Venezuela. With less than seven years to meet the MDGs deadline of 2015, the failures seem to far outweigh the limited successes achieved so far.
And the positive results, says the United Nations, are in danger of being wiped out by critical new threats, including skyrocketing food and fuel prices, increasing transportation costs, a decline in development aid and a shortage of health workers. "More than halfway to 2015, the MDG track record is mixed," admits Secretary-General Ban Ki-moon. He cites the "undeniable progress" in the field of health care worldwide: three million more children now survive each year; an additional two million people receive treatment for HIV/AIDS; and millions more children are in school.
Since 2000, says Ban, macroeconomic fundamentals and policy implementation have improved markedly, with growth averaging more than 5 percent across Africa alone. "The challenge is now to replicate these successes in more countries," says the secretary-general. But the political prognosis is grim.
Gautam is confident that, globally, the MDG of poverty reduction is likely to be achieved thanks, largely, to rapid progress in China, India and several other countries. "But if we measure country by country, it is not likely to be achieved in many of the poorest countries of sub-saharan Africa and the world's 50 least developed countries," he added.