He brought a unique touch to the Sinhala silver screen
P.K.D. Seneviratne was a distinguished poet and renowned script writer of the Sinhala cinema. A man with a vast knowledge of rural life, he wrote many scripts for radio dramas set against the village background. A schoolteacher by profession, he had a deep sympathy for the struggling village students.
Pathirajawasam Kudahitige Don Seneviratne was born to P.K.D. Mohotti Appuhamy and Athurugiriarachchige Sedanona on May 17, 1917 in a small beautiful village called Ellakkala in Hakgalle. He had two brothers and two sisters and was the second son in the family. PKD was fond of his younger brother, the late Dr. P.K. Gunatilake. He was a father figure to him, even taking the responsibility of his education at the Medical Faculty.As a child PKD was appreciative of the natural beauty of the countryside. This appreciation later blossomed into a talent for writing poetry about village life. He also focused his poetry on deep concepts of life, Buddhism, the country's freedom, the value of self sufficiency etc.
PKD's poetry that was published in the Silumina from 1937 was popular among readers. One of his poems is reproduced here:
'Where is She?'

I saw her with the village maids
Pulling out coconut branches
Out of the brook; her laughing voice
Is ringing still inside mine ears
I saw her coming from the wood
Carrying firewood. A tuft of hair
Did adorn her lovely forehead.
It's a memory that makes me sad
For my inward eyes sees her still
Every day at sun's early rays
A water-pot placed on her hip
Moving sprightly with rhythmic strikes
Like Urvisi, the dancing goddess
She was like a lotus spotless
Nature's beauty simple and pure
Loved and cherished by the village
Fit to be the spouse of a prince
But her parents made her marry
A village youth living a far
They all were happy and she went
But here only loneliness reigned
The grieving well, the brook, the wood
Are always asking 'Where is She?'
PKD wrote many poems to the Sarasaviya newspaper and also to magazines such as Nawayugaya, Meewadaya, Dedunna, Suwanda etc. His poetry books Ganga kumari, Attanagalu Nadi Kawya, Ditta mangalika, Gambadha Sundari, Unmada Chitra were greatly appreciated by young and old. A poetic dialogue between PKD and Meemana Premathilake was later published as a book titled 'Kumudumathi'.
With the assistance of Ranjani Abeywardane, he translated Emily Bronte's 'Wuthering Heights' into Sinhala language namely 'Uruma Laddo' and it was included in the school Sinhala syllabus for many years. The drama 'Kurulu bedda' written continuously for five years since 1953 by PKD for radio became popular among listeners. Other dramas such as 'Nildiyalanda' and 'Hainyaya' were also created by PKD based on rural life.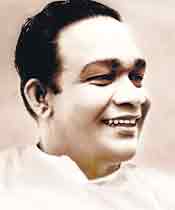 P.K.D. Seneviratne: A poet cum film script writer
In 1961 P.K.D. Seneviratne presented his first film script 'Kurulu bedda' which portrayed ordinary people in rural society. At a time when the hero always had a pencil line moustache and permed hair and the heroine was twined round a tree, singing a song in which the voice was usually south Indian, PKD was a pioneer who maintained the identity of Sinhala cinema by presenting Sinhalese rural life in an authentic manner. In Kurulu bedda all scenes were filmed outside the studio at Meerigama. It was the first Sinhala film to be filmed in such a manner. When making Kurulu bedda, PKD worked with a group of ten people, who believed in the individual identity of the Sinhala film. This group was known as the 'Kurulu Rahana' (flock of birds) during that time.
PKD's second film script 'Sikuru Tharuwa' was based on a story where villagers were oppressed by the village headman known as 'Maldeniya'. The village headman's character was based on a person known to PKD. D.R. Nanayakkara who portrayed this character brilliantly won the Sarasavi best actor's award in the 1963.
Thereafter PKD wrote 'Parasathumal' which was praised by critics and obtained many awards at the 1967 Sarasavi Awards. 'Bonnie mahaththaya' the most memorable character in 'Parasathumal' was created by PKD based on Omar Khayyam's concept of women , wine and music as well as the lifestyle of a rich person known to him. The character was portrayed by Gamin Fonseka. This was the first film directed by Gamini Fonseka and it was produced by Chithra Balasuriya.
'Ransalu' was the next film script written by PKD. 'Ransalu' (Golden Robes) became popular locally as well as internationally and won many awards in the 1968 Sarasavi Awards. 'Ransalu' obtained the Silver Trophy at the 12th international film festival held in Cork, Ireland, in 1967. This film was directed by Dr. Lester James who recognized PKD was a gifted poet and one of the pioneer script writers of the Sinhala cinema.
Punya Heendeniya also played several of PKD's characters - 'Ranmanika' in Kurulu Bedda , 'Anula' in Sikuru Tharuwa, 'Kamala' in Parasathumal and 'Sujatha' in Ransalu, gaining much recognition. 'Hith nethi mal' and 'Kshema Bhumiya' were another two of PKD's scripts which were not produced.
'Priyanga', PKD's final film script was based on the many shortcomings in our social structure-- the never ending prejudice between upcountry and low country people, caste, class and religious differences. The story dealt with how a defiant but self-disciplined teenage girl marries her lover and ultimately becomes a good wife by overcoming the existing social barriers. 'Priyanga' was directed by Amaranath Jayathilake.
PKD Seneviratne was honoured as a film script writer at many award ceremonies. He won the Swarna Sanka award in 1966 for Best Dialogue in Parasathumal, for best script in Parasathumal at the Sarasavi award in 1967, Eksath Lanka Rasika award in 1968 for best script in Parasathumal and best script in 1968 for Ransalu.
My father late Dr. P.K. Gunatilake once told me that his brother P.K. D, whom he lovingly referrerd to as 'Punchi Ayya' obtained 98 marks for Sinhala at his senior examination whilst studying in a government school at Ellakkala. PKD had published his first book 'Pahan Tharuwa' which contained many poems written by him, while studying in the senior class of Udugana Walpola school.
Ariyawansa Weerakkody, the well known sculptor knew PKD from his young days and he built a monument in his honour at Hakgalle. In recognition of the great service rendered to Sinhala literature and cinema by PKD, the late Prime Minister Dudley Senanayake appointed him as his press and public relations officer in 1965.
This pioneer scriptwriter of Sinhala cinema and eminent poet bade farewell to the nation at the age of 53 on July 19, 1970, leaving a big void in the film industry as well as in Sinhalese literature. We could pay tribute to his memory by endeavouring to protect the identity of Sinhala cinema and preserving his poetry and literature for future generations.