Raids against 'software pirates' in Colombo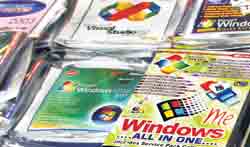 Officers of the Colombo Crime Division, Sri Lanka, with the assistance of representatives of the Business Software Alliance (BSA) conducted criminal raids against distributors of illegal business software in Colombo marking the beginning of greater focus and crackdown on business software piracy distribution and business software under-licensing in Sri Lanka, lawyers involved in the crackdown said.
Three outlets at Majestic City were raided and 412 illegal software CD's were seized by the Police during the raid. Police searched the premises of Advance Digital Zone, Marriot CD Land and Star Shop. These targets are primarily dealing in illegal computer software containing trademarks and copyright owned by business software companies such as Adobe, Autodesk, Corel, Microsoft, Symantec and McAfee to name a few, all members of the BSA.
Most of the suspected pirated software found involved business software commonly used for photo editing, animation rendering, web and computer-aided designing, anti-virus protection and productivity suites (word processing, spreadsheets, presentation, personal time and information management tools), the law firm Sudath Perera Associates said.
On May 6, Additional Magistrate of Mount Lavinia, Ms. Darshika Wimalasiri sentenced the offenders to Rs.450, 000 and 6 months imprisonment suspended for 5 years after they pleaded guilty to committing offenses under the Intellectual Property Act No. 36 of 2003.
Sri Lanka is no longer a stranger to the issue of piracy, being ranked as the country with the sixth highest piracy rate in the world at 90%, and the second-highest in the Asia-Pacific region - bringing notoriety and unwanted global attention on the island, the law firm said. In a global software piracy study conducted independently for the BSA by IDC, the information technology (IT) industry's leading global market research and forecasting firm, the high software piracy rate has resulted in US$86 million in retail revenue losses to the local Sri Lankan software economy.
According to BSA's legal counsel, Sudath Perera of Sudath Perera Associates"Sri Lanka has demonstrated commitment to greater protection of IP rights for software in the recent past.
This is manifested through enhanced protection measures introduced through the Intellectual Property Act No. 36 of 2003. Enforcement measures have been further strengthened through the establishment of the Commercial High Court of Colombo, with jurisdiction to determine IPR infringement cases.
In addition, the Computer Crimes Bill has been enacted during the last year which contains provisions relevant to security etc. Company directors and owners will be held personally liable and face similar penalties."