Lal back in the saddle again
After more than a seven year break, popular actor Lal Weerasinghe says he is back where his heart belongs. Appearing in the TV series 'Pathini', he mentioned that he has several films in the pipeline this year as well and is finding his return to the world of acting quite exhilarating.
'Acting is in my blood; ever since I was a young boy the cinema fascinated me and I knew that I belonged there' he said. When he was no more than 17, Weerasinghe began pursuing his dream, going behind actors hoping to get a chance to make it big.
'I was small and thin at the time with not much of a personality,' he smiled adding that during this time he decided to put his acting craze on hold and learn something he could do using his hands.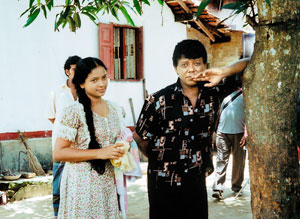 Lal in ascene from 'Pathini'
'I tried my hand at welding and even tried joining the Navy but then I watched a film called 'Shampoo' with Warren Beattie and I realized that it was hairdressing that I wanted to pursue,' he said. Thus continuing this pursuit that has given him as much fame as his acting, Weerasinghe said he took his first lessons on hairdressing in Italy after which he started up his own salon in Sri Lanka.
However, his heart did not let him forget his unattained desire and soon after his salon took off he began to long to try his hand at acting once again. "I was still crazy about the idea and quite coincidentally Mr. Amaranath Jayatillake spotted me during this time and told me that he saw potential in my personality but pointed out that I needed training," he elucidated.
With this piece of advice Weerasinghe set off to Bombay and enrolled himself in the National Institute of Theater and Acting. "During this time I learnt psychology, how to market myself, acting, dancing and voice modulation among other things," he remarked.
On his return to Sri Lanka he received a chance to act in Benett Ratnayake's first teledrama 'Sayuren Eha'. After this he was launched into the film scene in full force with the success of 'Weda Berinam Wedak Ne' which was a remake of a Hindi film 'Hathya'.
'The film ran more than 125 days in 12 theaters and there was so much trouble launching it. The negatives of the film were almost destroyed when it was 70 percent done and I stopped it because I was determined to see it released," he stressed adding that during a special screening of the film he overheard speculations that the film would not run.
His efforts however, were not in vain as the film gained him the Best New Actor award at the 1992 Sarasavi Film Festival as well as the Most Popular Actor award. For Weerasinghe the downside of this was apparently begin tagged as only an entertaining actor, thus he pointed out he was unable to receive good roles he longed for.
Nonetheless in time he diverted his pathway towards producing films such as 'Wijey saha Ajey' and 'Anjali' during which he began slowly getting disconcerted with the film industry. "The attitudes of the industry were changing to something that I found unpleasant," he said adding that he began to back away from the cinema and back into the world of hairdressing during this time.
'I received everything from the hairdressing industry, but I received a name for myself from the cinema' he openly admitted. "We are not united as humans in the first place. We have talented world class artistes among us yet neither of us wants to really take the industry to the top.
However, eight years of keeping away from the industry has not quenched his thirst for a good role. "When a role was suggested to me in 'Pathini' I realized that it was what I had in mind as a good character role and went for it," he said adding that he was giving Pathini his hundred percent support which had reignited his journey.