Noel rocks 'The Leela' at golden jubilee in music
By Susitha R. Fernando
The king of calypso and folk music in Sri Lanka, Noel Brian Ranasinghe, celebrated 50 years of music and 45 years of with his group, with stunning performance of 16 days in India recently.
Noel with his band, 'La Ceylonians' performed at the leading 5-star hotel super deluxe 'The Leela'-holiday beach resort in Trivandrum- the only one of its kind in India covering 65 acres of sheer beauty. The band joined a team of chefs from Mount Lavinia hotel to play at the Sri Lankan Food Festival in the hotel.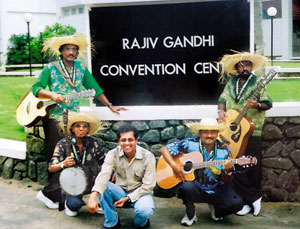 Noel and 'La Ceylonians' at Rajive Gandhi Convention Centre
'It was a daily full house at 'The Terrece' restaurant where we sang our hearts out for Sri Lanka. Many could not believe that we were from the nearby isle of Sri Lanka' said Noel recollecting his performance in India.
'It was performance with a difference in my own creative style which impressed Indian and guests from around the world. My earlier performances too in India were a success. And this was the best, all because of originality in songs and costumes,' said the experience musician who initiated a new era in music with box guitars, Congo drums introducing a novel experience to Sri Lankan music as Sri Lankan calypso.
Noel sang to the banjo guitar and harmonica he played along with his band comprising Keith Fernando on bass, lead and vocals, Ranil Fernando on double Congo drums, percussions and vocals, Anura Liyanage on rhythm guitar, harmonica and vocals at the Rajiv Gandhi Convention Centre. 'This added to my string of successes' Noel said with a proud smile on his face.
Country style and Sri Lankan Calypso has kept the guests spell bound and many just could not resist dancing. Some of his hits 'Kaffringna Baila', 'Cricket Lovely cricket', 'Colombo', 'Welcome to Sri Lanka', 'Malee', 'Sandapane' and instrumental performances were some of their popular hits on this tour. "And the song about SriLankan Air Lines was very well received with tremendous applause," said Noel.
"The majestic 5-star deluxe 'The Leela' was like a paradise itself. Beautifully landscaped one has to see it to experience its beauty," Noel said thrilled by the beauty of venue at which he performed. 'La Ceylonians', the four-member group also had the pleasure to entertain the owners of many Indian hotels at a special reception.