He accompanied legendary singers on his harmonium
The songs of legendary singers C. T. Fernando, H. R. Jothipala and Milton Mallawarachchi bring back memories and are hugely popular even today, decades after their heyday. But the men behind the scenes, or rather behind the music, are virtually unknown. Yet, it is through them that the music has lived on, inspiring a new generation of singers and musicians.
Music director and harmonium player, Mahinda Tillakaratne once accompanied and toured with these great singers of yesteryear. Today, he plays their tunes at paduru parties in Sri Lanka and abroad, entertaining both the young and old alike.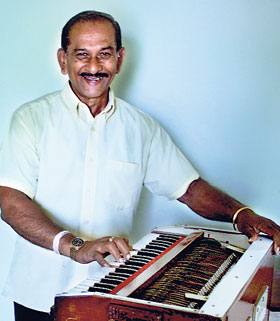 Mahinda Tillakaratne
Incidentally Mr. Tillakaratne was instrumental in introducing the paduru party in England. "When I travelled to England in 1998 no one knew of paduru party there. So together with two other musicians - Rohan, a Tabla player and Udina, a guitar player, we introduced it," he said, adding that Sri Lankan music fans then invited him to perform at various functions.
"These songs are popular even today. These are the songs we sing when we go on trips or have our usual get-togethers," he said, adding that playing with such singers was a wonderful experience and the fact that these songs are sung widely even today goes on to show that they are indeed perennial.
As a student of Carey College, Mr. Tillakaratne was interested in music. "I was planning to join the Navy band, but then I was introduced to singers such as C. T. Fernando and have been playing with them ever since," he recalled. He accompanied them on his harmonium and even went abroad with past leaders including President Ranasinghe Premadasa.
Almost 50 years ago, in the later part of the 1950s, Mr. Tillakaratne was regarded as the most popular harmonium player in the country. "Over the years, the music industry has changed. Technology has developed.
"Those days it used to take a day or sometimes even more to record just one song. If we made a mistake we had to go back to the beginning. It was a tedious process. But now it's so much easier," he said, adding that new artistes and different forms of music have emerged over the years.
Mr. Tillakaratne's wife, Srimathie Tillakaratne, a renowned playback singer herself and a former radio personality, adds that the family regularly holds musical evenings at the Elphinstone in Maradana. Mrs. Tillakaratne has produced her own CDs, the most recent of which is 'Ama Rasa Pem' and sung in films such as 'Ata weni Pudumaya'. So far, she has sung in over 150 local films. Their two sons, Dinanja and Dimuthu Tillakaratne, also musicians, have been studying music in India and perform with their parents at Elphinstone.
Mr. Tillakaratne is now working on his own CD and looking for a producer. "I recently recorded my own instrumental CD called Golden Memories which consists mainly of Hindi tunes. I am also working on another CD. I have chosen 20 songs of Indian singer Mohammad Rafi for this," he said, adding that he is still on the lookout for a producer. "If there is any producer out there who is willing to help me, please contact me," he appeals.