SOSL Masterworks concert next week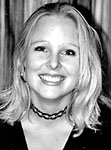 Camilla Jonstang
The Masterworks Concert of the Symphony Orchestra of Sri Lanka on Saturday, May 3 will be presented in association with the Royal Norwegian Embassy and will feature works by Boccherini, Mozart, Mendelssohn, Verdi and Grieg. The soloists will be Tamara Holsinger, cello, who is a member of SOSL and Camilla Jonstang, soprano, visiting from Norway. The concert at Ladies' College Hall at 7 p.m. will be conducted by Ajit Abeysekera.
The soloist in Boccherini's elegant and expressive Cello Concerto in B flat major, Tamara Holsinger has previously performed cello concertos by Vivaldi, Saint-Saens and Elgar with the Symphony. She holds a Bachelor's degree in Music from Mt. Holyoke College, USA.
The principal orchestral work will be Mendelssohn's beautifully evocative and high spirited Symphony No.4, the 'Italian'. Camilla Jonstang, soprano, a graduate of the Norwegian Academy of Music, Oslo, has performed widely in Norway and Russia and at numerous international music festivals and church concerts. She will perform Mozart's 'Exsultate, jubilate', 'Solveig's Song' by Grieg from his Peer Gynt suites, and Verdi's aria 'D'amour sull'ali rosee' from his opera Il Trovatore.
The box plan is open at Titus Stores, Liberty Plaza. There is no charge for the tickets as the concert is funded by the Norwegian Embassy in Colombo, in line with their goal of promoting exchange and collaboration between Sri Lanka and Norway in the cultural sector.