Where music and children combine
Tara Coomaraswamy speaks to Sirima Jayasekera whose 'Symphony for a Child' concerts have provided a musical bouquet for Lankans in the UK and raised funds for deserving charities back home.
Where in London would you hear musicians of high calibre performing in an ambience which is cosmopolitan, yet with a distinctly Sri Lankan aura about it? Where Sri Lankans and non-Sri Lankans can meet and mingle, have an enjoyable evening's entertainment, sample Sri Lankan culinary treats - and know that all the while they are helping bring a little more enjoyment into the lives of dozens of children as well?
For over 15 years, Sirima Jayasekera has been using music to raise funds in the United Kingdom for children's charities in Sri Lanka. Her well-known "Symphony for a Child" concerts have provided an annual musical feast for an international audience in the UK, featuring a range of talented musicians, both professional and amateur, Sri Lankan and non-Sri Lankan. Sirima's background in music makes her well qualified to organise an event of this nature. A former concert pianist who trained in Sri Lanka and was recommended for a scholarship at the Royal Academy of Music in London, she was an A+-grade listed broadcasting artiste for Radio Ceylon (as the Sri Lanka Broadcasting Corporation was known formerly) and performed on programmes for the Overseas Service of the BBC. She holds the LRSM (London), ATCL (London) and LTCL (London), having secured first place in all three examinations. She is a member of the ISM (International Society of Musicians) and EPTA (European Piano Teachers' Association).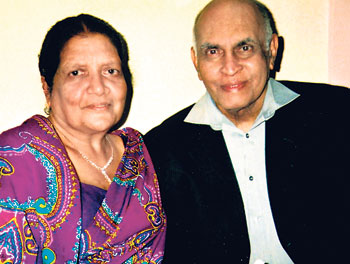 Sirima with Brighty: The 10th concert was dedicated to his memory
In 1968, she went to the UK with her husband, John (or "Brighty," as everyone knew him), who had been appointed Manager of the Bank of Ceylon branch in London. Their four children ranged from five years to 13 years at the time. For 15 years, Sirima combined performing with a full time job at British Telecom Standards and Metrication Department and bringing up her two boys and two girls. No mean feat, but she dismisses this as all in a day's work! Sadly, in 1978, after an operation on the carpal tunnel of her left hand went wrong, she lost a degree of sensation in her fingers and was unable to continue playing seriously. She began teaching music part-time, as she had done in Sri Lanka. After retiring from BT in 1986, she took to teaching piano full-time and became involved in several music bodies and committees.
She was also involved with the Sri Lanka Women's Association in the UK (SLWA) and served on the Committee for nearly 30 years, becoming, successively, its Secretary, Treasurer and President. It was for the SLWA's Scholarship scheme that she first began organising concerts, which she did for several years. She retired from the Committee in 1997.
However, she was soon on the concert trail again. While on a trip to Sri Lanka, she was deeply affected by a visit to the Children's Ward of the Maharagama Cancer Hospital. The courage and cheerfulness of the children moved her to tears. She decided to do what she could by helping to buy drugs which were needed to improve their chances of recovery or at least to make their lives a little happier while they were in hospital.
This was how the first "Symphony for a Child" came into being, in 1998. Pianist Sujeeva Hapugalle told her of a conveniently located venue, the Regent Hall in Oxford Street, which turned out to be perfect for her purpose. Sujeeva, whom she has known from her latter's student days in London, also agreed to play for the inaugural "Symphony for a Child," as did the internationally known de Saram brothers, Rohan and Druvi, and singer Gayathrie Pieris.
The first concert, attended by over 250 people, raised over £4,000 for the Maharagama Children's Ward. (Since then, "Symphony for a Child" has raised an annual sum of £2,000 - over Rs.400,000 - for the ward. She is grateful to Dr. B.J.C. Perera, who took on the responsibility of purchasing the drugs on her behalf.) The next year was even more successful, so Sirima decided to give some of the proceeds to Mother Teresa's Home in Moratuwa. Year by year she added other charities, and by the ninth year (2006), she had nine charities on her list (coincidentally raising exactly £9,000, including donations). That was a particularly successful concert, with a sell-out crowd of over 400 people.
The projects she has supported have ranged from helping to provide meals and shelter to people in some of the most deprived areas of Colombo, to replacing pianos at a Matara school hit by the tsunami. I asked her on what basis the charities were chosen. "Sometimes they are charities I know personally; sometimes people write and recommend a charity and I look into it. I visit them all myself, either before or after a donation is given. I try to find the most deserving cases, which are doing good work and need more support. I have even given money to individual children for a particular need. For example, two years ago, a case was brought to my notice of a boy who had been badly burned; he had not received attention quickly enough at a hospital and had healed badly, so that he needed a skin graft operation which his parents could not afford. Our contribution helped to pay for this operation, and he has since recovered well."
"Occasionally, I have given a scholarship to a clever child - like one little girl who was a tsunami victim. She was just nine years old, but quite brilliant. Hopefully, the money we gave her will go some way towards helping her to achieve her potential In 2005, the year after the tsunami, all the funds raised, apart from the money for Maharagama - which we support every year - went to children who were tsunami victims. I personally made sure the money was distributed to schools in all the parts of the country which had been worst affected: Trincomalee, Amparai, Galle and Matara. The children were drawn from all communities and religions: Buddhist, Hindu, Muslim, Anglican, Catholic - I don't differentiate amongst them in any way."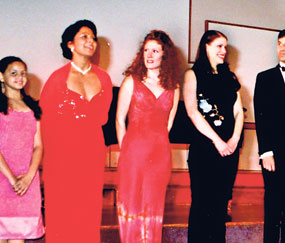 I commented on the fact that on every seat at her concerts, together with the programme, is a copy of the audited accounts for the previous year. She said firmly: "I don't want people to wonder where their money went. I get the accounts properly audited by a Sri Lankan accountant who has kindly offered to do it free of charge as his contribution to the effort. Frankly, I think I get the response I do each year because people know exactly what's happened to the money we raised. The only expense incurred is the hire of the hall. All other expenses are met by family and friends."
A pleasing feature of a "Symphony for a Child" is the mix of young performers and more experienced ones, amateurs and professionals - though some of the younger ones already seem to have several years of performing experience behind them. A remarkable pair of sisters who had performed in last year's concert: Makoto and Asagi Nakata, aged only 13 and 12, on the violin and piano, respectively are studying at the Royal Academy of Music, probably destined for great things. Sirima recalled: I try to give talented youngsters a chance to perform, especially because the concerts are in aid of children. The youngest performer I have ever had was Harry Bradford, a boy soprano; he was just seven!"
"Another wonderful aspect of the concerts is that, after nearly twenty years of organising them, I now have the second generation playing for me, and sometimes even whole families of musicians. For example, apart from Satsuki and her daughters, I have had Druvi de Saram and his daughters, Mandhira and Radhika on piano and violin; Rohan de Saram and his son Suren, who played the xylophone; Reiko Fujisawa, who is a brilliant pianist, her husband David Hirschman, who is Principal Viola with the London Philharmonic Orchestra, and their 13-year- old son Christopher, who plays the violin and is a Music Exhibitioner at St.Paul's School; Danielle Salomon and her teenage daughter Hannah, who plays the cello; and so on."
Another characteristic feature of Sirima's concerts is the mix of genres, styles and instruments. Western classical music predominates, but she has also made room for popular ballads, songs from musicals, Jazz and Oriental music. "I always try to have something from Sri Lanka; over the years we have had Kandyan dancing, Sinhala folk ballads and popular songs, Bharatha Natyam and Carnatic music. I was always willing to try something different, as for example, when I asked Gemma Moseley, who performs in musical theatre and pantomime, to sing favourites from Broadway musicals; she was a big hit, and has performed regularly since then."
In fact, this is what one enjoys about Sirima's concerts: one minute you are rapt in a Bruch Violin Concerto, the next, clapping along to Bill Wither's "Lean on Me" before your blood pressure starts racing to keep up with a bravura performance of Rimsky-Korsakov's "Flight of the Bumble Bee". It returns to 120/80 after a gently swinging version of Gershwin's "Someone to Watch Over Me". But this is the lull before the storm: soon ominous fanfare-like strides announce the "Montagues and Capulets" (from Prokofiev's "Romeo and Juliet"), to be followed by the pyrotechnics of the "Rhapsody in Blue" or the "Warsaw Concerto".
After a sentimental vocal rendition of "One Day When We Were Young" and "Goin' Home", you emerge into the lobby, where, before "goin' home" yourself, you can stock up on mouth-watering Sri Lankan "short eats," chocolate cake and iced coffee! Sirima's family have given her total support in putting on her concerts. Her eldest son Shanti introduces the proceedings and keeps a watchful eye all evening; her daughters, Keshini and Arundani, and her other son Sudantha help with other aspects of organisation. Her daughter-in-law Gita makes most of the delicious food. And of course, Brighty provided moral support and advice.
Sirima had been planning to hold a 10th Anniversary Special in 2007. Sadly, Brighty passed away in March 2007, while they were on holiday in Sri Lanka. They had been married for 53 years. It was decided to hold the 10th "Symphony for a Child" concert in his honour. 50% of the proceeds went towards starting a Trust Fund for Children in his memory at the Children's HIV/Aids Unit at the Infectious Diseases Hospital in Angoda, which Brighty had thought was particularly worth supporting. It was a memorable evening. All Sirima's staunchest supporters, amongst both performers and members of the audience, were there. Sujeeva Hapugalle had flown in especially from the United States alongside stalwarts such as Gayathrie Pieris and Jonathan Hill, who both have an unbroken record of ten "Symphony for a Child" concerts. Gayathrie and Sujeeva paid personal musical tributes to their "Uncle Brighty": Gayathrie sang his favourite song, the Sri Lankan Cradle Song, by Norman Corea, and Sujeeva played his favourite piano piece, Liszt's "Liebestraum".
One can see that Sirima deeply misses Brighty, and the love and support he always gave her. After he died, she spent some time with her children in the UK, then moved back to Sri Lanka. She now divides her time between Sri Lanka and the UK. When in Colombo, she lives in a flat close to the beach, and enjoys the warmer climate and the sea breeze, but is still looking out for charities which need help.
The 11th "Symphony for a Child" concert, to be held in October this year will, no doubt, be as successful as in past years, thanks to the dedication and hard work of this remarkable and selfless woman, who keeps the Sri Lankan flag flying in the UK in more ways than one.