CTC's SADP project helps alleviate poverty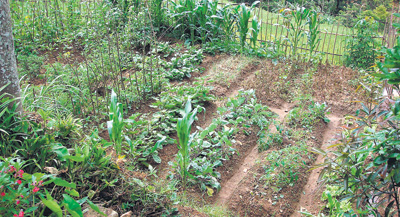 Small-scale home gardening endeavours that do not require large start-up investments, like the one above have helped to empower poor farmers
The Ceylon Tobacco Company says its Sustainable Agricultural Development Programme (SADP) helps 1,700 farming families in Sri Lanka. SADP functions with the sole aim of empowering poor farmers in some of the most poverty-stricken areas of the country, according to a CTC press release. Currently, over 15% of Sri Lanka's total population, which amounts to over 4 million people, lives below the poverty line. Many of these are farmers in rural communities. Their poverty often results in alarming levels of malnutrition, suicide and social marginalisation, the company said explaining the SADP.
SADP was initiated by CTC as a model to overcome this dilemma and offers hope to at least some of these communities. The project now in its third year reaches out to villages such as kalalgamuwa, Meegahakiwula, Ruwanwella and Habaraduwa, which are all areas ranked as very high poverty locations by the Department of Census and Statistics. SADP is a unique programme that eliminates poverty through sustainable, small-scale home gardening endeavours that do not require large start-up investments. The aim of the programme is to give farmers the knowledge to maximise their resources to engage in agriculture that will not only sustain their needs, but also provide a steady source of profit over the years and extend to other areas like apiculture.
With over a 1700 success stories one of the early followers of SADP is now a sustained income earner. Their success story is quite a motivating one! Mallika and Weerasekera from Madugalla in the Central Province have two sons aged 18 and 14 and were Samurdhi recipients whose livelihood depended on seasonal agriculture.
"When CTC first came and spoke to us we were quite sceptical but somehow we together with other villagers embarked on this project and now our lives are so much better than what it was. First we were well motivated and the officials who met us made us understand the concept and how we need to be positive about what we are about to do. What began with an initial compost pit is now a garden prospering with vegetables, fruits and poultry.
It didn't happen all at once. It was a step by step process. When I proved that I was growing vegetables as instructed, I was then elevated to the next level where the company gave me poultry to further develop my homestead. Now we have everything growing in our own garden and I can even sell my excess produce. CTC was there to guide us every step of the way.
We were told that there is an exit plan in two and half years, after which we will be on our own. By that time I am sure we will be well established. We have now a better place to live in and our children a better future," CTC quoted the couple as saying.