Training in doll making for affected women in Trincomalee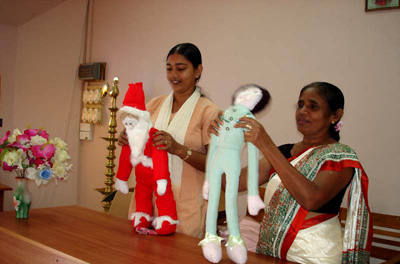 Instructress giving finer points to beneficiaries in doll making.
Women of all communities who were affected by tsunami and conflict are being given training to start self employment projects in small scale to revive their livelihood with the financial assistance of several NGOs and other social organizations in Trincomalee district.
EHED CARITAS in the Trincomalee district, social arm of the Catholic Church of Sri Lanka has been providing such training under its livelihood project.
EHED CARITAS selected 32 women from the suburbs of Linganagar, Valarmathi Lane, Krishnapuram, Ganesh Thoddam, Anpuvallipuram and Rajavarothiam Square in Trincomalee town and provided training in doll making. The first phase of the doll making training was held at a Social Service Centre in Trincomalee.
Rev.Fr.F.X.Dias, Director of Trincomalee district EHED CARITAS inaugurated the training.