Rising food prices: We are all in deep trouble
NEW YORK - When a faltering UNP government removed the rice subsidy back in August 1953, the resulting steep increase in the price of the country's staple food triggered demonstrations and mass work stoppages in Colombo forcing then Prime Minister Dudley Senanayake to resign.
Rice was politics in Sri Lanka (even when the country was known as Ceylon), and perhaps continues to be so even now. The moral of the story is that if you hit people where it hurts them most -- in their empty stomachs -- they can react violently.
A replay of those 1953 demonstrations and street riots, this time on a global scale, is threatening the political stability of several low and middle-income countries in Asia, Africa, Latin America and the Caribbean -- all of them experiencing a shortage of food or a precipitous rise in prices.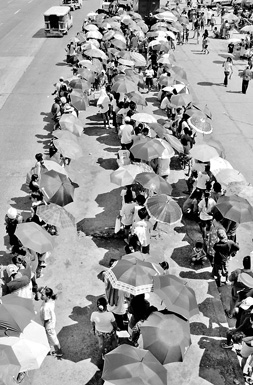 Filipinos seeking shade under the glaring sun queue up to buy cheap government subsidized rice in Quezon City in suburban Manila on Thursday.
The steep rise in the price of wheat, corn, rice, maize and bread has already sparked demonstrations and/or riots in Egypt, Cameroon, Haiti and Burkina Faso. The Rome-based Food and Agriculture Organisation (FAO) has warned of impending political and social unrest, specifically in countries where 50 to 60 percent of a family's income is spent on food.
A rise in both fuel and food prices has also triggered unrest in Indonesia, Ivory Coast, Mauritania, Mozambique and Senegal. And the UN's World Food Programme (WFP) has identified 11 countries as "hunger's global hotspots."
Sri Lanka is one of the 11 hunger-prone countries heading towards a "food emergency", the others being Afghanistan, Chad, Democratic Republic of Congo, Ethiopia, Iraq, Syria, Kenya, Somalia, Sudan and Zimbabwe.
The President of the World Bank, Robert Zoellick, last week made an even ominous prediction when he said that 33 nations -- not 11-- are in danger of social unrest caused by rising food prices. "For countries where food comprises from half to three-quarters of consumption, there is no margin for survival," he warned.
The price increase has been attributed to several factors, including the use of arable land for the cultivation of biofuels; the negative fallout from the increase in the price of petroleum thereby boosting transportation costs; restrictions on the export of food by some of the producing countries; and an overwhelming demand for food from India and China (with a combined population of over 2.0 billion people).
The increase in the price of corn, which has almost doubled over the last two years, has been blamed on the conversion of land from agriculture to corn ethanol production for biofuel. The long term effects of global warming, including droughts and floods, are also expected to cause further damage to agricultural production thereby keeping prices high or boosting them even higher.
The spreading global food crisis is also having a negative impact on the UN's much-publicised Millennium Development Goals (MDGs), which included a 50 percent reduction in global poverty and hunger by the year 2015. All the gains made in the fight against poverty and hunger since 2000 are now in danger of being wiped out.
Josette Sheeran, WFP executive director, warns there are already signs that "we are entering a new era of hunger" while, at the same time, the absolute number of hungry people remains high at 854 million worldwide. Many nations -- particularly in Africa -- are not on track to meet the very first MDG: reducing the proportion of hungry in half by 2015.
The WFP, which last month appealed for at least $500 million in emergency funds to meet the needs of the hungry in 2008, has expressed "concern" over the rising food and fuel prices. Adding to the current woes is the crisis in financial markets, including an economic recession in the US, and a decline in development aid from rich to poor nations. Between 2006 and 2007, European aid alone declined from $76 billion to $73 billion.
Jacques Diouf, the director-general of FAO, is also blaming the crisis on the steady migration of rural populations to cities, which in turn, has affected agricultural production. Diouf has proposed a summit meeting of world leaders in Rome in early June to address the current crisis. In an editorial last week, the New York Times rightly pointed out that most Americans take food for granted. Even the poorest fifth of households in the US spend only about 16 percent of their income on food.
But not so in most developing nations, said the Times. The Nigerians spend about 73 percent of their income on food, the Vietnamese about 65 percent and Indonesians about 50 percent."They are all in trouble," the editorial predicted, perhaps in deep trouble.