Ray's Apu trilogy on miniscreen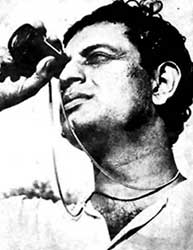 Satyajit Ray
Renowned Indian filmmaker, Satyajit Ray's emotionally resonant and beautifully made Apu trilogy, Pather Panchali" (1955), "Aparajito" (1957), and "The World of Apu" (1959) is now being shown on Rupavahini.
The three films which portray the life of a young man who emerges from rural poverty in Bengal to go to university in Calcutta and finally into marriage and family life, are considered as the masterpieces of the Indian classical cinema.
In these world famous cinematic creations, Ray invests this seemingly ordinary life with a poetic power and lucidity which enables the viewer to witness Apu's growth not as some laboured progression of plotted scenes but as a living process.
All the trilogy films have their share of cinematic magic movements - Discovery of train by Apu and Durga, the candy seller sequence, Indir Thakrun's death, Durga's death and Harihar's realization of Durga's death in Pather Panchali; Harihar's death, Sarbajaya's (Apu's mother) death on a night sparkling with fire flies and Apu's encounter with the empty house in the village in Aparajito; and Apu's marriage, developing of bond with wife and the first encounter with his son in Apur Sansar.
Despite being rooted deep in Indian culture, these films evoke a universal humanistic response. That is because the trilogy is all about human relationships. The films won a number of awards at various film festivals world-over. Subtitled in Sinhala, the three films are screened every Saturday at 10 pm staring March 8, 15 and 22.