Sun Hill : Newest addition in Mount Lavinia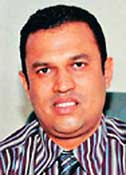 Surendra Vasantha Perera
'Sun Hill Hotel', the newest addition to the list of hotels in Mount Lavinia, is the very first branch hotel of popular Sun Hill in Nuwara Eliya. Chairman and Managing director of Sun Hill Group of Companies, Surendra Vasantha Perera said, with this investment, he is planning to go for a couple of more Sun Hill Hotels in the South and in Kalpitiya areas in future.
'I would like to go for a chain of hotels and to build the name Sun Hill, but everything is depending on the future of the tourism sector. We are ready to invest, if things work in the right direction' he added. The main reason that Sun Hill Group of Companies have invested in building this two star hotel in Mount Lavinia is to expand and to get their hospitality business from traditional Nuwara Eliya to Colombo.
Vasantha said that their first property in his home town Nuwara Eliya, which started with 12 rooms now have been increased to 25. 'We felt the need of a City Hotel and this was the reason for us to invest on Mount Lavinia property. Also with this hotel, we provide quality accommodation and good service in the area. Most of the two and three star properties similar to Sun Hill have been neglected or too old. The services offered too are below expectation' he said.
Sun Hill located in close vicinity to the beach has 24 rooms with swimming pool was opened on December 16. According to Vasantha, all fittings and furniture for the Sun Hill hotel in Mount Lavinia have been imported from Italy and London. Perera said the linen and other equipment at the kitchen too have been imported from UK, Italy and Germany. 'I want to give the best for the guests' he said.
The hotel will soon build a kiddies pool, adjoining the present one. 'In time to come, we will be expanding this to a new banquet hall, conference Hall and a roof top restaurant' he said.
Sun Hill group of Companies also own and operate 'Pier 3 Boat Restaurant and night Club', 'Winter Palace Club' at Union Place, 'Delicacy Restaurant', Sun Hill enterprises and investment in Nuwara Eliya and Sun Hill Telecom.
He said for a country like Sri Lanka where tourism is the fourth foreign exchange earner, night life and entertainment activities should be more.
'Night life also helps businessmen to host their foreign clients for parties which seal a closer bond among them. My main area of interest is night life and that's why I invest more on clubs and entertainment base projects' he said.
He said local authorities have ignored the financial potential of entertainment. 'This has a huge potential as there are high spending tourists who seek new venues all over the world," he added.