Have a Pete for lunch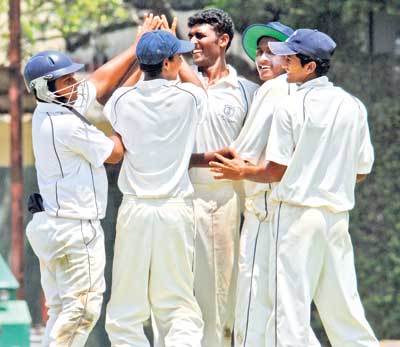 Thirty five year wait is over …. Josephian paceman Thisara Perera celebrates with his team mates.
Sri Lanka Under 19 player and right arm paceman Thisara Perera's starred in the 74th Battle of the Saints between St Joseph's and St Peter's helping his side to an emphatic innings and 42 runs victory in an encounter which turned out to be a one sided affair since the match began on Friday morning at the P. Sara Stadium.
The two day drama ended minutes before the lunch break which saw the Josephians recording a victory after 35 years. Their last win in this encounter was in 1972 also by an innings when the side was led by Rohan Fernando and St.Peter's by Roy Dias. In fact this was also the year that a side was bowled out for the lowest score when the Petes were bundled out for 36.
Thisara's extraordinary feat earned him two awards winning the best bowlers award for the second successive year and the man of the match award.
Right arm pacie Thisara was the cynosure of all eyes as he was the one who laid the foundation for a Joes win. Thisara ripped through the Pete batting and had them struggling for survival after being bowled out for 137 with Thisara ending with impressive figures of 5 for 39 from 15 overs of which four were maidens.
The Peterites from this setback never recovered as the Joes spearheaded by their second Sri Lanka Under 19 player Roshane Silva who along with Dimuth Karunaratne and Shameera Weerasinghe frustrating the Peterite bowlers giving them more problems and cutting the path through for a Josephian win.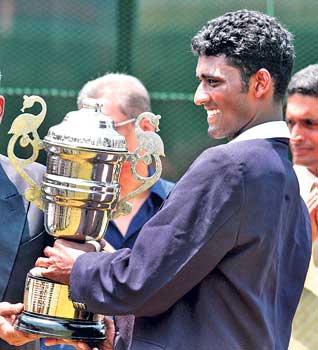 With the man-of-the-match award that he well
deserved.
When play began on day two yesterday morning the writing was there on the wall for the Peterites.
They were faced with the daunting task of erasing the deficit of 118 runs before taking their next step towards saving the game.
But it was not to be as their batting crumbled for the second time. The rot began when left arm pacie Treshan Rajasooriya trapped opener Andri Berenger in the second over of the innings.
From there on wickets fell like nine pins as fresher Chathuranga Kumara and Thisara took over.
15-year-old right arm medium pacer Kumara dismissed the other opener Srimantha Wijeyaratne and went on to bag three more scalps with all rounder Shameera Weerasinghe and Thisara taking two each as Petes collapsed to 76 with lunch break minutes away. The Peterite innings was worse than the first as it lasted only 34 overs. In the process Peterite batsman Suranga Rodrigo with two ducks joined the pair of specs band.