Peiris rides Ananda to shore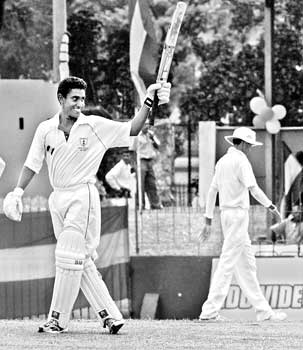 Ananda 's Udara Peiris celebrates his half century. Pic by Saman Kariyawasam
Left hander Udara Peiris was the toast for Ananda yesterday. This left hander eked out an unbeaten 85 with seven fours and one six in 207 minutes to swell Ananda's score to 256 in 85 overs in the 79th Battle of the Maroons annual school cricket encounter against Nalanda at the SSC Grounds yesterday. In reply Nalanda were 46 for no loss at the end of the first day. The match will be continued at 10 am today.
As the statues quo goes Nalanda who have not registered a win in this series since 1953, may have to wait for yet another turn unless there is a drastic collapse in the Ananda second inning later today.
Earlier in the day Nalanda skipper Madhawa Warnapura won the toss and invited their opponents to take the first lease of the wicket that promised early swing aided by SSC's first hour batting blushes.
At the initial stages it looked as if Warnapura's ploy had worked when he had the Anandians staggering at 89 for 3.
It was opener Dinesh Chandimal Lokuge who came to Ananda's rescue first. Lokuge along with his one drop batsman Prabhoda Seneviratne (20) added 63 runs for the second wicket, but Nalanda's left arm orthodox spinner Amal Atapattu struck twice in quick succession to put the batters in a tentative position.
However next in batsman Udara Peiris had other ideas. After Dilshan Munaweera joined Atapattu's party with another two wickets Ananda slumped further to be at 6 for 168. At this stage Peiris found a willing partner in Ishara Wickremasinghe. The duo put their heads together added 75 for the seventh wicket, and thus that was Ananda's fighting qualities stood good while Peiris remained unbeaten on 85.
With Wickremasinghe's departure at 243, Ananda faced another three 'duck' slump with Sri Lanka under 19 player Asahan Priyanjana making in roads into Ananda batting with another scalp.
For Nalanda opening bowler Ashan Priyanjana (2 for 41), Amal Atapattu (2 for 46) and Dilshan Munaweera (2 for 43) shared the wickets.
Udara Peiris received good support from Dinesh Chandimal Lokuge (55), Probodha Seneviratne (20) and Ishara Wickremasinghe (40) as they battled the bowling of Amal Atapattu, Ashan Priyanjana and Dilshan Munaweera who captured two wickets each.
By the end of the day Dilshan Munaweera openining batting for Nalanda was operating quite confidently to be unbeaten on 30 while his partner Primosh Perera was more sedate at 12 not out.