Making music for the children
Foreign musicians glad to do their bit for Country Roads, next Sunday
The Country Roads concert with its mission to raise funds for needy children has not only touched the hearts of the local audience, but also of the performers, some of whom fly down every year to do their bit for the children of Sri Lanka.
UK singer Astrid Brook explained her commitment to the cause that will see her on stage for the second time at Country Roads. "I really loved my first visit to Sri Lanka last year. It was so good to hear that the concert was a success and I feel proud to be a part of it. The money raised by the Country Music Foundation was spent providing a children's library in the gypsy village of Kudagama. I was really touched to read comments from the children and also see photos of them enjoying the books in the library. These children really do need and deserve all the support that organisations such as the CMF and Save The Children can give."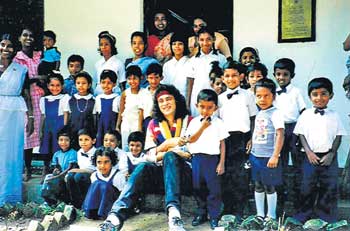 Happy to be part of it: Dirk Maverick
Being a part of the Country Roads For Children concert has been an education for her, Astrid said. "Through being involved, I have gained a deeper understanding of how children are sorely neglected as parents and adults struggle to survive in this world, especially in remote areas of Sri Lanka. Music is such a powerful tool to help raise awareness and money, which is where myself and fellow musicians come in."
Astrid will be joined by bassist and singer Amelie Chevalier this year and says the heightened conflict has not deterred her from visiting the island."It would be easy for me to be frightened to visit Colombo but it has had the opposite effect and has made me more determined to come and be a part of the concert. The reason is simply because it is in the darker times that more help is needed. If tourists are being warned against visiting Sri Lanka, it means that hotels are empty, there are less well-paid jobs in tourism and related industries such as arts and crafts for the local people and ultimately they don't have enough money to support their children. So you see, I am not frightened for my safety, instead I want to help raise money that is desperately needed in times such as these and I am grateful to have the opportunity to offer my services as a musician to help do this."
German country music band, The Mavericks, have been at Country Roads for the past 13 years and are a huge hit with Country Roads audiences. Doris Gansen, female vocalist in the band recalled how much they value being part of the show.
"My most important experience was in 1994 when I had the chance to visit a school in Vavuniya, which was built by using the money from one of the Country Roads concerts. There I could see, what is possible if you just do what you can and dedicate it from time to time to a benefit project. The children were happy, thankful and so cute - and I was proud to have contributed a little bit to their smile."
"I don't believe that it is enough to just contribute a certain amount of money. For to help we always need new ideas and new influences - like the Country Roads concert," Doris added.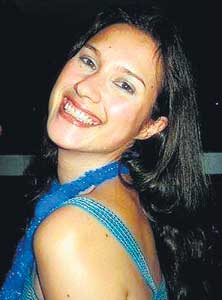 Astrid Brook: Second time at Country Roads
Dirk Maverick, the charismatic lead singer of the band says that despite family concerns he always feels secure in Sri Lanka. "My family has never been happy when I said I go to Sri Lanka again, because they only know it from the media, and have never been there."
What was very surprising, he said was that this year his nine-year-old son asked him not to go. "When I asked 'why?' he said: there is a war in Sri Lanka, and I don't want you to die. He must have heard it in the news somehow.
"I explained to him and others as well, that also in countries which are closer to Germany (like Spain) there are terrorists, and that like everywhere and with everything in the world - it has two sides: one is the war, but the other side is beauteousness, agreeableness, helpfulness, gratefulness, and that in Sri Lanka people take care about each other."
"And that to feel this gives me energy, moments of happiness, and that it makes me proud sometimes to import me and what I do into another culture."
Dirk's support for Sri Lanka tourism from Germany continues throughout the year. He was off to Berlin to perform at the Sri Lanka during the International Tourism Fair being held there. "I recorded a new song with German lyrics to show the good feelings that Sri Lanka can give."
"Looking back to schools that were built, to mosquito nets and books that were bought - it makes me happy to be part of these achievements," Dirk added.
Singing for something special
The Mavericks, Astrid Brooks, Amelie Chevalier, The Country Revival Band, Anno Domino and the Cosmic Rays will all have something special to sing for at this year's concert to be held on March 16 at the Mount Lavinia Hotel at 7 p.m. All proceeds from the show will be in aid of building a library for a school in Vellaveli, a war torn area in Batticaloa.
The Country Roads concert organised by the Country Music Foundation is sponsored by Save the Children, SriLankan Airlines, Mount Lavinia Hotel, First Choice, Yes FM, MTV and HSBC. The Sunday Times is the media sponsor for the show.