Joyous day of fellowship and song
"Happy days are here again" was indeed a felicitous choice of song by Mary Anne David who had invited anyone over 40 to the MAGSAL (meet and greet sing-a-long) on February 20.The tremendous success of this evening could well be imagined when Mary Anne and Andrew who expected about 20 to 25 participants found over 70 ladies and gentlemen of ages varying from 46 to 91 turning up ready to 'belt it out'.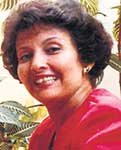 Mary Anne David
People of all faiths, ethnic groups and backgrounds were there. It was a testimony to a united Sri Lanka. Thanks to the Pastor of the Christian Reformed Church (whose hall was used) and his wife, seating, cups and sound were made available along with a touch of elegance with palm pots arranged around.
Mary Anne's happy choice and blend of songs satisfied all tastes. Here were many people who had completed the active period of their lives. Some had lost their spouses or their children had flown the coop. Others once wielded authority as professionals, office bearers or decision makers. Though age "does not wither nor custom stale" they are willy-nilly sidelined by a younger generation wrapped up in their computers, SMSs, Blackberry phones, karaoke, concerts, plays, clubs and physical activities.
The participants were warmly greeted on arrival and handed song sheets. After a few warm-up exercises, Mary Anne launched them into groups of song with similar themes. They 'packed up troubles', swigged the 'little brown jug', and shook hands over 'how do you do'. After that were the nostalgic 'after the ball', 'blue skies', 'sailing into the sunset' and 'looking at rainbows'. The total lack of self-consciousness and inhibition was a wonder to behold as the gents followed the 'ain't she sweet' oldest lady who coyly led them round the hall. To see gents and ladies argue over 'the hole in the bucket' enlivened the evening. Rounds and the funnies - 'bunch of coconuts', 'no bananas' had everyone roaring with laughter. The good old love songs - 'Always', 'Let me call you Sweetheart', 'I'm in the mood for love' brought lumps to many a throat.
A break for hot coffee and chat found old friends meeting, discovering neighbours, relations surfacing and members of a famous singing group coming "out of the woodwork". Then followed songs from the musicals, 'Bobbing with Robbins' and more. At the finale with 'The end of a perfect day' the clock showed that the event scheduled for one hour was already two with many present showing little indication of stopping. The last singers left reluctantly after three hours!! But not before extracting a promise from the Davids that another MAGSAL would be arranged.
Ring 2580413 on March 10 (not before) if you wish to participate on March 15.