Praise for Mission to Seafarers from its Secretary General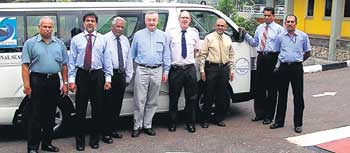 From left to right: Capt Nimal Perera - freelance shipping consultant and Secretary, NSWB, Roshan Fernando - Dimo Lanka and committee member, NSWB, Wng Cmdr Noel Fernando - Chairman, Mission to Seafarers, Sri Lanka, Rev. Canon Bill Christianson - Secretary General, Mission to Seafarers, Capt Andrew Payne - Chaplain and Secretary, Mission to Seafarers, Capt Asitha Wijesekara - Managing Director, CINEC Campus and Chairman, NSWB, Ranjan Perera JP - International Transport Workers Federation and Committee Member Mission to Seafarers Sri Lanka and committee member, NSWB and Marlon Kleyn - Ship Welfare Visitor, NSWB.
During February a visit was paid to the Mission to Seafarers Centre in Colombo by the Rev Canon Bill Christianson, Secretary General of Mission to Seafarers Globally. During his visit Canon Christianson praised the staff of the Seafarers' Centre for the excellent work undertaken in the past 18 months for the welfare of seafarers visiting Sri Lanka. His last visit in July 2006 was for the licensing of the new Chaplain, Andrew Payne, during the Annual National Sea Sunday Service held in the Anglican Cathedral. Since then the Centre has seen a growth in its activity and in the care for seafarers previously limited in Sri Lanka.
The Mission to Seafarers is a global welfare society of the Anglican Church, caring for seafarers of all nationalities and creeds in over 300 ports around the world. This is done with the support of the shipping community, agents and Ports Authority, and also in close cooperation with other international and national welfare organisations and this includes the Apostleship of the Sea and the relatively newly formed National Seafarers' Welfare Board in Sri Lanka.
Canon Christianson is pictured with some members of the National Seafarers' Welfare Board (NSWB) and the Mission to Seafarers Chairman and Chaplain, taking delivery of a new vehicle supplied by the International Transport Workers Federation Seafarers' Trust. As well as meeting members of the NSWB and the local committee, Canon Christianson also met with members of the Ports Authority, and with the Bishop of Colombo, the Rt. Rev. Duleep de Chickera, who is President of the Mission to Seafarers in Sri Lanka and oversees the spiritual welfare services provided through the Port Chaplain.