Who gets to keep the toaster?
A review of the Ulrik Plesner Exhibition at the Goethe Institute, from February 23 to 27, organized and catalogued by Ismeth Raheem. Ulrik Plesner, iconic Danish architect, friend and partner of Geoffrey Bawa, first came to this island in 1958, becoming a major player on the architectural scene here.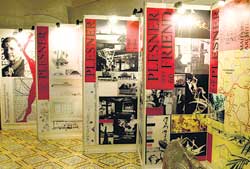 The Exhibition
Sri Lankan memory, like that of its famed elephants, is long. So it is no surprise that even now, half a century later, his interview and this exhibition have aroused as much fierce controversy as they have. In the past month I have been besieged by complete strangers at every street corner with their version of those heady events of yesteryear, begging me please to set the record straight. The one sure thing about memory is this: no two people have the same recollection. And everybody, but everybody, is convinced their version is the right one!
Thankfully (for both my creativity and sanity) I was not around at the time. I am only the messenger, so please don't shoot me! All I can do is record the evidence as I see it, for a whole generation of younger design and architecture students many of whom have barely heard of these giants. This much is true: Ulrik Plesner was invited to the country by Minette de Silva, Sri Lanka's great Modernist. He then met Bawa and went on to work with him.
Their output was truly staggering. To try to apportion credit or blame for any of these buildings at this late stage is like trying to decide, when the fifty-year-old marriage ends, who gets to keep the toaster? What's for sure is that Ismeth Raheem has done an absolutely splendid job with this exhibition, tracing clearly the threefold influence of Plesner on Sri Lankan architecture: his contemporary solutions for cheap sustainable architecture, his introduction of the vernacular by documenting Sri Lanka's ancient buildings, and his teaching skills at Katubedde, Sri Lanka's newly-established, totally understaffed architecture school.
"I was the teacher and Geoffrey the artist," Plesner says candidly. Every weekend he, Barbara Sansoni, Laki Senanayake and Ismeth Raheem would head off in his little jeep to measure and draw old buildings, the results being published on the back page of the Daily Mirror. His influence with The Royal Academy in Copenhagen, his old school, resulted in three of Sri Lanka's most talented architects studying there – Ismeth Raheem, Anura Rathnavibushana and Pheroze Choksy.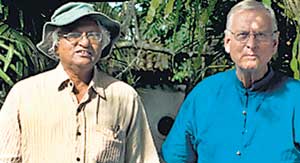 Raheem and Plesner at the exhibition.
Two other topics are dealt with at this exposition. Plesner's meeting with Donald Friend resulted in a series of nineteen aluminium sculptures being executed by Friend, the exhibition of which was organized almost single-handedly by Plesner at this very same Goethe Institute in October 1960. There is a pleasing symmetry here with Raheem's almost single-handed organization of this exhibition.
Then there are Plesner's designs between 1982 and 1988 for the new Mahaweli townships, for which he took inspiration from villages of seventeenth century Sri Lanka as written about by Robert Knox: narrow pedestrianised streets, tree-shaded squares, and houses with overhanging roofs. Alas, many of these projects were never fully realized because the regime changed: as always, the loss is ours.
The whole exhibition, from the simple stylish boards and programme (in scarlet and cardboard-brown, to match the Victorian encaustic tiles on the floor), to the mounting of Donald Friend's aluminium sculptures, to the video installation in the back room, was an absolute feast for the eye, and an invaluable lesson for those of us not lucky enough to have been present first time around. Bravo, Ismeth, and may there be many more such exhibitions in years to come!