Making music with dough
He's a dab hand at any type of cooking but his speciality is pastry. Drawing inspiration from Sri Lanka's culture and heritage, he creates award winning 'petit fours', bite-sized sweets eaten after dinner with coffee using ingredients like coconut, chocolate, sesame and local fruits.
He calls his petit fours 'Music with love' and says the challenge lies in the fact that "not everyone can do it". 15 hour work days and endless determination is Dimuthu Kumarasinghe's recipe for success. Hailing from Nauthuduwa in Mathugama, Dimuthu Kumarasinghe was the proud recipient of the Best Chef's award at the Presidential Awards for Travel and Tourism held recently.
Chef Dimuthu who has been with Aitken Spence Hotels since November 15, 2000 is currently the Skills Development Chef of Heritance Hotels and Resorts, based at Heritance Ahungalla.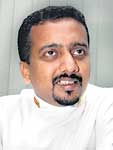 Dimuthu first ventured into the industry in 1989. It all started with his older brother, Damith, joining the hotel industry. They have a younger brother, who is a chef as well in Oman. He began at the Regency Intercontinental in Bahrain, where he was based for seven years. ""I learnt on my own," he says. "Bahrain is a hard life, you have to work more than 15 hours a day." However when he did find some free time, he would practise food carving on his own.
In 2004, participating in the Culinary Olympics in Germany, he won five gold medals, the only one to do so. These were for the categories of 'plated dessert'; 'dessert buffet platter and petit fours,' 'artistic salt dough showpiece', 'artistic pastry showpiece – marzipan' and 'artistic pastry showpiece – pastillage'.
It had been a lot of hard work, Dimuthu recalls, and sleep was rarely possible. "I worked daily – may be sleeping two or three hours." His next big reward came at the Culinary World Cup Expogast 2006 in Luxemburg where he won in four categories, 'artistic showpiece – salt dough', 'artistic pastry showpiece – marzipan', 'artistic pastry showpiece – pastillage' and the 'pulled sugar' event.
"Luxemburg was a very tough competition," he says. "I didn't sleep for four continuous days!" There were more than 16,000 participants representing 42 countries at the competition, and he was the only representative from Sri Lanka.These big achievements aside, he won four gold medals at the Culinary Olympics in Sydney in 2000 and in the year 2002 was recognised as the best pastry chef at Food and Hotel Asia in Singapore.
He has also been a judge at Food and Hotel Asia 2006, the only Sri Lankan amongst many Europeans. In Sri Lanka he and his team were champions at Culinary Art 2005 and 2007, which he feels is a remarkable achievement. Apart from all the time he spends in the kitchen, he likes painting and has even had a few exhibitions while in Bahrain. Dimuthu is a father of two and says very proudly, "My wife knows, I will win if I go anywhere, and is very supportive".
"It is thanks to Aitken Spence I am here today," Dimuthu adds, grateful for the support he has had from Gemunu Gunawardena, Director Food and Beverages, Aitken Spence Hotels and Malin Hapugoda, Managing Director, Aitken Spence Hotel Managements (Pvt) Ltd. Ever eager to impart his knowledge to others, he is currently teaching at the Aitken Spence Hotel School in Ahungalla. "My hobby is teaching," he says.
"It is his dream, to take chefs for the Olympics," says Mr. Hapugoda. Dimuthu himself will not be participating in the Culinary World Cup and the Culinary Olympics and what he wants to do now is "give my students that opportunity", for he believes there is much potential in Sri Lanka.