Relocated farmer families complain of broken promises
Farmer families relocated from Wariyapola to Karuwalagaswewa due to the implementation of the Deduruoya irrigation project are said to be suffering without proper compensation, no fertile land to cultivate and were vulnerable to elephant attacks.
The farmer families complain the Government failed to fulfil the promises made to them at the time they were relocated and therefore they now undergo much hardship. These villagers were relocated a year ago to the Karuwalagaswewa area in the Puttalam district and given one acre of land each in the Inginimitiya wewa area with facilities needed for farming and Rs. 16,000 each to erect temporary houses. The State is also to give a dole not exceeding Rs. 6,000.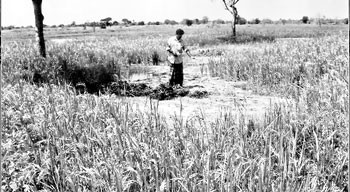 A paddy field affected by salty water.
But they complain that these monies are not issued in time in spite of the fact that the amount was not sufficient even for basic facilities. The farming association secretary Upali Ariyawansa (32) said that though it is nearly a year since the families were relocated, some families have not yet received what is due to them resulting in their not being able to live as a family in a single house.
One farmer said: "There are other problems like water being salty in some areas while bathing is made difficult when the water levels in the wewa recede. The villagers are not against the Deduru oya project but complain of the delay in giving them their dues causing untold hardship to them."
The danger posed by straying elephants which have already attacked five houses and destroyed plantations aggravate the problems according to 80 year old D M Ranhamy who said the farmer families had led a comfortable life till they were relocated here. Some have decided to leave the place he said adding that if the State fulfilled its promises given to them, things would have been different.
A student complained that the school at Rajavigama lacked facilities and is located in an elephant infested area. A Samurdhi movement official listed the shortcomings adding that negligence on the part of the State was the root cause for the dissatisfaction of the villagers.
Meanwhile project officer W L H Bandara confirmed what the people said but added that attempts are being made to provide basic facilities and added that Rs. 29 million has been spent to provide electricity. He said lands unsuited for cultivation are being identified with a view to providing alternative land and assured the quality of facilities provided will be improved.