LTTE claims responsibility for Buttala claymore attack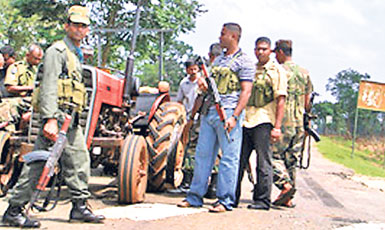 Security forces inspecting the tractor that came under attack yesterday. Pic by K. Devapriya
One soldier was killed and six were injured in a roadside claymore mine explosion at Buttala yesterday, police said but the LTTE, in a rare claim of responsibility for the attack, said four soldiers were killed and two wounded.
The soldiers were travelling in a tractor when they came under attack at Salmalpelessa along the Buttala-Kataragama road around 9.45 a.m., the police said.
The LTTE in a statement said the soldiers were attacked by a fighting patrol of the LTTE. The claim came in a statement issued by LTTE's military spokesman Rasaiyah Illanthirayan.